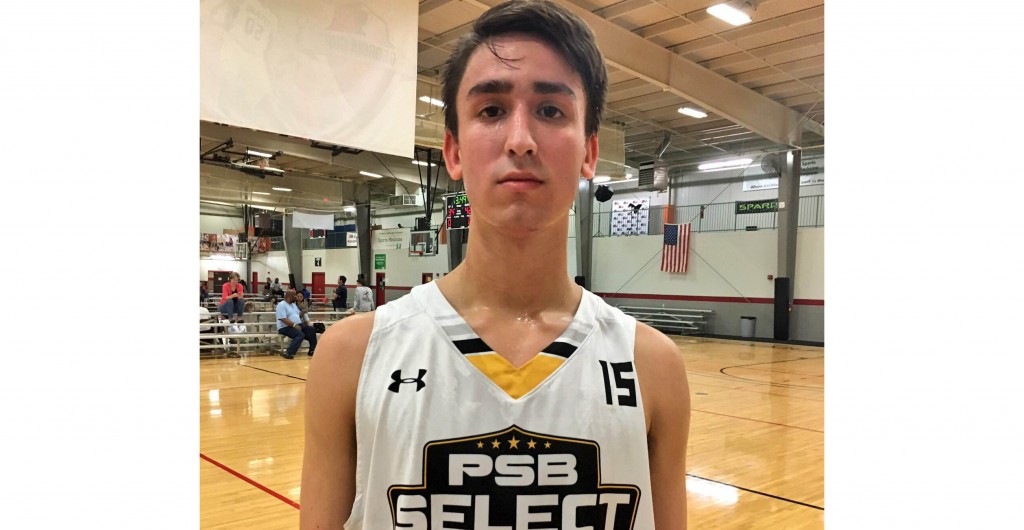 SUWANEE, GA — The 23rd annual Bob Gibbons Tournament of Champions tipped off on Friday night and I spent my night watching the 17 and under division. 
FIVE BIGGEST STUDS ON OPENING NIGHT WERE…
Zion Williamson, Game Elite, 2018: This seems to be a thing. Williamson always finds a way to play his way into this space. The 6-foot-7 forward from Spartanburg, S.C. has been absolutely tremendous this spring and continues to bully the rims as one of the most difficult to defend players on the circuit. His game is quite unconventional. He's just a bully. Stuck in the tweener zone, Williamson washes away traditional thought of position by simply producing with toughness. It really is a thing to behold. He's justifiably one of the hottest prospects in the class of 2018 and doesn't seem to be moving his foot from the gas pedal to the brake any time soon. Unique and entertaining, Williamson's 27 points in a mercy-rule win was loud and certainly noticeable. 
Wes Morgan, PSB Select Elite, 2017 (pictured): Shooters with size come at a premium these days so when Morgan rattled in six of his eight three-pointers in the opening half, you sat up in your chair a little higher. The 6-foot-7 wing from Charlotte finished with a loud 28 points in an opening round win on Friday night. He said he has offers from Maryland Eastern Shore and UNC Greensboro while Georgia, BYU, Wofford, North Florida, Furman, Middle Tennessee State and Fairfield are interested. Morgan said he'd like to visit North Florida in August. 
Tevin Brown, CP25 Florida Basketball Club, 2017: Every time we've had an event and Brown has played in it, he's been great. Starting back at our Alabama Elite Preview to the Atlanta Jam and now at the Bob Gibbons, Brown just scores it. The 6-foot-5 wing from South Alabama can hit threes, he can drive and he can pull-up. Brown is a great prospect at the mid-major level and has been consistently good all spring long. 

Brion Whitley, D3 M.O.A.M., 2017: He's been playing at HoopSeen events nearly since we launched our site five years ago. So it doesn't come as a big surprise to see the Floridian do well on a big stage. The 6-foot-3 guard pumped in a cool 30 points on opening night. He's one of the best scorers in the midrange and off the pull-up in Florida and could be in line for a great weekend of work moving forward here at the TOC. Whitley said he's holding an offer from Rice while Harvard is very interested. Georgia Southern, Florida Gulf Coast, Lipscomb, VMI and Murray State are also in the picture. 
Colby Liefson, Atlanta All-Stars, 2016*: We've watched the North Gwinnett soon-to-be grad pump in the points for years. And the majority of his shots come from behind the three-point line (and beyond). On Friday night he was brilliant. He nailed nine three-pointers in a thing of beauty.  *Leifson will be a class of 2018 member after a two-year LDS mission to Brazil. 
NOTES FROM THE NOTEPAD
The South Paulding (GA) duo of Kane Williams and Jacori Wilson of the Georgia Stunners were both very good on opening night. Williams finished 22 points and passed as well as any guard I saw on Friday night. Wilson continues to be a tough wing to defend. He's so long and active. 
Upward Stars big man Ubong Okon could be, no should be, a highly recruited post that defends end-to-end come July. Pretty unique prospect. 
Best I've seen Atlanta Xpress Michael Durr play in a good while. Big man was in a nice zone. 
RECRUITING ROUNDUP 
Elias Harden of Game Elite is one of the hottest players in the Southeast right now. He said he has offers from Cincinnati, Georgia, Georgia Tech, Auburn, UAB, North Florida, College of Charleston, Winthrop, Arizona State, Texas Tech and Xavier. Harden said he would like to visit Xavier, Georgia, Virginia Tech and Cincinnati. 
Elijah Jordan of CP25 SE Elite had a nice opening night. He hit five three pointers and finished with 18 points. Jordan has been one of the better point guards we've seen from Florida this spring. He said he holds an offer from Chattanooga and has interest from Stetson, San Diego and Wofford. 
Chance Moore scored 21 points to pace a good Louisville Magic team to an opening night win. The 6-foot-7 forward from Fern Creek HS said he holds offers from SE Missouri, Samford and Ball State. Kent State, Ohio, Indiana State and Northern Kentucky are also interested, he said. 
Tariq Simmons helped the Upward Stars win the Gibbons 16 and under division last year. On opening night this season the Columbia, S.C. guard led his team with 17 points. He said he holds offers from Charleston Southern, Stephen F. Austin, Maryland Eastern Shore and College of Charleston.
HI, MY NAME IS… 
The Atlanta Select squad picked up a nice win over the SC Raptors Elite team thanks in large part to the the play of Atlanta Carver wing Patrick Hudson. The class of 2017 forward had 27 points in the win. All energy, all the time. 
Paxton Wilson of Team Under Pressure Soldiers Elite is a shooter with grades to watch. The 6-foot-4 class of 2017 guard scored 17 points in a loss to the Smyrna Stars. Nice tools to work with.