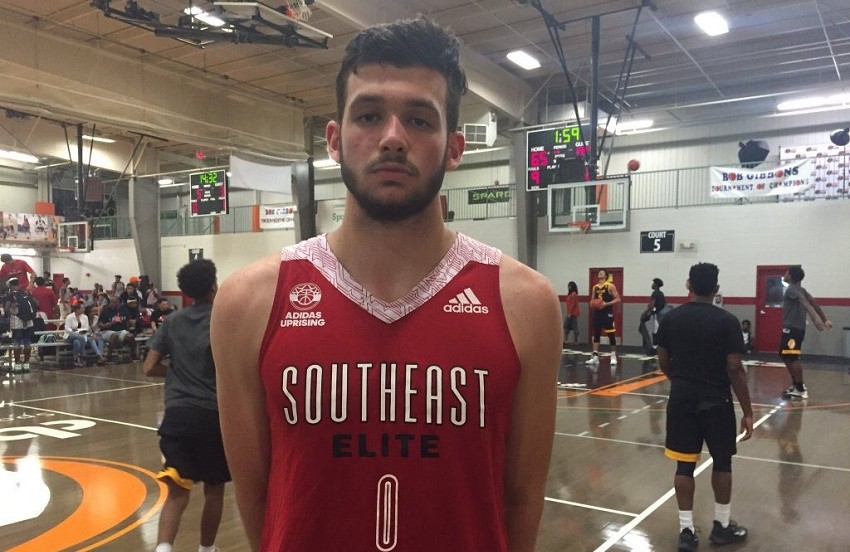 As expected, Saturday at the Bob Gibbons Tournament of Champions brought gyms full of excitement and competition. With championship opportunities on the line, games heated up heading into the afternoon. Several point guards proved their worth, a star showed his clutch ability, and a talented 16U team capped off the day with some excitement.
Here are the storylines from Saturday at Suwanee Sports Academy…
WYATT WILKES COMES UP IN THE CLUTCH
2017 forward Wyatt Wilkes (pictured) was fantastic in CP25 Southeast Elite's final two games of the day Saturday. The 6-foot-7 forward exudes toughness and a competitive nature, and he took it upon himself to put his team in Sunday's Final Four.
In an entertaining matchup against Team Corey Brewer (WACG), Wilkes put his team on his back and had some go-ahead buckets with under 2 minutes remaining in regulation to put Southeast Elite on top. The combo forward hit a 3, along with a soft hook in the paint to help give his team the edge with under five seconds remaining. However, his biggest play of the game was on the defensive end of the floor as the clock expired. Wilkes blocked the attempted game winner from WACG and vaulted the Florida-based squad into the Final Four of the 17U division.
POINT GUARDS RUN THE SHOW
I'm a firm believer in guards winning games at the next level, and, on Saturday at Gibbons, several talented point guards proved they will win games at the next level.
Grayson Murphy, a 6-foot-2 guard with Team Corey Brewer (WACG), has been a favorite at Suwanee over the past two years. Saturday against Game Elite was no different. The crafty point guard put WACG on his back as he did a little bit of everything on the floor – handle it, shoot it, score it, defend. You name it, Murphy did it all Saturday afternoon. With offers in hand from Lipscomb, Austin Peay, and Troy, the talented guard plays with moxy and swagger. He made winning plays all day and led his team to the Elite 8.
Middle Tennessee State got a 2017 commitment from hometown point guard Donovan Sims prior to the travel season and it has proved to be a wise pickup for Kermit Davis and crew. The 6-foot point guard is an ideal setup man for Team Carroll, as he has no problem distributing the ball to Carroll's scorers. Sims plays under control and passes the ball as well as any guard in the event. He doesn't always get the recognition he deserves, but Sims is an ideal point guard and will have success at the next level.
Jaylon Hall was a standout at the Atlanta Jam with Western Kentucky Elite. Now, the 6-foot-4 2017 combo guard is playing with the Louisville Magic and making an immediate impact. The long guard has the world of potential and upside. However, he brings some production right now, too. Hall defends, plays at a good pace, and shows the smooth side to his game. His recruitment is just beginning, but it's safe to say the high-ceiling guard has proved he can play at the Division 1 level.
2017 point guard Elijah Jordan quietly put together a successful spring for CP25 Southeast Elite on the Adidas Gauntlet circuit in April. It's carried over to Gibbons, too. The 6-foot-1 guard is always in control of the game and plays confident within himself. He's smart with the ball in his hands, whether he is distributing or scoring. With some solid talent on his team, Jordan is the x-factor on the floor. He can work as a distributor, but he is able to keep the defense honest with his knockdown shooting ability. UT-Chattanooga is his only offer for now, but that will change as the summer progresses.
TEAM THAD 16U ROLLS INTO SUNDAY
The 16U division of Gibbons is loaded this weekend, and one of the favorites heading into championship Sunday is Team Thad.
Stacked from top to bottom, the Memphis program is built to be a winner. The backcourt of 2018 guards Tyler Harris and Drue Drinnon set the tone early with their pressure and high-octane scoring ability. Forwards Rodgerick Brown and D.J. Jeffries bring athleticism and size in the front-court. Sprinkle in some solid glue guys that understand their roles and you have a contender in Team Thad.
Early Saturday afternoon, they squeaked by a scrappy SC Raptors Elite squad by two points. Nevertheless, they made sure to make a statement to close out the night, as they played their best basketball of the weekend. Team Thad cruised to a huge victory over Pocket City 92-37 and have set themselves up for a championship run in the 16U field.