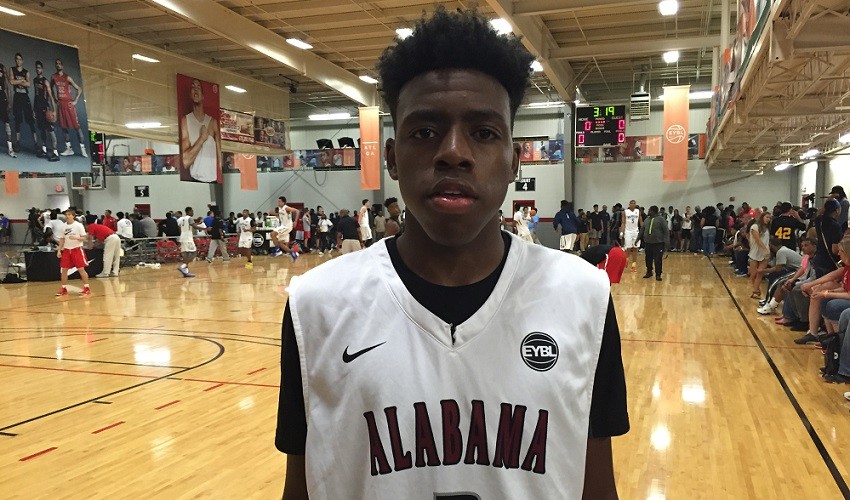 The third session of the Nike EYBL circuit started Saturday at Suwanee Sports Academy, as the Nike squads looked to punch their tickets to Peach Jam. With high stakes on the line, players came to play.
Here are my storylines from the weekend, headlined by some talented shooters and scorers…
NOLAN STARTS OUT WEEKEND HOT
2017 Alabama Challenge shooting guard Kevion Nolan (pictured above) started out the third EYBL session in impressive fashion, as he went 7-9 from 3 and scored 21 points in a loss to Team Final. He followed that up with five more 3's and 18 points in a comeback win over the Arkansas Wings in the night session on Saturday. During two games, the 6-foot-1 sniper went a combined 12-17 from behind the arc.
Against the Wings, Nolan's shooting and scoring helped spark a 13-point comeback win. The junior has impressive range on his shot, as he showed he wasn't afraid to pull the trigger from 30 feet a few times. To go along with his shooting, Nolan is a capable combo guard and ball-handler. Samford and Jacksonville have extended scholarship offers, while Murray State, UT-Chattanooga, South Alabama, Austin Peay, and UC-Santa Barbara are among the many schools interested.
GARLAND HAS STRONG OUTING AGAINST TEAM PENNY
Despite a loss, 2018 St. Louis Eagles point guard Darius Garland had a phenomenal showing against Team Penny in the morning session of games. It was evident that Penny was keying in on the sophomore, as they sent several different defenders at him throughout the game.
Garland never flinched. The skilled 6-foot-2 point guard controlled the game and stayed composed from start to finish. He never allowed the defense to alter his pace or force him to make mistakes. Garland showed off a tremendous feel for for the game, his high IQ, and overall point guard skills. Known as one of the premier shooters in 2018, Garland mixed in some 3's and some floaters at the rim to go for 21 points.
Garland's relentlessness and calm nature jumped off the page Saturday morning. He's as solid as they come on the perimeter in 2018.
CHRIS DUARTE MAKES CASE FOR TOP 100 SPOT
Next week, we will update all of our respective rankings at HoopSeen.com. 2017 New York Lightning wing Chris Duarte will probably find himself in our top 100 after an impressive showing Saturday evening.
A native of the Dominican Republic, Duarte has only been in states since September. He attends Redemption Christian Academy in New York. During the first live period, the 6-foot-5 wing broke his nose and it forced him out of both live periods. It's safe to say he's back in the swing of things now, face mask and all.
Duarte is a tough wing that can score from all 3 levels. He is a reliable shooter from 3 with some range, but what was most impressive from Duarte was his ability to attack the basket. He shows no fear attacking the rim and is a sneaky athlete. That led to some big dunks in transition and impressive plays at the rim.
Because of his injury during April, Duarte is still an unknown to many in basketball circles. He currently holds offers from USF, Seton Hall, Tulane, Saint Louis, and Old Dominion, but that's just the beginning. The junior is worthy of being in the backend of the top 100 and a high-major guy in 2017.
BAZLEY SHOWS PROMISE IN 2018
Promise, promise, promise. 2018 Finneytown (OH) forward Darius Bazley oozes so much potential. The 6-foot-8 combo forward has a versatile game and can play inside and out. He has great length and size and has no problem putting the ball on the floor and making plays off the bounce. In fact, Bazley can be a playmaker with the ball in his hands.
While he brought some production and made plays, Bazley's best basketball is down the road. Eerily similar to Paul George, the sophomore is beginning to figure things out. He stepped out and hit a couple of 3's to go along with a solid mid-range shot. He only holds an offer from Toledo, but the majority of the Big 10 is showing interest. He's potentially an elite guy in the 2018 class.