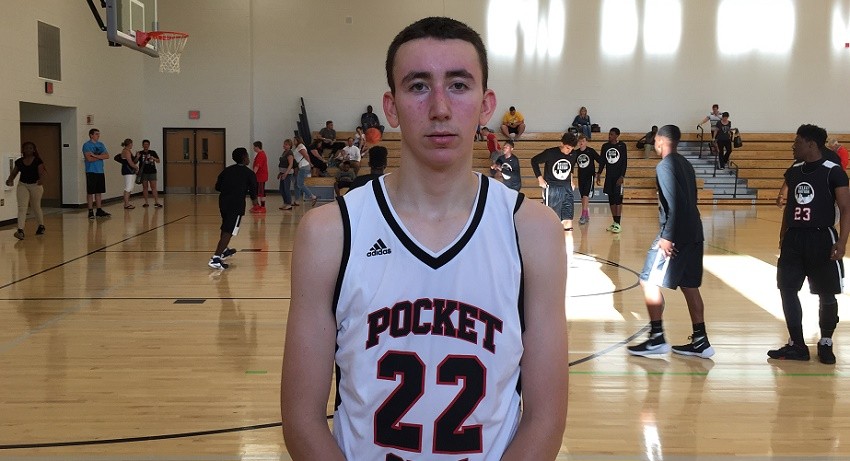 The opening night of the Bob Gibbons Tournament of Champions had some exciting action in the 15U division, as several talented young prospects emerged and showed their worth. Here are the storylines from Friday night's action…
HEMENWAY SHOWS FULL ARSENAL
Coming into Gibbons, there was already some rumblings about 2019 guard Alex Hemenway, who plays with Pocket City out of Indiana. It's safe to say Hemenway backed up that talk, as the 6-foot-3 combo guard showed off a fantastic feel for the game and solid skill set. While he could score as well as anyone on the court, the freshman was more than happy with passing and setting his teammates up. Evansville has extended an early offer, and Purdue, Indiana, Xavier, and Ball State are showing interest.
8TH GRADER EXCELS IN OLDER DIVISION
In CP25 Southeast Elite's game Friday night, an 8th grader led the charge in the 15U division. Kario Oquendo, a 6-foot-4 swing man, looked like a sophomore or junior compared to his elders. The athletic wing did a fantastic job of finishing at the rim with contact, as he showed off his slashing ability. While it's still very early in his development, Oquendo is one to watch in the Sunshine state going forward.
ELITE BALLERS SLIDES BY UPWARD STARS
In the best matchup of the day at Discovery High School, Elite Ballers came out on top against Upward Stars by a slim margin of 63-57. Robert McRae, a 6-foot-5 high motor athlete, showed a relentless attitude and was a warrior on both side of the ball. The forward was active and was determined not to let his team lose their opening round game at Gibbons.
Despite the loss, 2019 point guard Mikey Dukes shined for Upward Stars. The 5-foot-8 playmaker is quick and compact with the ball in his hands and he proved he was the best player on the floor in the game. Dukes may lack some size, but the freshman checks all the other physical boxes: strong, tough, good speed, athletic – you name it, this kid does it. College of Charleston, Charleston Southern, South Carolina, and Wofford are showing early interest.
MCCUTCHEON TORCHES NETS IN WIN
The trip from Louisville, Kentucky had no negative effect on 2019 Louisville Magic shooting guard Hunter McCutcheon. The 6-foot-2 wing had a fantastic shooting effort, as he rattled home eight 3's in a win for the Magic. McCutcheon hit shots off the catch and off the dribble, and he also showed he is comfortable enough to put it on the floor and go towards the basket. He's on the short list of top shooters in this year's Gibbons event.
Another member of the Louisville Magic that entered the limelight on Friday was 2019 forward Justin Weaver. The 6-foot-7 power forward is already built like a grown man – he's physical and weighs every bit of 220 pounds. As expected, Weaver is a bully on the block. He dominated the paint with his explosiveness and athleticism around the rim. With college interest from Northern Kentucky, Eastern Kentucky, and Cincinnati, Weaver is a player to watch in the 15U age group as the weekend progresses.