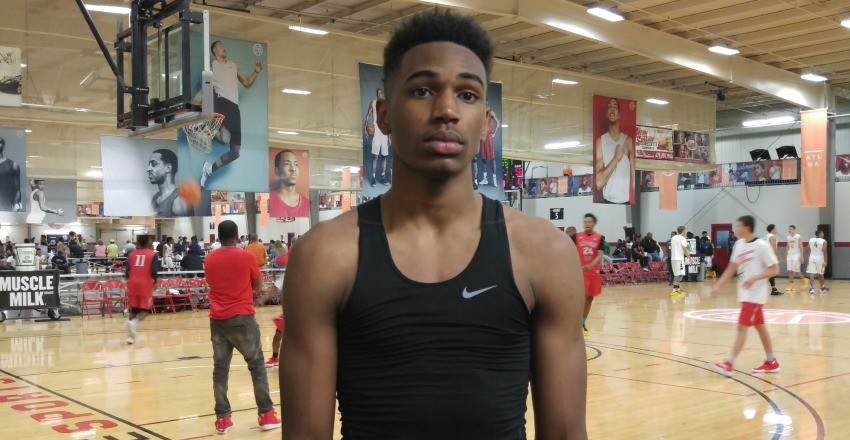 It was the final full day of action of the Nike EYBL season on Sunday as bids were up for grabs for the coveted Nike Peach Jam. Guys played like there was the potential for no tomorrow and stars stepped up and battled in showing off just what makes them special. However, it was a duo of younger prospects that caught our eye as to what could be moving ahead.
KARRINGTON DAVIS HAS THE GOODS
The St. Louis Eagles 16-under bunch is super, super talented. Boasting the likes of James Wiseman, Francis Okoro, and Mercedes Leach, talent isn't lacking with the program out of the Midwest. However, through three viewings of the squad, it has been the play of Karrington Davis that has impressed the most.
Chaminade College Prep had a great run this past year due to the play of Jayson Tatum, a top-five 2016 recruit headed to Duke. Now that he is out the door, don't be afraid because Karrington Davis is here to save the day. The 6-foot-5 wing has been awesome in each viewing this weekend as he has made shots from each level on the floor and in very situations. Whether it is off the catch and shoot in spot ups, on up-fake and two dribble pull-up moves, or on athletic finishes at the basket, there is a lot of talent and upside in the Eagles wing that should make him a go-to scorer down the stretch.
It doesn't just stop on the offensive end of the floor with Davis as he buys in to defending both wing spots on the court has the toughness and wherewithal in remaining active within the taller trees down low. A two-way producer who plays with a sense of composure and confidence, one would think that Davis' recruitment might be a bit more crowded. "I don't have any offers right now," he told HoopSeen. "Mississippi State is really the only school showing interest."
A rising junior, expect for a lot more traction to be made with the sure-fire high-level recruit out of St. Louis where Davis has the size, ball skills, talent, and intellect to be a well-followed prospect.
AYO SAYS HELLO TO STARDOM
How many prospects can suit up on the 16-under level for the entire weekend and then switch sides and lace up their shoes on the 17-under EYBL platform and immediately produce in every which way possible? Not too many and that is why what Ayo Dosunmu did on Sunday evening was even more impressive.
A 6-foot-3 guard with super long limbs, some wiggle to his handles, and major swagger that exudes off like sweat on a mid-July afternoon in the south, Dosunmu has the goods to be quite special. Attempting to secure a bid for his 16-under Mac Irvin squad this weekend in Suwanee, after his team was defeated in bracket play, the Morgan Park sophomore switched over to the 17-under level and showed off major upside and value moving ahead.
Scoring 15 first half points, Dosunmu heated up further in the second half in an impressive comeback that ended in defeat to the King James team. The sophomore guard has major breakdown skills and is slippery quick en route to the basket where he shows off excellent athleticism and body control at the basket. More than just a scorer on the attack, Dosunmu seems to make all of the right reads and passes as he never lets the ball stick to his hands and is a major weapon off of the high ball screen.
A solid rebounder of the ball who can dribble it, pass it, and score it, Dosunmu is a dying breed with the talent in tow to be even better. Finishing with 24 points, eight rebounds, and five assists in a highly competitive Midwest battle, expect for many more schools to get involved with the top-50 guard out of Chicago following such recent offers from Illinois, SMU, and Texas A&M.
LAVAR BATTS & HIS COMPETITIVE STREAK
I am not sure that I have ever seen anything like it in regards to just how hard Lavar Batts plays each and every possession that he is out on the floor. Sure, CP3 17s might have more talented prospects but no one is going to max out their games and compete on each and every possession harder than the Carolina native.
The stir to the drink for one of the most talented and successful teams throughout the entire nation, Batts plays with no fear and loves the chance to compete. Very rarely do you see someone during a game that is well past 10pm showing a snarl on his face on the defensive end, just anxious to get after it. He welcomes the chance to play the game of basketball, doesn't take any possessions off, and is the heartbeat to his team of which his squad plays off of.
Sporting an electric first step, an improving jumper, and sensational athleticism at the basket, there is more to Batts than just his competitive spirit. However, it is a bit difficult to find ballplayers that just enjoy competing and are consistent in that mindset. Lavar Batts continues to personify this and while a few high-major schools are involved, the attention should heat up further this summer.
Batts displays winning traits across the board, has passion at his fingertips, and while he sometimes may not pass as a highly lauded prospect, at the end of the day, what matters most is who comes out on top and whichever side has Lavar Batts, usually does so the most.