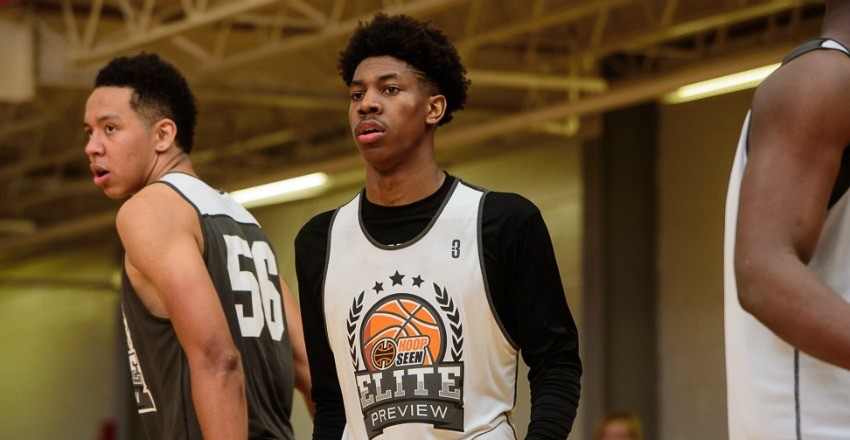 It was a full day of hoops at the Suwanee Sports Academy on Saturday as the Bob Gibbons Tournament of Champions hit full stride ahead. Some of the very best throughout the southeast went at it as the more highly-lauded prospects showed out, yet others, along the likes of Derrick Cook and Tre Mann, jumped out with their production throughout the course of the day.
DERRICK COOK EMERGES
There is going to be a lot of talk and pub with the Game Elite 17-under bunch. Sure, Darius Perry, Elias Harden, and Zion Williamson all deserve the attention that they receive. However, it was Derrick Cook that made a name for himself on Saturday with his versatility on the defensive end of the floor to go along with his shot making skills on the other side of the basketball.
A lanky but light-footed guard and a member of the 2017 class, Cook plays a quality role for his bunch. While the ball isn't always in his hands, he tended to step up and produce in various ways. What jumps out immediately about the Peach State native is his on-ball defense. One can tell that he takes great pride in defending the basketball and in also moving his feet and guarding much smaller ball handlers. Yet to totally fill out, the 6-foot-4 wing plays with a giant chip on his shoulder and doesn't back down from physicality on the hardwood, all of which allows for him to show out as a ball hawking defender.
Offensively, Cook was able to hit on a number of mid-range pull-ups displaying the ability to create his own shot within the half-court offense. He has a good first step on the attack to the basket and is a graceful finisher out in the open floor. After finishing with a team high 28-points in his Saturday afternoon win, Cook gave insight on his recruitment. "Right now, I have four offers from FIU, IUPUI, FGCU, and Winthrop," he told HoopSeen. "Georgia State, UAB, Northeastern, and Lipscomb are also talking to me."
While his list is a bit limited at the moment, don't be surprised to see his stock really pick up this July as long as he remains consistent with his energy levels and production in the backcourt.
WHO IS THAT MANN?
Getting to slide my chair up to a 15-under game on a Saturday evening is never the case usually in travel basketball. Most of the time, some of the better 17-under contests are being played out where all eyes must be placed on that specific outing. However, after hearing a good amount about the E1T1 15-uder team, I got to peer into the future and that crystal ball showed good things ahead for Tre Mann.
If you are going off of the looks test alone, Tre Mann will never jump off the page. He may be 150 pounds, soaking wet, but don't like your eyes fool you…this kid can ball! He is eerily similar to Darius Garland, a top-50 recruit in the 2018 class, at the same stage. The 5-foot-10 guard can absolutely shoot the living heck out of ball but what really jumped out was in Mann's ability to make all of the right reads and decisions with the basketball. He never get flustered, never let the ball stick, and when crowded and pushed around a bit, the Sunshine State native would simply just go right around his defender and use his nifty runner in the lane.
Thus far, North Florida is the only divison-1 program to offer Mann. In a few years, if he does grow some more, which he may as well can and will where both of his parents stand 6-foot-3 and taller, the number of schools tracking after him will be at a very high rate.
COMPETITIVE STARTING FIVE
I am becoming much more enthused with guys that just bring a competitive edge to the floor. Guys that don't care who they are facing and will do whatever it takes, that is within the rule books, of course, to get the W. Hence, I bring you my starting five of most competitive ballplayers that I saw on Saturday.
BRION WHITLEY, SG/SF, D3 MOAM, 2017: Kid is a gamer. No other way to say it. He prides himself on defense, gets to the basket and scores it, and is the epitome of an energy giver.
MJ WALKER, SF, ATLANTA XPRESS, 2017: Not only is he a star studded basketball recruit with unbelievable abilities, he can also will his team to wins through his grit, toughness, and alpha-dog mentality.
TEVIN BROWN, SG/SF, CP25 SE ELITE FBC, 2017: It is a bit mind-boggling the fact that Brown holds a lone offer from MSVU at the moment; it seems like there are three Tevin Browns on the floor at all times where the super quick wing is always in the right place and because of it, his numbers explode on the stat sheet.
WYATT WILKES, F, CP25 SE ELITE, 2017: How can I not have Wilkes on my team? The kid made two fabulous plays down the stretch on Saturday evening and exploded with a Tiger Woods, Sunday-like fist pump which showed just how much value the playmaking forward places on winning.
ZION WILLIAMSON, F, GAME ELITE, 2018: The lone sophomore on this bunch, and may I say, there were some difficult cuts as Isaiah Kelly continues to make a statement with his ball play, but Williamson's production and cool and calm demeanor is just too good to pass up. He does it all and before things are said and done with, quadruple-doubles are in the making with the explosive and talented sophomore out of South Carolina.