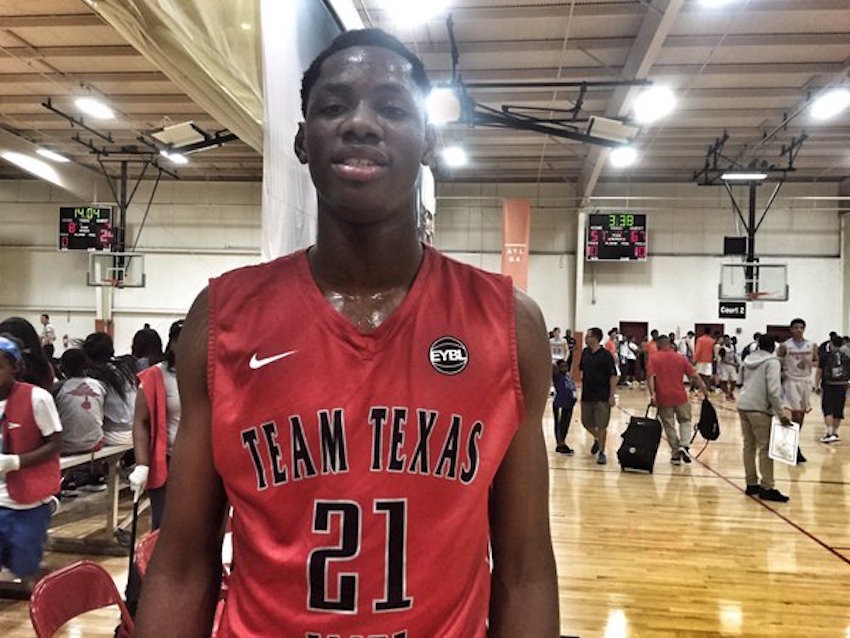 The fourth stop of the Nike EYBL comes through Atlanta and Suwanee Sports Academy. While 17U EYBL is not in action until Saturday, there was still plenty to take in with the open divisions of the Nike MDC and the Nike 16U and 15U division. Here are a few takes from tonight:
Charles Bassey Steals the Show
The class of 2019 still doe not have a consensus player nationally. While Florida names like RJ Barrett, Balsa Koprivica, and Vernon Carey have thrown their name into the conversation, San Antonio (TX) St. Anthony Catholic & Team Texas Elite forward Charles Bassey (pictured) took the opportunity to make his case tonight. The lengthy 6-foot-9 forward showed elite finishing ability above the rim as well as the ability to protect the rim. With his size and the flashes of brilliance that he shows on offense, there is no question that he is going to be in the national conversation for the next few years. Bassey already claims an offer from Kansas. 
Class of 2019 Shines Bright
Aside from Charles Bassey, a number of rising sophomores were standouts in the 15U and 16U divisions tonight. One of those guys was Bassey's teammate, Chris Harris, Jr. The Dallas (TX) South Garland combo guard stood out with his physicality and basketball savvy. Along with Bassey, Harris led the charge to a Team Texas Elite comeback win over Southern Stampede.
Another standout was 15U Team Portis Wings Elite forward Tim Caesar. Caesar, a long 6-foot-7 forward, made a living cleaning the glass on both the offensive and defensive sides. Combine that with his upside and prowess for finishing around the rim and you have a player that will be one to watch over the course of the next few years. 
Another interesting prospect was Impact Elite big man Makur Maker. Standing nearly 7-feet tall, Maker showed signs that he could be a very intriguing player int he 2019 class, with some perimeter skills as well as interior abilities. He was not overly productive tonight, but you can see the upside with the Chaminade College Prep (CA) big man. Maker is the cousin of NBA Draft prospect Thon Maker and holds an offer from UTEP. 
Other Standouts
KJ Buffen, 2018, Southern Stampede: Buffen is a do-everything combo forward who did not shy away from a very big frontline for Team Texas Elite. After a shaky start, Buffen got it going in the second half and proved he could be a high major prospect in Georgia's 2018 class. 
Everett Ray, 2017, D1 Premier: Playing in the open bracket of the Nike MDC, D1 Premier got a nice comeback win against Team Winston. They were led a majority of the game by forward Everett Ray. At 6-foot-7, the Irving, TX native made plays inside and out, looking very good in the process. He currently holds offers from Boise State, Houston, Brown, Yale, Princeton, Lehigh, and Tulsa. 
Franklin Agunanne, 2018, Team Texas Elite: Energy, energy, energy. That is what the 6-foot-8 big man provided Team Texas Elite in a win over Southern Stampede. While not yet the most skilled big man in the world, Agunanne makes up for it with his motor, strength, and aggression on the glass. Him and Charles Bassey make up a very impressive front court for Team Texas Elite.