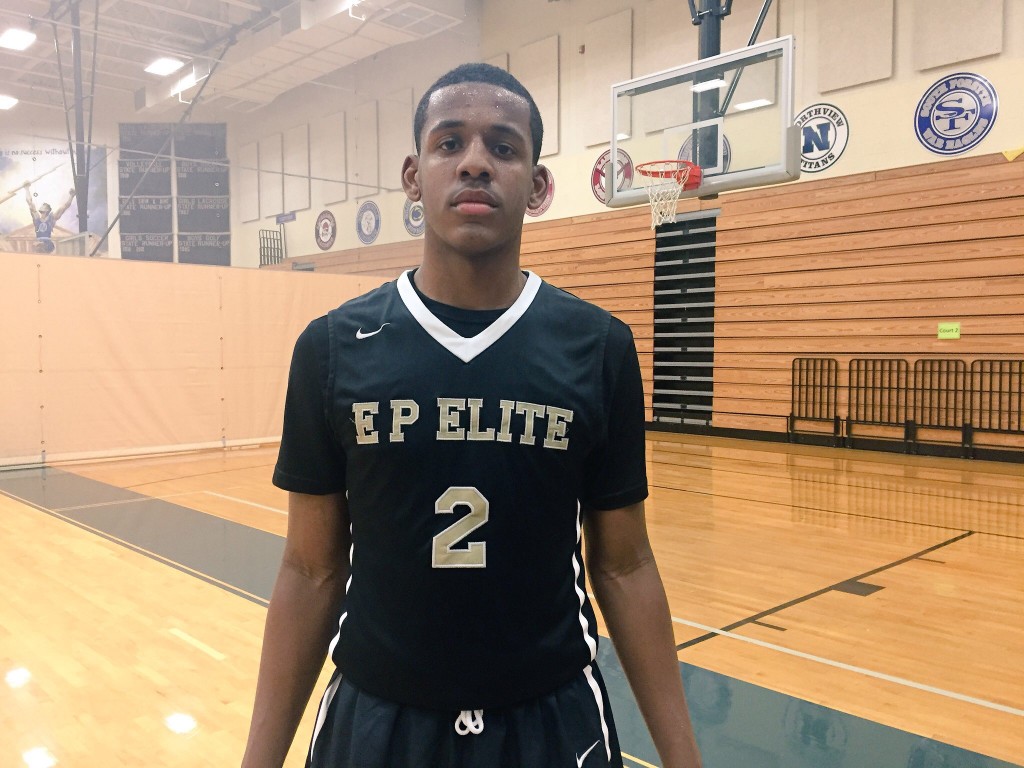 The time has finally arrived. The heralded Bob Gibbons Tournament of Champions is upon us, and teams from around the southeast and beyond converged upon metro Atlanta to show what they have. Friday night at Northview High School showcased talents of underclassmen at the 15U level, and there was a lot to take in from the three courts of action. Here are a few notes from Friday night:
Guards, Guards, Guards
The backcourts were on display and in full effect, coming out of the gates fast to begin their weekend at Gibbons. E1T1's Isiah Kirby is one of the top guards in the 15U field. The youngster keeps the ball on a string and has all the makings of being a very high level guard as his career continues and his talents keep developing. He gained his first offer from NC State earlier this week.
Texas D1 Next Level had a long day of travel from Austin, but made it to their early game on Friday evening. Combo guard Garrett Wilson showed up ready to make a statement. He did so scoring the ball in a physical manner, getting to the rim and finishing with contact. He will be a name to watch out for this weekend. 
Team Thad lead guard Demarius Boyd was also fantastic in an opening round mercy rule win. Boyd has a knack or scoring the basketball and has great basketball instincts. Boyd did a little bit of everything for Team Thad and thrived in transition, where he was able to score the ball with crafty finishes around the rim. 
Elfrid Payton Elite guard Jordan Wright (pictured) has the look of what could be a very high level guard. Wright has great size and plays the game well at multiple speeds. He is very versatile and is a great passer as well as a more than capable scorer. He is one of the top players in the class of 2019 in Louisiana. 
Atlanta Xpress combo guard Anthony Edwards might have been the best player that I saw on the opening night of Gibbons. Edwards is a big, long combo guard standing at 6-foot-2 who has a nose for scoring and has a great feel for the game. He showcased an elite level scoring ability, some good athleticism, and the ability to operate and make good reads out of ball screens. 
Diwaun Black Makes a Statement
Elfrid Payton Elite forward Diwaun Black made his presence known on Friday night in a mercy rule win. It will be hard to find a forward that plays with more motor than he does. His foot is always on the gas and that effort allows him to be a big time producer in the scoring, rebounding, and blocked shots columns. He was the best front court player that I saw on Friday night, and he could develop into a very good player in Louisiana's 2019 class. His energy is infectious to his 15U Elfrid Payton Elite squad, who play extremely hard and swarm all over the place on defense. They also get out and run on offense to create easy buckets. They will be a very difficult out in the 15U bracket. 
Intriguing Prospects
While there's no doubt that Friday was dominated by the guards, there was a fair share of interesting forwards. The first pair of forwards were from the Florida Flight, who rolled to a mercy rule win an the opening round. They were led by Lee Flenor and Dante Wilcox, who scored 18 points apiece. Flenor is a long and lanky wing forward who does a little bit of everything, while Wilcox is his powerful interior counterpart who is solid as a rock and scored at will in the pick and roll. 
Raid Nation United (NC) ended the night with a win over CMA Celtics. Their forward Greg Gantt has a ton of length standing at about 6-foot-7. He showed signs of being able to put the ball on the floor and make plays for himself. He can finish around the rim as well as protect the rim on the other side. He has loads of potential and will be a player to track closely in the Hoop State over the next few years.