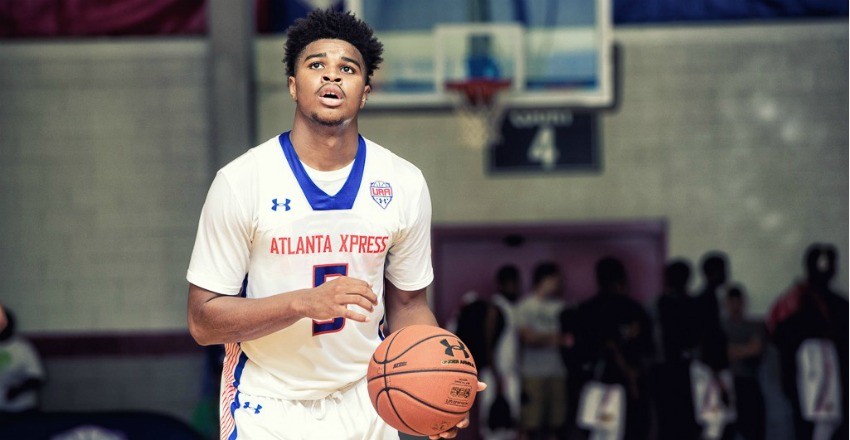 The famed Bob Gibbons Tournament of Champions is set to commence once again on the floor at Suwanee Sports Academy this weekend. In recent years, such others as Brandon Ingram, Jawun Evans, and Ryan Arcidiacono all suited up at the premier event while, before the trio of college stars, Dwight Howard, Josh Smith, DeAndre Jordan, Andre Drummond, and Kevin Love have helped cement their status as NBA prospects. This year's group of teams and prospects looks to live up to the past as some of the very best from the southeast and nationally are set for a collision course beginning Friday evening.
While Nike will be running their third session of its EYBL circuit this weekend, many of the top UA, Adidas, and non-sponsored programs from the east coast and beyond will be travelling to Suwanee. Pairing up various shoe company teams and some of the better non-sponsored bunches brings for entertaining matchups.
Whether you are looking are for a nice day out at the gym or are an avid fan who wants to see who could be the next to etch their names in Gibbons TOC galore with a primetime performance, we delve deeper into the top names on the 17-under level to watch before the weekend begins.
TEVIN BROWN, SG, CP25 SE ELITE FBC, 2017: It seems that finding ballplayers that can pass it, shoot it, and dribble it is becoming harder and harder to find. However, Tevin Brown checks all three boxes as the quality scorer of the ball brings good energy to the glass and is one of the more slept on wings out of the state of Alabama entering his senior summer.
NIC CLAXTON, PF, TEAM SOUTH CAROLINA, 2017: A national recruit with bloodlines leading back to the University of Georgia, a place where his father once suited up at, Claxton is all about the long-term. He has great feet and super long arms that allow for the Team South Carolina star to be a multi-positional defender. Super fluid and productive in the open floor, gaining strength is the biggest need for him but already, schools like Notre Dame, Iowa State, Florida State, Oregon, and Arizona have jumped on board with an offer to the Legacy Charter junior.
EVAN COLE, PF, ATLANTA ALL-STARS, 2017: Cole enhanced his name and stock in a major way at the Elite Preview back in March and he has continued to remain on the upward track this spring. A hard-playing, mix and match big man who can extend the defense with the deep ball, while the Atlanta All-Stars bunch don't have a shoe company logo on their uniform, they could be the unit that makes some major headways this weekend as a potential dark horse to cut down the nets.
TYSHAUN CRAWFORD, C, TEAM FORREST, 2017: A massive big man down low who eats up space like the Cookie Monster munches on, well, cookies, Crawford is a few possessions away from seeing his name blow-up. While he is just beginning to get acclimated with his physique in comprehending how to use his body to his betterment, MTSU felt confident enough in the junior center to offer the big fella several weeks back.
AJ FORD, PF, CP25 SE ELITE FBC, 2017: Programs are just beginning to get accustomed to the sleeper forward out of the state of Florida. Ford brings great size, mobility, and the pedigree in place as his older brother, Quincy Ford, just finished up a quality career at Northeastern. Teaming up with Tevin Brown with his CP25 SE Elite FBC bunch, this crew could be one of the sleepers that make a deep run on Sunday.
TRENT FRAZIER, G, WELLINGTON WOLVES, 2017: Frazier began his story at Suwanee Sports Academy a few years ago and this weekend at Gibbons, expect for a lot of good from the Wellington star. The Sunshine State native is in between guard spots but there is no debate over his toughness and ability to score the basketball in large loads. Baylor, Illinois, and Kansas State, along with a litany of other quality mid-level schools have offered the prospering junior who is still on the uptick with his college recruitment.
TONY JACKSON, SF, LOUISVILLE MAGIC, 2017: Sporting a college ready body, an alpha-dog mentality, and excellent instincts on the hardwood, Jackson is one of the better, under-the-radar recruits out of the state of Kentucky, regardless of class. He has polished his jumper over the winter and is ready to fully explode this spring and summer as a worthwhile, high-major recruit.
JAMAL JOHNSON, SG, TEAM CARROLL, 2017: The 6-foot-3 guard is no stranger to Suwanee Sports Academy as Johnson has made a giant name for himself with big time outings under the roof in Georgia. Capable of playing either guard spot and showing off an elite mid-range game, a bevy of SEC schools have prioritized the Alabama native thus far as he continues to lead on whichever team that he is placed out onto.
DAVONTA JORDAN, PG, D3 MOAM, 2016: One of the best lead guards still left on the board within the 2016 class, Jordan has shown out this spring via his explosive first step, scoring abilities when placed off of the ball, and killer demeanor as a shut-down defender on the perimeter. Jordan has two-way production abilities and a college ready body that, when the time permits, should help out whichever school he calls home early on during his collegiate playing days.
DARIUS PERRY, PG, GAME ELITE, 2017: Last weekend, Darius Perry was on the campus of the University of Georgia; this weekend, plan on seeing Perry enhancing his resume as a top-100 recruit within the 2017 class. Explosive, a strong physique, and a killer mindset is already in tow with the leader of the Game Elite 17-under bunch.
AJ OLIVER, SG, UPWARD STARS, 2017: Already committed to Clemson, Oliver is one of the top prospects to hit the floor this weekend. He brings a super versatile skillset, a college-ready body, and major toughness to the hardwood that has enabled for him to average over 13 points per game while making close to 40-percent of his perimeter attempts through his two sessions on the Adidas circuit this spring.
ALEX REESE, PF, TEAM CARROLL, 2017: Reese is one of the better face-up, high upside big men around, regardless of locale. Showcasing quality length, impeccable hands and touch from 15-feet and in, and good instincts on the offensive glass, a majority of the top programs down south have made a giant push for Reese. The top-100 recruit could be a major noise maker this weekend as he remains the key cog for his Team Carroll bunch.
TARIQ SIMMONS, G, UPWARD STARS, 2017: A tough, competitive guard who gets buckets with ease, Simmons is the perfect complement to AJ Oliver in the backcourt. Averaging over 12 points and shooting close to 45-percent from 3-point range on the Adidas circuit thus far, Simmons is ready to take his game and stock to the next level after helping lead his team to the 16-under championships in last year's Gibbons event.
DAVID SLOAN, PG, LOUISVILLE MAGIC, 2017: One of the best lead guards out of the Midwest, Sloan will take his talents to Suwanee this weekend and attempt to take his team on a championship run. While he isn't the biggest of lead guards around, he more than makes up for it with his speed, savvy, and production, all of which has led to offers from such others as Missouri, Tennessee, and Butler.
KYLE STURDIVANT, PG, ATLANTA XPRESS, 2019: Playing at the highest spectrum of play on the 17-under level, Sturdivant is one of the next guys up out of the Peach State. The well-built and confident floor general has continued to polish his game while exuding great toughness and versatility that should make him a high-major recruit one day soon.
TERRELL TURNER, SG, D3 MOAM, 2017: Turner took his talents last fall to Sunrise Christian in Kansas and now back in the south running with the D3 MOAM bunch, the 6-foot-4 scorer has done what he does best this spring…score the basketball. Whether it is off the catch, off of pull-up jumpers, or on crafty scores in the lane, the SSA maintenance staff better have the fire extinguishers nearby as Turner could light the nets on fire at any second.
MJ WALKER, SF, ATLANTA XPRESS, 2017: Making the short drive to Suwanee this weekend is top-25 recruit and hard-playing wing, MJ Walker. The one-time, highly followed football recruit, Walker has concentrated all of his recent focus on the hardwood and has seen his recruitment intensify some as Maryland, Florida State, and Ohio State have zeroed in on the stud from Jonesboro.
WYATT WILKES, F, CP25 SE ELITE, 2017: A major match-up issue at either forward spot who is an ideal, small-ball 4-man who can handle it, shoot it, post up, and play make, the IQ and production out of Wyatt Wilkes is as good as it gets out of the Sunshine State. Auburn, Rutgers, and Creighton are the most recent offers for the versatile forward who will be the key cog for a potential run on championship Sunday at Gibbons this weekend.
MALIK WILLIAM, PF, CP25 SE ELITE, 2017: Things have begun to take off with Malik William and rightfully so. The 6-foot-8 forward out of the Orlando area is an excellent high-post passer and brings a giant nose for the ball on the glass. Clemson, UConn, and USF have all offered the prospering big man that will look to further enhance his resume this weekend in Suwanee.
ZION WILLIAMSON, F, GAME ELITE, 2018: Last year at Gibbons, it was Zion Williamson that announced his name to the public with his take over abilities and play making skills. In the matter of 12 months, the well-built sophomore has grown close to three inches, packed on close to 25 pounds, and has reached elite level status as he carries a bevy of offers from some of the best from the SEC and ACC…be warned about the Larry Johnson-type out of Spartanburg, South Carolina.
TWENTY OTHERS TO TRACK:
Phil Cirillo, SG, AC Georgia, 2017
Vincent Cole, SG, Upward Stars, 2017
Trejan Davis, SF, Douglas Brothers Elite, 2017
Louis Dorsey, SF, CP25 SE Elite Blueprint, 2017
Michael Durr, C, Atlanta Xpress, 2017
Justin Forrest, G, Team Forrest, 2017
Noah Gurley, PF, ISBC, 2017
Elias Harden, SF, Game Elite, 2017
Isaiah Hart, PG, Douglas Brothers Elite, 2017
Caleb Hodnett, SG, Tennessee Tigers, 2017
Elijah Jordan, PG, CP25 SE Elite, 2017
Isaiah Miller, G, ISBC, 2017
Grayson Murphy, PG, WACG, 2017
Jaylen Sebree, SF, Louisville Magic, 2017
Jaden Stanley, SF, AC Georgia 2017
Brian Thomas, PF, Game Elite, 2017
Chris Vogt, C, Louisville Magic, 2017
Brion Whitley, SF, D3 MOAM, 2017
Kane Williams, G, Georgia Stunners, 2017
Jacori Wilson, F, Georgia Stunners, 2017