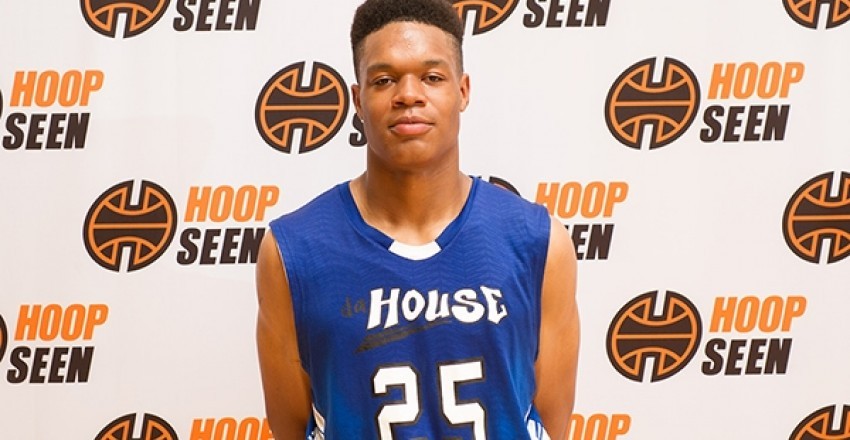 Last year, the Atlanta Jam got off to a fantastic start as a first-year tournament, as many competitive teams came through the doors of Suwanee Sports Academy to play in front of college coaches. This year, we will have a lot of familiar faces – teams, players, and colleges – but there's only one difference… This year's event will be even better!
Here's a few things to watch for heading into the first evaluation period of April …
CAN DA HOUSE DEFEND THEIR CROWN?
Da House out of Mississippi came to Atlanta last year and took home the 15U Atlanta Jam championship trophy. This year, they look to do the same thing, but it won't be easy.
Robert Woodard (pictured above), ranked No. 19 in our 2018 national rankings, is already on the radar for many high-major programs. He leads the attack for the talented group from Mississippi, but he isn't the only player they have.
2018 big man Javian Fleming has a chance to be a highly regarded prospect with college coaches, along with Madarius Hobson and Tada Stricklen.
Da House has already beaten several shoe circuit teams heading into this weekend. They're primed and ready to play, but can they defend the titled? Time will tell.
WHO'S THE NEXT JAVIEN WILLIAMS?
As we have alluded to before, UAB signee Javien Williams used this event last year to propel his stock in front of college coaches. Who are candidates to do it this year? How about another Alabama native in Tevin Brown.
Brown, a 6-foot-4 shooter out of Fairhope (AL), had a tremendous high school season and really generated some buzz around his name. This week, a lengthy group of college coaches are expected to follow him with CP25 Southeast Elite/FBC 2017.
Brown had a productive day at the Alabama Elite Preview in early March. He's followed that up with some good performances in AAU games, too. While he isn't the same player Williams is, if Brown performs well, he could leave SSA with some scholarship offers and be on the same road. Keep an eye on him this weekend.
UNSIGNED SENIORS BATTLING FOR SCHOLARSHIPS
Last year, Miami freshman Ebuka Izundu headed the list of available unsigned seniors. He and several other seniors that played in the #ATLJam earned scholarships to continue their basketball careers. This year will be no different.
The Atlanta Jam will have a number of talented unsigned seniors this season, headlined by Darius Allen, James Lewis, and Giovanni Fraser. All three guys are expected to sign D-1 scholarships following the live periods and are ones to track. The best part is, there are also some unknown guys that have a chance to make a splash, too.
There will be an abundance of unsigned seniors in the event and we're excited to see who starts their story this year.