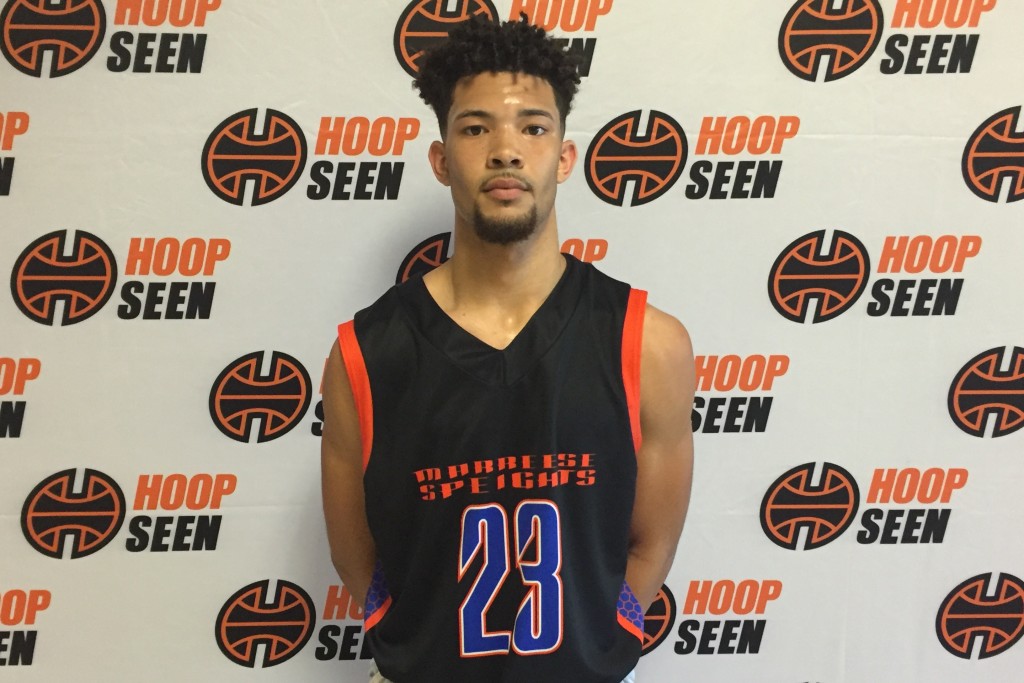 Day 2 of the Atlanta Jam uncovered more hidden gems with next level potential. Though most of the spotlight this weekend has been focused on the older divisions, 14U has a stud of their own. Quickly becoming a familiar face as a top performer, Montgomery Fire's Antwan Burnett continued to blaze a name for himself. It sometimes can be tough to project young players, but if Burnett keeps his foot on the gas he could become a popular name sooner rather than later. After torching Georgia Cup II and helping the Fire win the title, Burnett picked up where he left off by dropping 16 points in the first half and finishing with 20 in a 59-24 win over Below The Rim.
Garrett Sanderson showed poise and great understanding of the game on both offense and defense in 17U Tennessee Tigers' 71-42 win over TAB Spurs. Sanderson, who averaged 17.7 points and 6.5 rebounds as a junior at Montgomery Academy, finished with 14 points and five steals. He was in the right position on defense constantly and while the ball was in his hands, he valued each possession. Lehigh has shown interest in the 6-3 guard.
Looking for a tough unsigned senior guard with size? John Mason (pictured) has you covered. At 6-6, Mason can see over defenders and find the open man. His tight handles helped him slash to the basket and nearly lift 17U Team Speights 2 to a victory against Team Under Pressure Souldiers, falling 50-46. Mason finished with 14 points and played with a sense of urgency throughout the game. He has garnered interest from Southern Miss, UAB, Murray State and Richmond.
17U AC Georgia Phoenix had their way with the Savannah Terps, rolling 78-59. Phil Cirillo and Phlan Fleming played well, knocking down the long ball and finishing with 12 and 11 points respectively. Jaden Stanley and Clint Bentley did most of the damage for the Phoenix. Stanley, who moved from Montana to Georgia this past year where he spent his junior season at Discovery, scored a team-high 19 points along with Bentley. The 6-6 forward stated the move to Georgia was to play against better competition. It looks like Stanley is in line for a big season at Discovery with his versatile inside-outside game.
It shouldn't come as a surprise but 17U Carolina Wolves looked excellent yet again, this time earning a 100-66 win over the Atlanta Warriors. Ja'Cor Nelson and Christiaan Jones have established themselves as one of the top backcourts in the tournament this weekend. Nelson went off for 25 points while his running mate Jones added 16.
In what possibly was the game of the day 17U Game Speed Elite snuck past the BBA Kings. After the Kings scorched the net and finished with 10 made threes on the day, Game Speed won the wild affair on a Neil Hawkins layup at the buzzer, 68-67. Nyameye Adam scored 20 points and Jacobe Joyner netted 21 to lead the late rally, with Joyner making key plays down the stretch at point guard. The dynamic duo overcame big efforts from Payton Stovall (16) and Jayce Willingham who buried six deep balls on his way to a game-high 26 points.