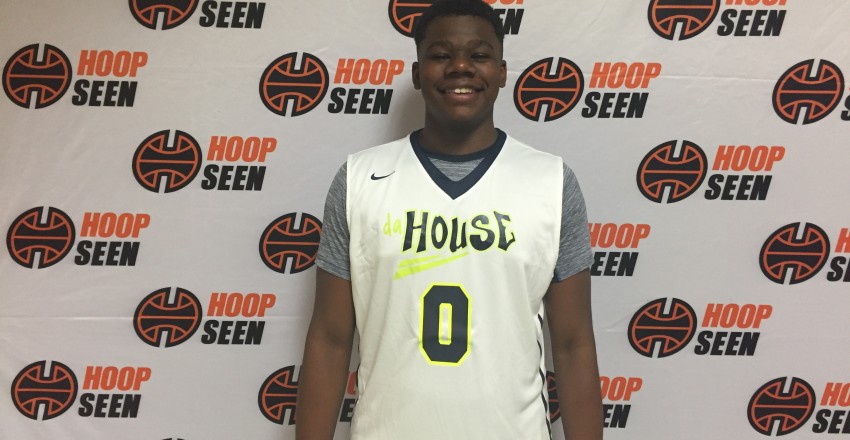 The NCAA Live Period is here. The state of Georgia once again has been targeted as a hotbed for talent with the Atlanta Jam in full swing. Over at Northview High School, 16U teams and individuals began to make names for themselves.
Let's start with the defending 15U Atlanta Jam champs, Da House. A year older with championship experience under their belt, the group from Mississippi showed off their championship pedigree even without star forward Robert Woodard who is in New York for the EYBL circuit. So who stepped up in Woodard's absence? It was 6-8 center Javian Fleming. The bruising wide body at first look doesn't look like a great athlete, but he is nimble inside and has great footwork in the low post and a knack for crashing the offensive glass. Fleming was too big for CP25 Southeast Elite to keep off the boards and led the way along with Deananthony Tipler, both scoring 12 points as Da House held on for a 73-67 win. CP25 Southeast Elite received a game-high 21 points from Michael Randolph Jr., an aggressive 6-3 guard that was able to slash into the lane against the bigger Da House defenders.
A sleeper in Georgia that won't be one for much longer is Team GA Magic's Cameron Holden. The Mary Persons product dropped 35 points in the Magic's 84-76 win. Patient with the ball in his hands, Holden cut up Game Speed Elite inside and outside, converting on 11 free throws and draining four threes.
The GA Stars took care of business against the Charlotte Aces 77-63. Will Richardson pitched in a smooth 15 points and helped key the Stars' full court press that gave the Aces fits. Not known as a college basketball factory, Calhoun County High School might have something special in Rashun Williams. At 6-6, Williams already has the size that colleges covet and continued to show flashes of potential, none more exciting than when he drove to the lane, jump stopped and crammed down a one-handed slam in traffic on his way to a team-high 16 points.
The final game of the night saw Team Atlanta knock off PSB Select Elite 69-67. KJ Jenkins pumped in 24 points while Dylin Hardeman added 20, but PSB's Hunter Tyson might have been the most intriguing prospect. At 6-7 coming off a high school season at Piedmont, NC where he averaged 19.4 points and 7.9 rebounds, Tyson showed off his marksmanship from the long range, burying five three-pointers en route to a game-high 28 points.