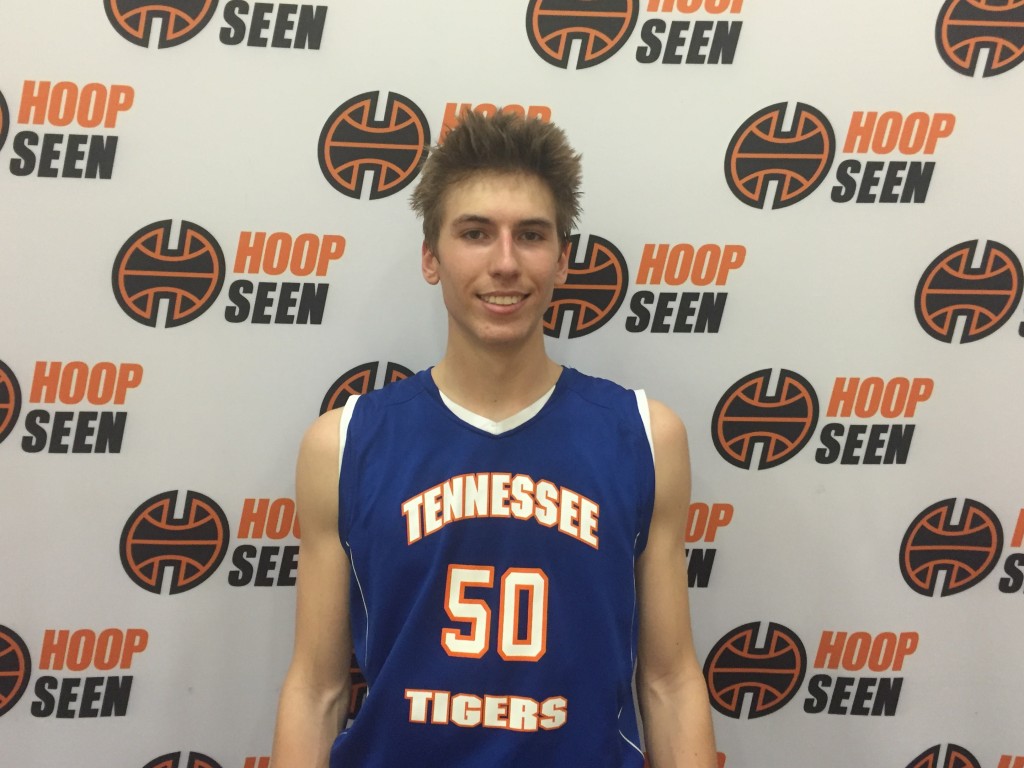 Atlanta Jam highlighted the first NCAA Live Period in the state of Georgia, affording college coaches from all over to take a peek at talent across the southeast. For some, it was a chance to continue building momentum while for others it was an opportunity to make a strong first impression.
Caleb Hodnett of the 17U Tennessee Tigers took full advantage and wrote the first chapter in his late blooming career. The unsigned senior exploded in the 17U White Division championship, stroking six threes and finishing with a game-high 31 points.
If you haven't heard of the 6-6 wing don't feel bad, many haven't.
"I came from a really small private school and I never was really pressed to play AAU until I got to the end of my senior year." 
Playing for the first time over the summer this season, Hodnett has shown the ability to shoot from the perimeter and finish inside as well. He threw down a monster slam off the dribble to cap his championship performance.
"I'm trying to get on the circuit and play as hard as I can and see where it takes me," said Hodnett. "I'd been working hard in the offseasons but nobody was recruiting me and I was really struggling to figure out why so I got in contact with Coach Chip [Smith] through a friend and he got me out here on the Tigers."
Hodnett said he's worked out for Belmont once and has garnered interest from D-II Cedarville University. If Hodnett can continue to shoot the ball well from the perimeter, expect him to find a home sooner rather than later as a diamond in the rough.
Bully on the Block
No player impressed me more than 16U Da House's Javian Fleming. In an era where back-to-the-basket big men have become a dying breed, Fleming is a breath of fresh air. The 6-8 center is a load in the low post and still has baby fat on him, meaning there is still room to mold his body and get him even stronger. Fleming was a key piece in Da House repeating as Atlanta Jam champs. He went for 18 points against North Georgia Elite in Da House's 65-52 victory.
Fleming surprises with his agility along the baseline and his excellent footwork. Up-and-unders came natural to the rising junior out of Canton High School in Mississippi. His knowledge of how to work angles inside and finish with both hands on either side of the rim makes him a true workhorse when he gets the ball.
Defensively Fleming went straight up in the post, forcing smaller players to shoot over him, not bailing them out. Programs looking for a low block scorer in two years should jump on Fleming and keep an eye on his progress moving forward.
Youth is Served
No one turned heads more in the 14U Division with their pure size and strength than Thunder Struck's Gervon Dexter. Already standing 6-6 at age 15, Dexter has plug-and-play size for most high school frontcourts. He demolished Georgia Red Storm Scales inside for 17 points and 14 rebounds in Thunder Struck's 71-63 championship victory. Dexter gobbled up rebounds and threw down a dunk for good measure as he overpowered the Red Storm. If he wasn't scoring off second chance points, he was using a nearly unguardable drop step to blast through defenders.  If Dexter has a few more inches in him he has a shot to make some noise in the paint at Frostproof High School in Florida where he already averaged close to 10 points per game as an eighth grader playing on the varsity.