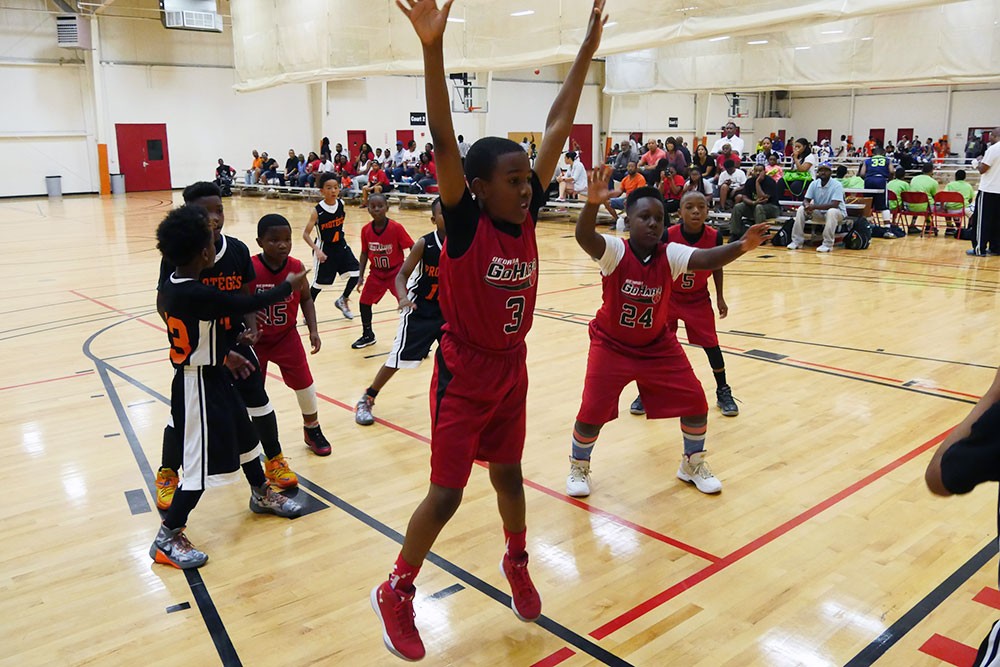 9U Notes
Asani Spivey of the Atlanta Celtics showed out at the Georgia Cup.  The young fella scored 18 points in a 9U game to start his Georgia Cup story.  That's a lot of points for that age division.   The Atlanta Celtics have things rolling nicely heading into Sunday.  
Speaking of good performances.  Jared White of Team Proteges scored 15 of his team's 30 points in a win over Georgia Go Hard. 
Alabama Teams have done well during the 2016 Georgia Cup stops and always seem to have good talent. Case in point: The Huntsville Flight. The Flight have a nice looking young team with a number of kids who can score well for their age.  
The Gwinnett Hawks are undefeated (3-0) heading into Sunday.  The Hawks have gotten solid play from Amir Taylor and KJ Banks in particular. 
10U Notes
The Dekalb Knights are making their Georgia Cup debut memorable.  They came back agains the SI Kings this afternoon in an exciting game.  Matthews led the Knights with 10 points. 
E. Taylor of Georgia Excel was terrific this afternoon in a tough loss to EOTO.  The 4th grader scored 21 points.
At the 10U level most teams have one or two players who really stand out above the rest.  One of the reasons EOTO has been successful this weekend (3-0) is that they have a number of different kids who have stepped up and played well when needed. 
The Roswell Bombers also ended pool play undefeated and will certainly be in the mix for the championship on Sunday. Tyson Pitmman continues his strong play as does Blake Haynes & Cole Wicker.  
Georgia Go Hard out of Albany, Georgia came to Atlanta with something to prove in their first Georgia Cup.  The young squad played well.   Go Hard Guard Kameron Sanders was one of the better players in the age division on Saturday.
11U Notes
The future looks bright for Dacula High School.  D-Elite, which is essentially a feeder team, looked as good as any on Saturday at the Georgia Cup.  They have a number of kids who can play.  Lamaryion Jordan, William Green Luther Divers all had good days for D-Elite.  
EOTO is having another solid weekend finishing pool play 3-1.  They were runner-up in both of the first 2 stops of the Georgia Cup. 
Synergy Select continues to display its promising future.  This team usually plays 4th grade but is playing up this weekend.  They finished pool play 2-1 with one of those wins coming against a very good EOTO team. 
13U Notes 
The 13U Georgia Xclusive team is really good.  That's an obvious point to anyone familiar with this team the past few years.  They have set the standard in the state for a while.  Nevertheless, when teams are young you never how they will grow and develop as they get older.  So far so good for the Xclusive.  While only in 7th grade their size at every position make them look like a high school aged team.  Guard Madison Durr has certainly received his share of accolades from HoopSeen over the years, but he is hardly the only weapon on the team.  Julian Nixon has become quite a force on the interior.  He changes the game defensively as well as on the offensive boards. Taufiq Smith and KJ Doucet were also dynamic in the press and going to the basket today.  
Jaeden Marshal of the Coastal Ballers shined at Georgia Cup II and he did it again today at Georgia Cup III. The 7th grader handles the ball  and gets to the rim extremely well.  Marshal is certainly one of the better players in this age division. 
Cooper Taylor of Warrior Elite had a great game this morning scoring 26 points in a win. MTXE is a team that keeps improving.  Good outing this morning for MTXE's Daniel Beverly who scored 23 points in a win.  D. McDonald dropped 19 this afternoon for TNBC select in a win over the Montgomery Fire 47-35. 
Hawkins of Club Orange did a nice job of scoring and rebounding the ball - had 18 points in his morning game. He also passes the ball nicely for a big man. Collin Young did a nice job handling the ball and making plays going to the hoop for Team Forrest. 
XXI Premier has had a great weekend thus far, winning all of their pool games in convincing fashion.