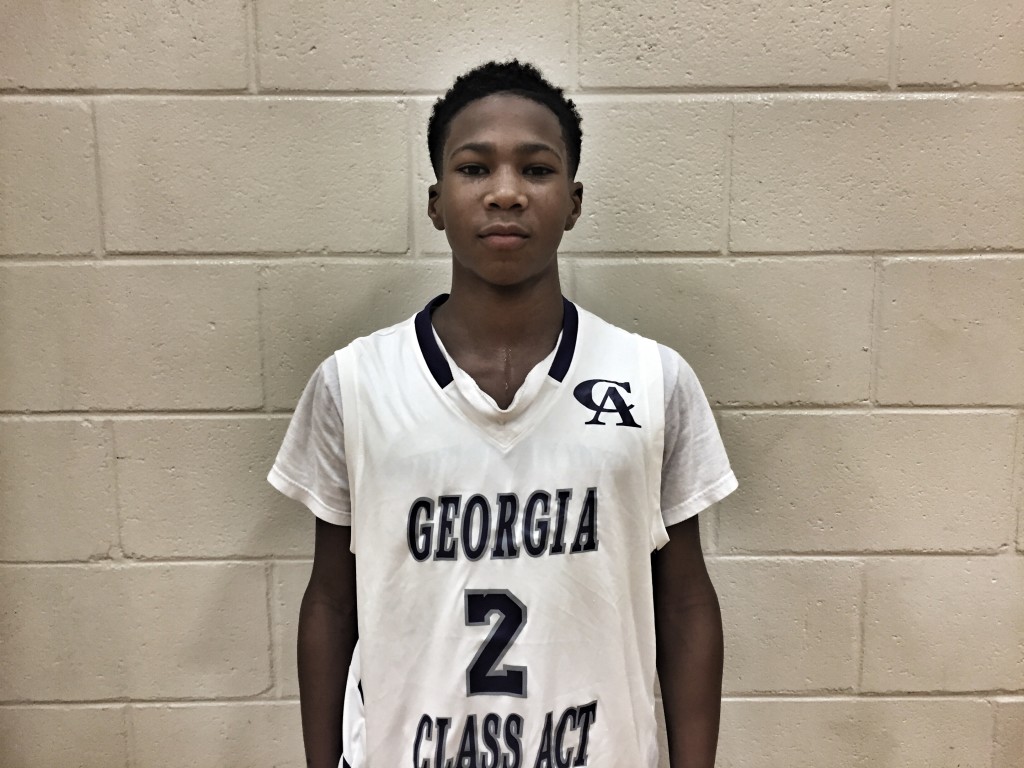 The long grind of Saturday games at the third Georgia Cup of 2016 is now behind us, and we are ready for the home stretch on championship Sunday. Here are a few notes from that long grind and the day that was:
Best Middle School Performer: Deivon Smith, Georgia Class Act (Pictured)
Smith is a young guard who has basketball instincts and an understanding of the game beyond his years. He is extremely active and high energy. He is also lightning quick with the dribble and can use his ball handling to create for himself as well as others. His ability to distribute the ball and find his teammates separates him from the rest. He has a knack for gathering assists in a hurry. He said that he will be attending Grayson High School next year. 
Best High School Performer: Tae Hardy, Champions Chance
The Miller Grove guard is no stranger to the HoopSeen staff as he is a veteran of HoopSeen events. He had a tremendous day scoring the ball and does so in a very smooth and easy fashion. He has played this weekend which such a style of freedom and has made a number of highlight plays including the play of the weekend where he threw an alley-oop to himself off of the backboard in transition. He holds an offer from Alabama A&M and interest from a number of mid majors and low majors including Lipscomb, George Mason, and Georgia State among others.
Best High School Performer: Keiondre Perry, Team Affect
Perry went on a scoring tear in the late afternoon here at the Georgia Cup. He looked unstoppable in a matchup against God's Property, scoring 24 points in the first half and doing so in a variety of ways. He was relentless attacking the rim but also shot the ball very well and knew when to make the right plays and find his teammates despite having the hot hand. The Eastside High School wing finished the game with 30 points.
Best Match Up: Keiondre Perry (Team Affect) vs. JaQuan Morris (God's Property)
As mentioned before, Perry looked unstoppable in the first half of Team Affect's game against God's Property Thunder. However, in the second half, he went toe to toe with one of the Georgia Cup's best overall performers in JaQuan Morris of Central Gwinnett. These two guards traded shots back and forth, both hitting big shots as their teams battled for leads late in the game. However, it was JaQuan Morris' God's Property Team that came out with a win. Perry had 30 points while Morris finished with 17.