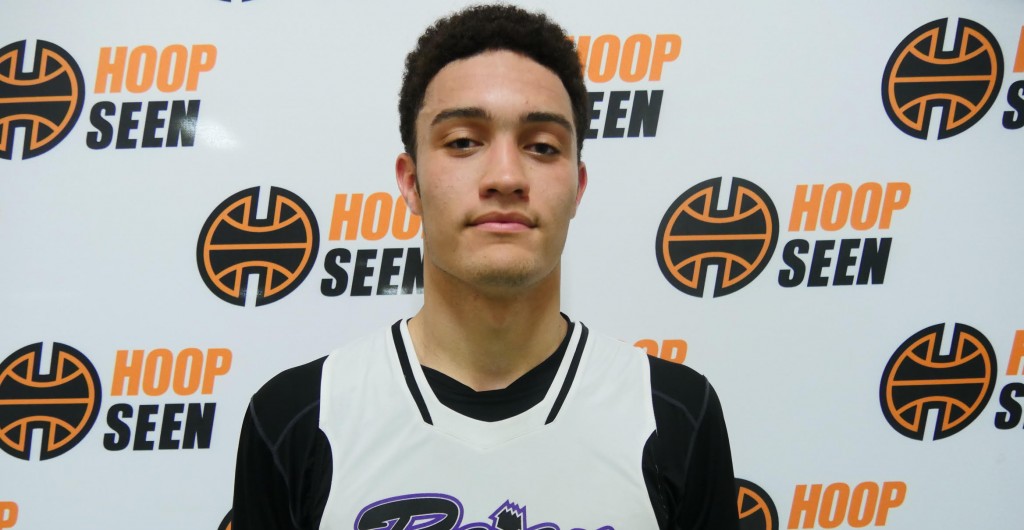 The opening night of the Atlanta Jam brought in several talented teams and players. With a house full of college coaches, several players stood out and made statements to open up the April evaluation periods.
Here are the storylines from Friday's action… 
BUCKETS AND MORE BUCKETS FOR TRENT FRAZIER
2017 Wellington (FL) combo guard Trent Frazier couldn't find his shot on opening night, but that didn't stop the talented top 100 prospect from getting buckets Friday. The 6-foot-2 lefty finished with 19 points, as he showcased his ability to play in pick-and-roll situations and be crafty around the rim.
Frazier is smooth and flashy with the ball in his hands. He mentioned Illinois as his leader, with Florida and Stephen F. Austin right behind. As the weekend goes on, keep an eye on him, as many college coaches will want to take a peek at him.
RIVER CITY REIGN DUO IMPRESSES
The River City Reign started the evaluation period with a win over the Charlotte Nets on Friday evening and the two center pieces of their team brought their best to the table.
Zach Jacobs, a 6-foot-7 power forward from Richmond (VA) Trinity Episcopal School, started out the Atlanta Jam with 20 points. He showed a great set of hands and a soft touch around and away from the basket, as he hit several 3's. Jacobs listed offers from James Madison, Drexel, and Campbell, but with a 3.9 GPA and a 30 on the ACT, that list will grow.
Johquin Wiley, a 6-foot point guard, also had a solid opening night, as he scored 12 points and dished out a number of assists. The heady floor general found teammates in transition and the half-court, as he showcased his passing ability and high IQ. Low majors will want to keep tabs on him going forward.
ELITE PREVIEW CAMPERS CONTINUE STRONG SPRINGS
One of the main reasons we have our Elite Preview camps in the spring is to give players the opportunity to place some buzz around their names. It's safe to say a couple of camp kids used their springboard last month into tonight.
2017 Fairhope (AL) wing Tevin Brown finished with 19 points to lead CP25 Southeast Elite FBC past the Charlotte Aces on Friday night. Known as a shooter, Brown showcased his ability to put the ball on the floor and finish at the rim. He also primarily played the 1, something a little different in his game. If he can play on the ball as well as off, his value will only go up. Look for him to hit shots all weekend, too.
Evan Cole, a 2017 big man with the Atlanta All-Stars, had a coming out party at the Georgia Elite Preview in March. He showed the same signs tonight at the Atlanta Jam. He has a nice, strong frame and has some skill to his game, too. He hit a couple of shots from 15 feet and out, and he showed some impressive athleticism, as he finished a couple of plays above the rim. Several low-major programs are keeping an eye on him throughout the weekend. He may pick up his first Division-1 offer, too. 
His team didn't come out with the win, but 2017 combo guard Garrett Sanderson had a productive game for the Tennessee Tigers. The 6-foot-2 combo guard has a great feel for the game and hit some shots from the perimeter. However, what set him apart from the rest was his vocal leadership on the floor and on the bench. He constantly encouraged his teammates and was a difference-maker.