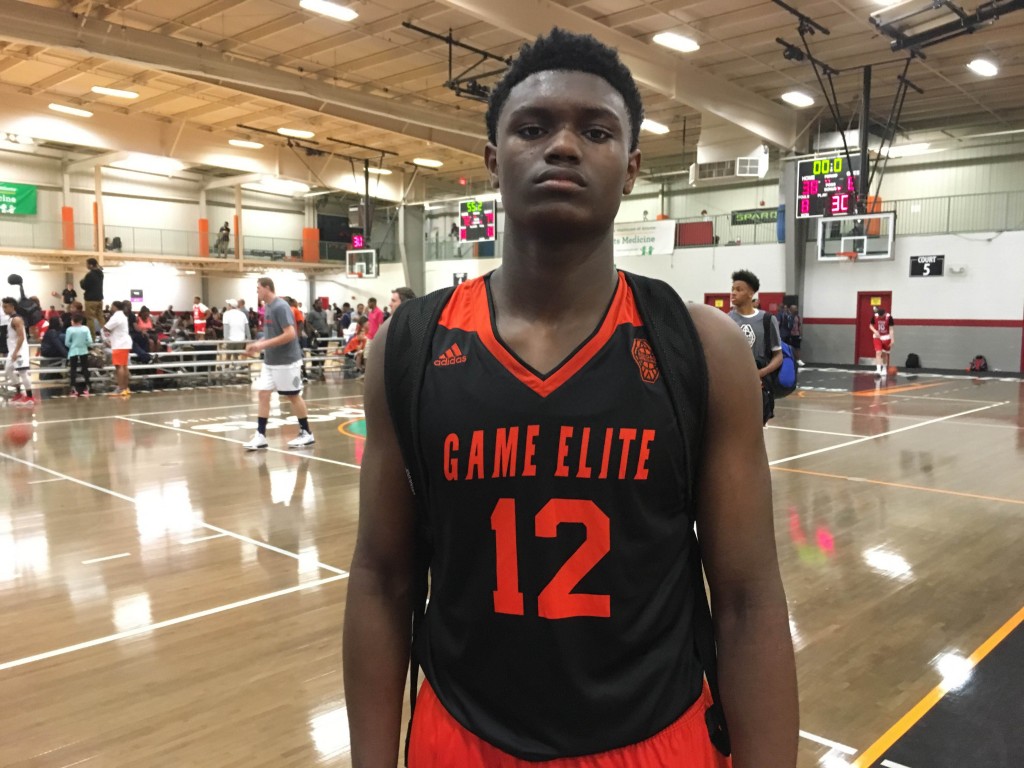 The Atlanta stop of the adidas Gauntlet is in the books and we look back at the quick-hitters from the loaded event. 
MOST VALUABLE PLAYER
Zion Williamson, F, Game Elite, 2018: From start to finish, the South Carolina native was an absolute bullish player to defend. The 6-foot-7 forward punished defenders with his tough guy play in the paint and scored at will around the rim. He was one of the top scorers and rebounders in the field throughout the weekend and didn't pull off the gas. Williamson was the trending player throughout Suwanee Sports Academy. Some compared him to Rodney Rogers, others Larry Johnson. Both aren't far off. Williamson justified our ranking of him as a top 10 national prospect in the class of 2018. 
BIGGEST STOCK BOOSTER 
Nick Weatherspoon, PG, MBA Hoops, 2017: The 6-foot-2 guard loves playing in Atlanta in April. Last year, he was one of the stars of the Atlanta Jam. He helped SR1 Basketball Club win the 16U division. This year, he was lighting teams up with points and power from the lead guard position. A consensus top 100 national recruit, Weatherspoon's play begged the question of just how much better is he than were he is currently ranked? For the record, we have him at No, 49 overall and higher than anyone else. That said, you could make an argument that he could be a guy that slides inside the top 40 overall.  
BEST SLEEPER 
Roberto Gittens, SG, Team Bradley NW Panthers, 2017: We looked deeper into the rosters and wanted to find players that sat outside of national rankings. Gittens made an impression right out of the gate and finished just as well as he started. The 6-foot-4 guard is built and plays like a middle linebacker. He's granite strong and consistent. Gittens was good from deep and still, at least for now, sleeping with recruiters. Hofstra just offered, and watched him closely throughout the weekend. 
BEST 2018 
Romeo Langford, Eric Gordon All-Stars. The only thing that could really stop Langford was an injury that sidelined him on Sunday. Absolutely brilliant effort from the Indiana guard. 
BEST 2019
Matthew Hurt, D1 Minnesota. What a talent. His on-court feel is off the charts and he played like a guy worth of attention from the likes of Roy Williams at 8 a.m. on a Sunday morning.