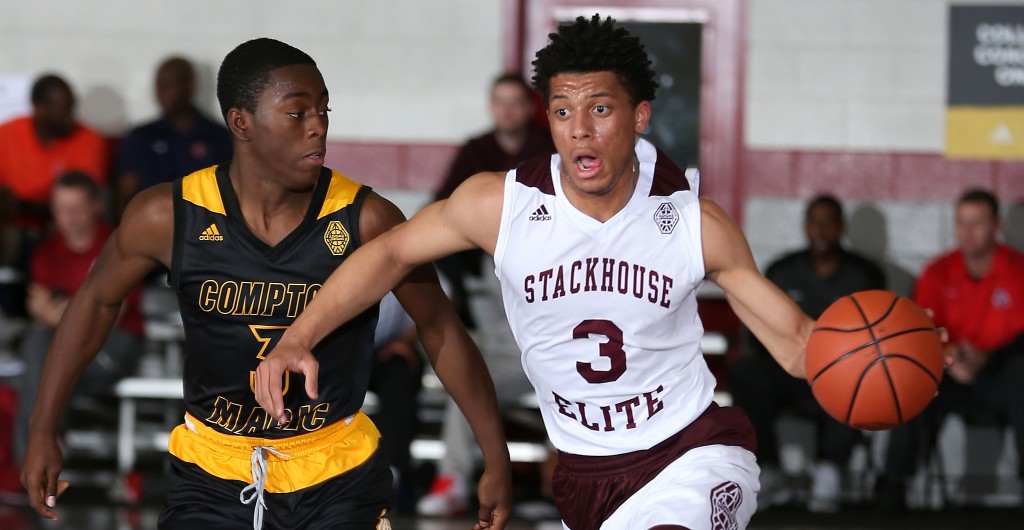 SUWANEE, GA — Opening night at the Atlanta stop of the adidas Gauntlet series was a nice mixture of the guys you'd expect to shine meets a sleeper-heavy evening mixed up with a little s youth movement. 
POINT GUARD POSITIONING 
Paired against UCLA-bound point guard Jaylen Hands, Wiggington was out to prove himself as a top five national floor general. 
"That's what I want. I'm out there to kill," he said. "I'm out there to prove that I'm the top guy and I want to take his spot. I took it personal." 
For starters, his team won. Wiggington was 7-18 from the floor, scoring 21 points in the process. He also had six assists and five rebounds in the game. Truth be told, he raised the level of play for his entire Stackhouse Elite team against a very talented Compton Magic bunch. 
On the recruiting front, Wiggington said he had in-home visits with NC State, Virginia Tech and Arizona State last week. The Canadian added Iowa State is now in the mix to go along with Louisville, Arizona, Florida State and Georgia. 
"I'm really wide open right now," Wiggington said.
STAR POWER 
Zion Williamson, Game Elite: Simply put, he was the best player in the gym on Friday night that I saw. The South Carolina native played like a young Larry Johnson in a tough loss to a hot-shooting Team FAST team. The class of 2018 forward put up 29 points and 17 rebounds on opening night and had the gym buzzing. His performance was notable and the best individual performance I've seen this spring. 
AJ Oliver, Upward Stars: The Clemson-bound guard was in a nice zone on opening night, knocking down four three-pointers and looked ever so smooth in the process. The co-MVP of four 2015 HoopSeen Fall Preview, Oliver looks even better with a full high school season behind him. He's a smooth operator on the court and has very high basketball IQ. Don't be surprised to see Oliver develop into a primary option for the Tigers in college. He's too good not be. 
Jaylen Hands, Compton Magic: The UCLA-bound floor general wasn't too shabby either in his match-up against Wiggington. Hands finished with 19 points on 9-15 shooting from the floor. He was quick to the iron and moved the ball around well. Offensively, he was efficient. It was a good night against a top level competitor.
HI, MY NAME IS… 
Rylan Bergensen of Team FAST was great in an overtime win over Game Elite in front of a big crowd at Suwanee Sports Academy. Bergensen drilled seven three-point shots in the win and handed out six assists. He did so in dramatic fashion, too. The 6-foot-5 Boise, Idaho native was absolutely terrific on the wing throughout the game. He moved around screens with great speed and purpose. Bergensen said he has an offer from Seattle Pacific while Denver, Montana, Portland and Boise State are showing interest. Don't be surprised to see a surge on interest from the Pac-12 and Mountain West after his Friday night performance. 
His teammate Khalid Thomas of Salem (OR) South said he has an offer from Montana and interest from Seattle, Northern Arizona, Penn and UNC Greensboro. The 6-foot-7 small forward also shot well and found moments to shine for Team FAST in the win. 
Be sure to read up on John Walker, Texas Sleeper. The Texas PRO forward showed flashes of great things against the Upward Stars. 
NOTES FROM THE NOTEPAD
Good night of work for Vincent Cole of the Upward Stars. The long and athletic wing has been very productive this spring.
Another game, another stat-stuffing game from Atlanta Celtic forward Jordan Usher. He finished with 23 points, 11 points and four assists. 
Loved how Elias Harden and Darius Perry shot the rock on Friday night for Game Elite. 
Here are four big men sleepers to track: Augustine Ominu (2018, Stackhouse Elite), Ubong Okon (2017, Upward Stars), Jason Cudd (2017, Upward Stars).