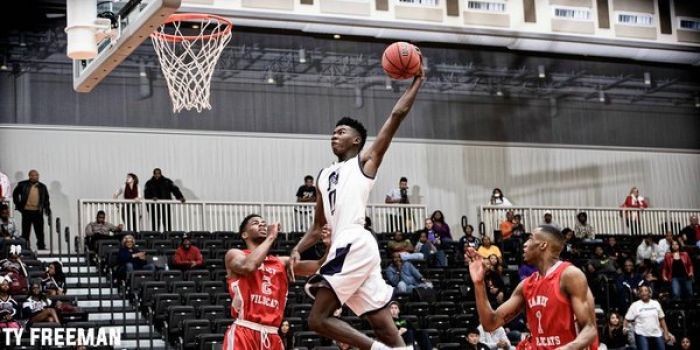 Norcross at Westlake: This could be one of the best second round matchups that we have seen in recent years. Westlake has one of the biggest and most talented teams in the state, led by the Lewis brothers, Chuma Okeke, Ronald Bell, Raquan Wilkins, and Mike Durr. However, Norcross has the size and the talent to match up with Rayshaun Hammonds, Lance Thomas, and a group of good guards including standout freshman Kyle Sturdivant. This one could feature upwards of ten Division I players and will the must see game of the round of 16 and maybe the entire playoffs.
Gainesville at McIntosh: This second round matchup in AAAAA features two teams that have been featured on the HoopSeen Power Poll all season long. McIntosh's group of seniors is looking to continue their season and get to Macon. Point guard Will Washington might be the most important player in the entire field. He is joined by his long time running mates Jordan Lyons and Dishon Lowery and also by Isaac Kellum and Chase Walter. However, Gainesville has a lot of firepower of their own in Georgia State signee D'Marcus Simonds and super sophomore KJ Buffen, who could prove to be a matchup problem in this one.
Pebblebrook at Collins Hill: Pebblebrook brings their explosive offense on the road to Gwinnett County & Collins Hill, who won region 7-AAAAAA. Pebblebrook's backcourt is one of the best in the state, led by Auburn signee Jared Harper, Ole Miss commit JJ Smith, and Collin Sexton, one of the nation's hottest prospects. Collins Hill looks to match that backcourt with a some key seniors of their own in TeShaun Hightower, UNO signee AJ Cheeseman, and Kai Lambert. The Collins Hill homecourt could also provide a lift for the Eagles.
Milton at Tift County: Milton is one of the state's most talented teams. Between Harvard signee Chris Lewis, Alex O'Connell, Kyrin Galloway, Justin Brown, and Kendrick Summerour, they have the talent to go deep into the playoffs. However, taking the trip to south Georgia and beating a very good Tift County team won't be easy. Despite Tift County not being 100%, they are still led by good guard play with Tyrie "Pig" Jackson and have a good presence on the wing in Iman Holley.
Westside Macon at Calhoun: Calhoun is one of two undefeated teams that we have in Georgia. Led by football players Kaelan Riley and Jireh Wilson along with Chapin Rierson, they have been a force all year. Westside Macon takes their show on the road to north Georgia to try to give the Yellow Jackets their first loss. Khavon Moore will be the biggest part of that. The super sophomore is a triple-double threat every night.
Berkmar vs. McEachern: McEachern has been one of the most undervalued teams in the state all year long. Led by a senior backcourt, good freshmen, and good size in the middle, they are one of the most balanced teams around. They will host Berkmar and the Partiots' solid core of juniors in Al Durham, Jay Estime, and Zach Cooks. This one could be fun as McEachern likes to play with tempo and Berkmar having the horses to keep up with the pace.