Early Signing Period 2023 - Exploring the Big 10
Welcome to the early signing period for the class of 2024. Sure, sure, transfers seem to rule the realm for roster building but the incoming high school guys are better than the narrative. In this class of 2024, several players can help right away, even more, who will help in time and an equal number of players who will help a team that isn't the one they sign a National Letter of Intent with. Welcome to college basketball in 2024 (and beyond). 
So, we try our best to introduce you to the next wave based on our experience with the said players. 
Let's dive into the Big Ten, shall we? 
TOP DOG: Ace Bailey, Rutgers 
We're talking about Rutgers— yes, Rutgers —as having the top dog in a recruiting class. What a time to be alive. 
Bailey is a super talent who is still a ways away from his ceiling. At 6-foot-8, Bailey has the skill and athleticism that most don't at this level. His game looks like that of an NBA player. 
In terms of current talent and untapped potential, there aren't many in the high school ranks who can hold a candle to the intrigue that Bailey generates as a prospect. 
His time at Rutgers will likely be short. Mere months at the RAC — not Jersey Mike's — before he's off to the professional ranks. However, his impact both on and off the court could linger for longer. 
These are the recruiting wins that can change a program's perception, these are the ones that can establish momentum in the spring and summer. 
While Rutgers is still not a name that casuals will pencil time in to watch, the fact of the matter is that Steve Pikiell has done wonders in Piscataway and has the Scarlet Knights operating as a program that transcends beyond the punching bag they used to be. Bailey and the rest of this 2024 class is another notch in Pikiell's belt.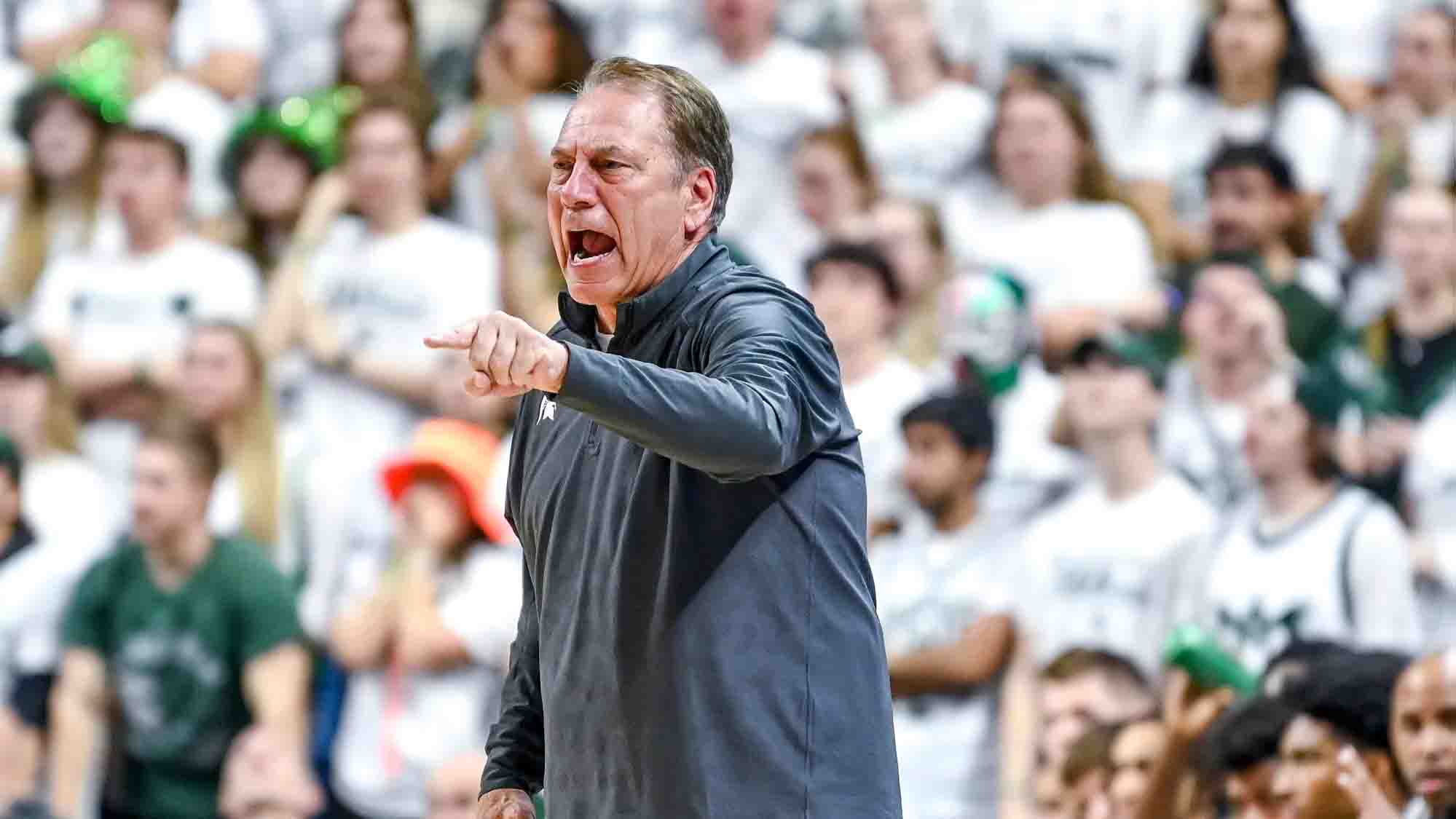 TOP OF THE CLASS: Michigan State
For now, the Spartans have claim to the top recruiting class in the league, but some Scarlet Knights from New Jersey are still in play for a prospect that can change that. 
Let's stick in East Lansing for now though. Not the best start to the season, but it's okay. This team will turn it around, and they have good players coming in the next recruiting class as well. 
Jase Richardson is the headliner of the class. A legacy player, Richardson's dad Jason starred for the Spartans before playing professionally. 
Richardson plays like a legacy player too. He processes the game well and has an advanced feel for what's going on on the court. His athleticism is his calling card, however. Richardson has serious bounce that will get the Breslin Center rocking. 
Joining Richardson on the perimeter is four-star Kur Teng. Teng is a scorer through and through. He's capable of rattling off a solo run, and he'll fit in nicely with the physicality of the league.
Jesse McCullough will bolster the forward depth for Tom Izzo. He's more of an upside guy than an immediate impact, but he's shown to be versatile with a perimeter game, and he can continue to develop as an around-the-basket impact player. 
THREE CLASSES I LOVE 
1. Rutgers
This is THE best class in Rutgers history, and it has a chance to get even better if they can land five-star Dylan Harper. Nonetheless, this is huge. 
No. 2 overall Ace Bailey is the crown jewel of the class for Steve Pikiell. He is one of the most talented, high-upside players in the country. Pushing 6-foot-10, Bailey almost operates as a true wing with his ability to handle the ball, pass, and knock down shots. He also plays with a motor and plenty of athleticism around the basket. He's a massive get for the Scarlet Knights. 
Outside of Bailey, there's sustainable depth in three other commits. Lathan Sommerville, Bryce Dortch and Dylan Grant will carry the torch for this class after Bailey—and potentially Harper—move on to pursue professional aspirations. 
2. USC
Look, there's no Isaiah Collier in this class, but this is still a really good one for USC. It will stick around for a couple of seasons at the very least too. 
HoopSeen is big on Trent Perry. The guy just knows how to play. Whether on the ball or off of it, Perry seems to make the right play more often than not. He'll be a great option in the backcourt when Collier and Boogie Ellis move on. 
Brody Kozlowski and Liam Campbell are sneaky good pickups for the Trojans as well. They might not make massive impacts immediately, but check in on them as they become upperclassmen. 
3. Purdue
Is there a player that is above 7-foot in Purdue's recruiting class? Yes. 7-foot-3 Daniel Jacobsen. Okay, cool. It's probably a good Purdue class then. 
Correct. Jacobsen isn't the only size they're bringing in though. 6-foot-10 Raleigh Burgess joins him in the frontcourt. 
However, I've buried the lede here a bit, the class is headlined by 6-foot-8 wing Kanon Catchings. He has the most NBA upside out of any Purdue freshman in recent memory other than Jaden Ivey. With versatility, skill, size, still-developing upside, Catchings is a star in the making. 
Additionally, guards CJ Cox and Jack Benter are coming in as backcourt pieces. 
The Boilers may not be done either. Four-star guard Gicarri Harris is still available, and he's been favored to Purdue for as long as he's been a serious prospect. 

THE OUTSIDE OF THE TOP 100 PLAYER THAT I LOVE
Justin Young wrote about his favorite player outside of the top 100 earlier in the week when we published the five best recruiting steals (*link to story*).  
"I am a big fan of Jase Butler and I begged a number of high-majors to take a good look at him at Section 7 (making a lot of mid-level coaches unhappy with me). Butler was excellent back in June and looked like a guy worthy of a top 150 position in our national rankings (he's currently No. 113). Illinois, no strangers to keeping a close watch on the internet for recruiting notes, jumped on board and threw their hat into the mix for the California point guard. Butler is a big guard with big-game experience. He projects to be a starter-level player who could develop into a major piece of what the Illini want to do."
BEST FRONTCOURT: Rutgers
Rutgers, Purdue, Rutgers, Purdue. The decision was tough, but we're going with the Scarlet Knights because they pulled in the No. 2 overall prospect. 
Ace Bailey is that much of a difference-maker, and it's nice to see a player of his caliber go somewhere unique. We've never seen Rutgers get a player as highly-touted as Bailey, not even close. 
Bailey is great at 6-foot-9, but check out the size and depth of this Rutgers class. 
6-foot-9 Lathan Sommerville, 6-foot-8 Bryce Dortch, and 6-foot-7 Dylan Grant. 
BEST BACKCOURT: Michigan State
It doesn't get much better than Jase Richardson and Kur Teng. That duo should be able to help Michigan State put points on the board immediately.
What makes them even better is that they are both talented enough to make major sophomore leaps. It would be a bit of a surprise to see either of them pursue professional careers after year one, but they could both level up after an additional year of experience under their belts. 
 
HEY, I HAVE A HOOPSEEN CHAPTER

Ace Bailey has had people reaching for the popcorn in the Peach State since transferring to Powder Springs (GA) McEachern. He's been must-see tv since he first took the floor. 
He's taken over the HoopSeen stage on multiple occasions. Most recently, he brought the show to the 2023 Bob Gibbons Tournament of Champions. 
Our Josh Tec wrote this after the weekend.
"Ace Bailey is in the discussion for the No. 1 overall spot in the 2024 class, and if you watched him at Gibbons, you'd understand why. Seriously, go pull up the highlights. The guy is different. There aren't many boxes left to check for him. His athleticism is something to marvel at. Whether he's gifting the mixtape crew with footage of dunks and blocks, Bailey can get up, and he does so emphatically. People his size can't usually do the things he can do with the basketball in terms of creation from the wing either. His handle paired with his jumper are the separators. This is a special player we're watching, and he showed it this weekend."

BIG TEN SUPERLATIVES
TOP PG: Isaac Asuma, Minnesota
TOP SG: Jase Richardson, Michigan State
TOP SF: Liam McNeely, Indiana
TOP PF: Ace Bailey, Rutgers
TOP C: Morez Johnson, Illinois
TOP CLASS: Michigan State
TOP SLEEPER: Jase Butler, Illinois
TOP SHOOTER: Christian Anderson, Michigan
TOP SCORER: Kur Teng
TOP DEFENDER: Morez Johnson
TOP PRO PROSPECT: Ace Bailey, Rutgers