Early Signing Period 2023 - Exploring the ACC
Welcome to the early signing period for the class of 2024. Sure, sure, transfers seem to rule the realm for roster building but the incoming high school guys are better than the narrative. In this class of 2024, there are a number of players who can help right away, even more who will help in time and an equal number of players who will help a team that isn't the one the sign a National Letter of Intent with. Welcome to college basketball in 2024 (and beyond). 
So, we try our best to introduce you to the next wave based on our experience with the said players. 
Let's dive into the ACC, shall we? 
TOP DOG: Cooper Flagg, Duke
Well, here we are once again discussing Duke at the top of the recruiting world. After a battle with UConn, the Blue Devils have No. 1 Cooper Flagg locked in. 
Every so often, we see a prospect that transcends our little recruiting-world bubble to get major national buzz. Flagg got that treatment when word of his commitment broke. 
It's hard to not be enamored with the guy when he consistently flirted with quadruple-doubles on the EYBL circuit this spring. He's been discussed as the best prospect regardless of class since his days playing in the 15U division. 
That hype only grew after he dominated 16U this past AAU season. After reclassifying to the 2024 class, he immediately took over the top slot. 
Duke had been the favorite to land Flagg for as long as that conversation has been going on. After a strong late push by the reigning champs, Flagg ultimately stuck with Duke over UConn. 
In Flagg, the Cameron Crazies are getting one of the elite defenders in the class. Flagg's defense is his speciality right now, but he's no slouch on offense. He's one of the most versatile prospects in the country and should make an immediate splash in Durham. 

TOP OF THE CLASS: Duke
If anyone had any questions about Duke's recruiting post-Krzyzewski, Jon Scheyer has answered them in a resounding way. In his first three classes at the helm, Scheyer has pulled in no less than three five-star prospects per class, and this 2024 group is going to keep that trend going. 
Headlined by the No. 1 overall prospect in the class, Cooper Flagg—scroll up—the Blue Devils reeled in the best class in the country yet again. 
Other than Flagg, Duke is bringing in No. 16 Kon Knueppel, who led the EYBL in scoring over the summer. Knueppel doesn't give off the aura of a Duke villain, but he will frustrate opposing fan bases with his shooting and ability to get a savvy bucket. 
Likewise, No. 25 Isaiah Evans has a chance to raise blood pressure in the ACC because he can hit a tough shot with the best of them. A team can defend Evans perfectly, but, with his long, lanky frame, he can rise over his matchup and hit heart-breaking shots with a hand in his face. He also looks like former Blue Devil Brandon Ingram, so get ready for a winter of that comparison popping up on every broadcast. We warned you. 
At No. 33, Patrick Ngongba may prove to be too low in our rankings in time. At 6-foot-11, Ngongba gives this class a true presence in the post. With a sturdy frame and good length, Ngongba should be a factor early in his career based on physical attributes alone, but his hands, his developing skill should see him good minutes as a freshman. 
Four-star Darren Harris was the first of the gang to commit. With a class as packed to the brim as this one, Harris might get overlooked a bit, but he adds even more offensive firepower on the perimeter. 
NOTE: Duke is still in play for 5-star VJ Edgecombe and 5-star Dylan Harper.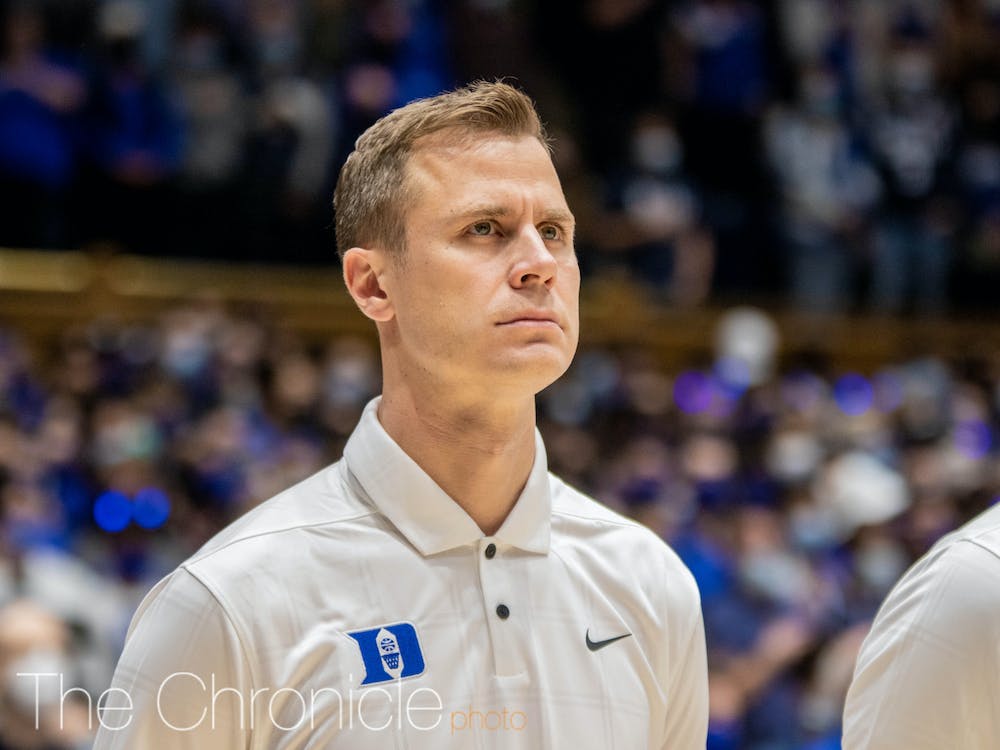 THREE CLASSES I LOVE 
1. Miami 
The Hurricanes have momentum that only a handful of programs can match right now. From success on the court to the transfer portal to the recruiting trail, Coral Gables is a hot spot in the college basketball space right now. 
Their recent success has been built on bucket-getting guards, and they landed two of the more potent scorers in the 2024 class. No. 30 Jalil Bethea and No. 32 Austin Swartz both ranked among the top 10 scorers on the EYBL circuit this spring. Swartz averaged 21 points per game while shooting 37.2% from three, and Bethea totaled 18.6 points per game on 42.6% shooting from deep. 
In other words, this duo should be hanging points on the board. 
The Canes also added three-star SF Isaiah Johnson-Arigu who can play either forward spot and impact the game as a defender above all else. 
2. North Carolina
To the surprise of no one, the Heels have reloaded on the recruiting trail. It's a nice mixture of high-end talent with a chance of some sustainability. 
Their class starts with two five-star perimeter players in SG Ian Jackson and SF Drake Powell. Both play athletic, exciting brands of basketball. That bodes well for Carolina in their effort to return to playing at the breakneck pace that it's been known for. They're both excellent on the defensive side of the ball as well. 
Of course, Carolina always boasts some of the best bigs in the country on an annual basis. 6-foot-9 James Brown has a chance to continue that legacy in Chapel Hill. Skilled around the basket, Brown is a double-double machine and can put in some work down low. He might not be an immediate force, but he can help right away and develop into the formidable, classic Carolina post player.  
3. Notre Dame 
Sneaky, sneaky. Notre Dame quietly has a nice class coming in. The best part of it is that it can be a foundational one for Micah Shrewsberry as he rebuilds the program. 
A trio of top-150 commits are coming into South Bend, and none of them are obvious NBA prospects, so that means that the new staff has talent and depth that it can work with for multiple seasons. 
The most highly-rated of the bunch has basketball in his blood. Four-star guard Sir Mohammed—son of former Kentucky, NBA player Nazr Mohammed—is at his best as a playmaker for others. He sees the floor well and processes what the game gives him to make those around him better. At 6-foot-6, he looks like a traditional small forward but almost serves as a point guard in many ways. 
Cole Certa will add perimeter firepower with his ability to get going from beyond the arc, and Garrett Sundra can develop into the kind of skilled big man that Notre Dame has trotted out over recent years. 

THE OUTSIDE OF THE TOP 100 PLAYER THAT I LOVE
Tyler Johnson, Virginia Tech: I've never seen Johnson be bad. He impacts things in so many ways. He rebounds, he defends, he's a physical slasher, he can knock down a shot from three, he just finds ways to leave his finger prints on games, on wins. 
Aside from Johnson being a good, productive player already, it's partially the destination that plays into this as well. Mike Young and company identify talent that fits them well, they have for years. 
I don't know how much of an impact Johnson will make immediately, but he's a player that I'm buying as someone who develops at Virginia Tech and turns into a key player in the ACC. 
BEST FRONTCOURT: Duke
When a class is on the border of historic, it'll take a lot for it to not sweep superlatives like these. 
Duke, once again, has hoarded talent across the board. Its pair of talented forwards take the crown for the ACC's best frontcourt. 
Cooper Flagg at the power forward spot and Patrick Ngongba at the center will give the Blue Devils plenty of versatility. Both can impact the game around the basket and away from it. 
Flagg will be getting all of the hype in the class, but Ngongba's growth over the summer should continue to manifest itself throughout the winter and during his freshman season in Durham.
 
BEST BACKCOURT: Duke
Duke, Miami and North Carolina all have cases to be made in this space. If one wanted to argue for the Canes or Heels, they wouldn't be met with much argument from me. 
The reason the Blue Devils get the nod is depth. The talent is similar on the perimeter at each of the three aforementioned schools, but Duke just has more pieces. 
Kon Knueppel, Isaiah Evans and Darren Harris are all top-75 recruits and are all among the best shotmakers in the class.
While they are widely known for their respective shooting prowesses, this trio will provide more substance in Durham, especially as they get more comfortable with the adjustment to the next level. 
Another thing that makes this group special is the opportunity for sustainability—on a short-term basis at least. Evans is the one of the bunch that will be most likely to bounce for the NBA after a season because of his projectable size and length, but that isn't necessarily a guarantee. Knueppel and Harris should likely be multi-year players at Duke, and if they are, that's a duo that Scheyer and company can build around. If Evans joins them for a sophomore season, a 2025 summer of Duke hype, fatigue and more hype wouldn't surprise me. 
Note: I suppose the small forward position is up for debate as a backcourt spot, but all of these players are best on the perimeter and will effectively be guards in Duke's system. Knueppel and Harris should be true shooting guards while Evans will be holding down the small forward spot. 
HEY, I HAVE A HOOPSEEN CHAPTER
Back in 2020 - the strangest year ever for travel basketball - Jeremiah Wilkinson made his introduction to our staff in a notable way at the Best of the South. He thrived for the AE5 14U team. Our Bre Singleton wrote back in September 2020: 
"Wilkinson put up 23 points in the big win for AES, and he managed to score from just about everywhere. Whether it was putting his head down and getting to the rim, knocking down shots from the outside, or getting to the line, Wilkinson showed a keen ability to score no matter the size of the defender opposing coaches tried to stick on him. Later on Saturday, he exploded for 33 points against a good Stars Basketball Nashville team who had a few solid scorers themselves. I really liked what I saw from Wilkinson and the value he provided his team." 
Fast forward to signing day, Wilkinson has committed to Mississippi State, had a change of heart, laid somewhat low to the national media and dominated the summer circuit both scholastically and in travel ball. Cal came in and swooped Wilkinson right out of the Deep South. His game remains in the same tune he was in even back in 2020. Also, let's be honest - it's kinda weird to read CAL in the ACC category. - Justin Young
THE THINGS I THINK I THINK
These are the five best NBA prospects coming into the ACC, in my opinion: UNC has two of them with Ian Jackson and Drake Powell. I love Donnie Freeman for Syracuse. Kon Knueppel of Duke is the best shooter coming into the league and maybe even in all college hoops. Miami, no stranger to developing great pro-level guards, has a good one in Philly guard Jalil Bethea. 
The Clemson Tigers have quietly developed several players worthy of an NBA draft pick or real inspection as a pro prospect. See Hunter Tyson, Aamir Simms, Jaron Blossomgame and KJ Daniels. I think Dallas Thomas could be next on this list for coach Brad Brownell. Thomas is a long wing with a significant ceiling of upside. The Arkansas native was actively recruited by some of the best-evaluating staffs in college hoops. Thomas could prove to be a real gem of a prospect and develop into a fine player at Clemson. 
I can't wait for the Miami vs North Carolina match-ups so we can see Austin Swartz and Bethea go head-to-head with Jackson and Powell. That's some high-level college basketball right there, folks. 
The class of 2024 from the state of North Carolina is felt throughout these classes. I did wonder how much these young men - raised in the heart of ACC Country - appreciate the value of such a basketball league in an era of constant change of conference DNA. Of the XX players in the HoopSeen North Carolina rankings for the class of 2024, XX are headed to the ACC. - Justin Young

ACC SUPERLATIVES
TOP PG: Del Jones, Clemson
TOP SG: Jalil Bethea, Miami
TOP SF: Drake Powell, UNC
TOP PF: Cooper Flagg, Duke
TOP C: Patrick Ngongba, Duke 
TOP CLASS: Duke
TOP SLEEPER: Cole Certa, Notre Dame
TOP SHOOTER: Kon Knueppel, Duke
TOP SCORER: Kon Knueppel, Duke
TOP DEFENDER: Cooper Flagg, Duke
TOP PRO PROSPECT: Cooper Flagg, Duke