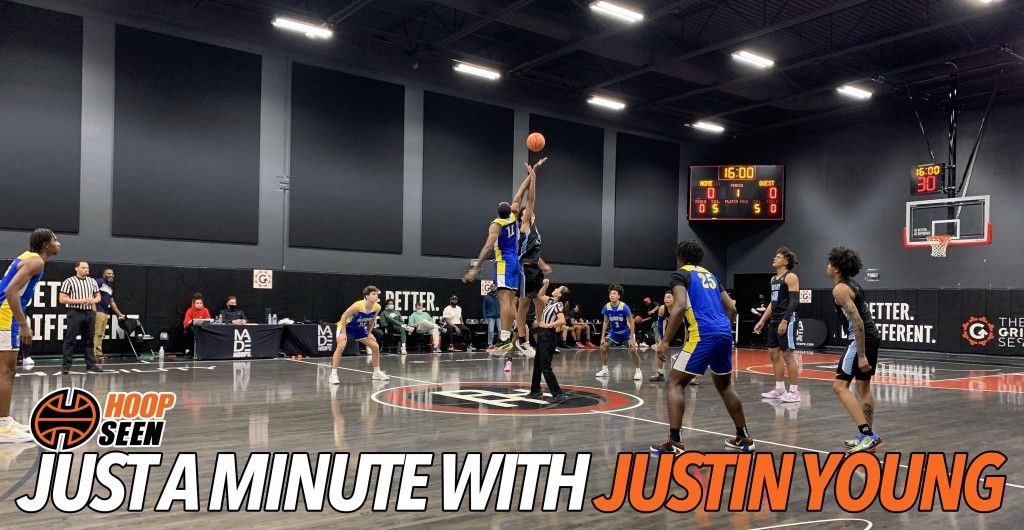 When some of the best in the game go toe-to-toe in your backyard, you pull up the best seat you can - even in a patchwork season like we have in 2020-2021. What did I take away in Paolo Banchero and Michael Foster playing each other? How about AZ Compass Prep's season? And who are the top 10 teams in the country this year? I have some takes. 
HEAVYWEIGHT HEAD-TO-HEAD
The clash of the titans was the match-up we all wanted to see out here in the West. Two of the biggest and baddest dudes in the class of 2021 in this region finally locking horns on a big stage. As much as any match-up can be a premiere pairing and capacity crowd, this was it. 
Seattle Rotary's Paolo Banchero, a Duke commitment and a consensus top five player nationally, and Hillcrest Prep's Michael Foster, a top 10 national player and one of the few legit preps to pros contenders in the class, were ready for the battle of the West. 
It is no secret that Foster is funneling his play towards the attention of the G-League Ignite squad. His style and unique size is hard to deny when thinking through that lens. Foster takes a lot of shots and demands the ball quite a bit for this Hillcrest team. He should. He's a force to be respected at this prep level. And Banchero was giving Foster problems in the first half. 
The future Duke forward stretched the floor with his shooting touch throughout the action. He drilled three three-pointers and converted nifty footwork under the rim. It's no secret his inside-outside ability and craftiness. Banchero took the scorecard in those first 18 minutes of action. I don't think that anyone who watched would disagree. He was outstanding. 
Foster came alive in the final five minutes of action and turned up his efficiency. He won the game with his play. No argument there either. 
Call it a draw? Maybe. I'd give the individual edge to Banchero. Why? More efficient from start to finish. I'd give the team edge and winner's punch to Foster. He threw it and connected.
Foster made several big plays down the homestretch that ultimately gave Hillcrest the win over Seattle Rotary. The Northwestern hoopers wrapped up a busy day where they logged three games where they took on everyone's sharpest swords, Foster's daggers from deep were too much to come back from.
Overall, what a fun Saturday night it was on the MADE Hoops stage here in cactus land. 
UNLOADING THE NOTEBOOK FROM THE GAME
Jimaya Neal could crack my final top 100 list for the class of 2021. The Ohio native is taking a year at Hillcrest and thriving with his game. We saw him take the action on and claim a space in the spotlight. His ball-handling and creativity was a problem for even the sharpest of defenders like Arizona-bound Shane Nowell. The preview to the ASU vs U of A battle was fun to watch. Neal is better than people realize or have even had a chance to see outside of the state of Arizona. He's been a terrific senior season riser. 
One more thing from the game - I wouldn't be shocked to see the travel season rise of Korea Johnson. Yes, he's a top 65 player nationally in the class of 2022 but he could be a guy who contends for inclusion inside the top 50. He has all of the tools that the great Seattle point guards possess. I'm extending our class of 2022 national rankings. I'd like to see if we can get him into our top 50. 
Related… I'm super grateful for our friends at Be The Beast and their streaming product paired with the recruiting tools they offer. This is an unmatched service in the game. I'll be diving into the MADE Hoops action all week on film. Also related… I can't wait to have them back at our events in 2021 for our HoopSeen action. What a major recruiting tool. 
SOME THOUGHTS ON THE TRUE ELITE PROGRAMS…
These types of matchups - the Hillcrest and Seattle Rotary pairing - are golden when we get them in this 2020-2021 scholastic season. We don't have too many apples-to-apples opportunities to gauge elite talent against each other. So, when we do get them, savor them and learn from them. The top of this class of 2021 is talent-rich with pro level talent. Positional size is rich and so are the dynamic skill sets of the prospects aiming for a top spot and/or inclusion in one-and-done chatter. 
The St. James NIBC Invitational was an elite stage to see those types of match-ups. You read plenty about that action from Springfield, VA here on the site over the last couple of weeks. 
The majority of those same teams are now in Florida for the Montverde Academy Invitational Tournament. There is one inclusion to the mix that we didn't get to see in Virginia - the addition of AZ Compass Prep. The Sunshine State squad missed out on the DC-area stage because of a positive COVID test. 
What did AZ Compass Prep do in their three games in Florida? Shine. That's all. They beat Sunrise Christian, a team who I thought was a legit No. 2 overall in the country from what I've seen with my own two eyes this year. Compass won 50-47 in a battle.  
Compass also beat Oak Hill Academy without much push back, 78-51. And in the opening game of their cross-country trip, they took the host team and no-brainer No. 1 high school team in the country to overtime only to be defeated 76-65. 
MY TOP 10 THIS SEASON 
I'm the only person to see The St. James NIBC Invitational, a good portion of the Grind Session, the Border League and the Pangos All-American Festival in person this year. I feel confident in saying I've seen more in-person action than anyone in the evaluation industry this season. 
Here's what my eyes have taught me on the top teams. I think they are: 
Montverde Academy (FL): Hard to argue against this one. Their second five rotation would be included in the top 25 in the nation. True story. 
AZ Compass Prep (AZ): The Chandler, AZ program is making a move in becoming one of the staples in high school basketball not only in the West but nationally. 
Sunrise Christian (KS): If Kennedy Chandler is running your team, you're going to be in good shape. Always. 
IMG Academy (FL): For me, their starting five is as scary of a bunch there is in the country. Size, size, size. 
Oak Hill Academy (VA): Even with a smaller rotation than usual, the Warriors are always going to be a team that takes everyone's best game. 
Prolific Prep (CA): The California program has the toughest frontline to guard that I've seen this year. Adding PG Milos Uzan has made them a different team. 
Wasatch Academy (UT): The Nolan Hickman & Pop Pop Isaacs backcourt is so hard to stop. Adding Ohio State bound Roddy Gayle was a major pivot in their success. 
Milton (GA): I think they are the best public high school team in the country. With 17 wins in a row and taking on all of the Peach State's best flame throwers, the Eagles are thriving. 
DeMatha Catholic (MD): Never bet against this red, white and blue squad. Another power roster for the powerhouse. 
Duncanville (TX): I've seen them twice on film/stream this season and would stack them up against this top 10. Also, give me all of the stock of Ron Holland (2023 stud).