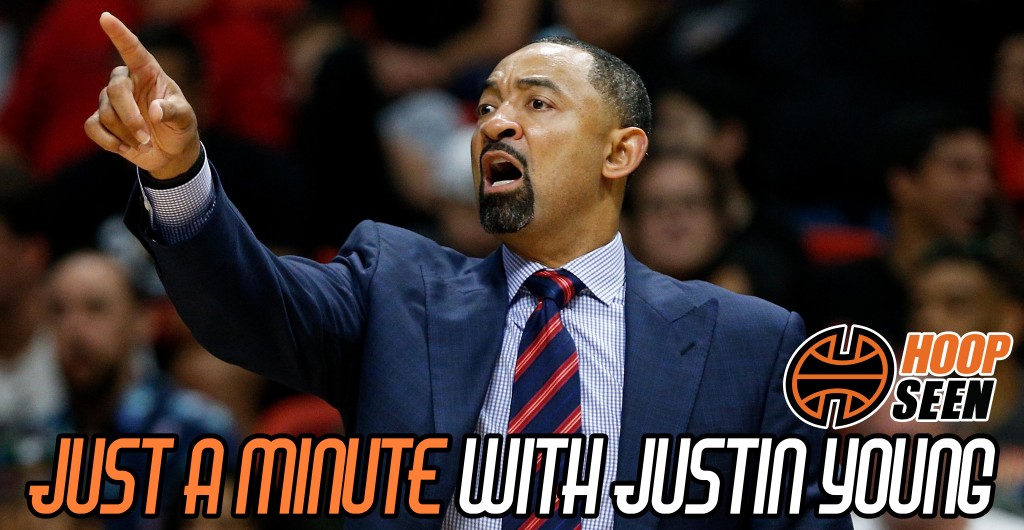 In this week's Just a Minute with Justin Young, I ask the question - how do you grade out a good recruiting class? Where is the talent going from the 2021 class? What can we expect in the NBA Drafts on the horizon? We dive into it all in this week's column. 
QUANTIFYING A GOOD RECRUITING CLASS 
I'm curious how you, hoop head, grade a recruiting class? Do you measure talent by star power addition or depth or likelihood to win the National Championship with said incoming class or conference titles? How do you quantify the top 25 recruiting classes year in and year out?
To me, it's simple. How can a recruiting class A. Help you win a National Championship and B. Help you win your conference? That's it. You play to win the game. Right, Herm Edwards? 
For me, that's how you grade out a class. I sat down at my laptop for a straight week looking at the top 50 recruiting classes I put in a spreadsheet and applied my own algorithm (no, seriously, I made an algorithm and I'm as shocked as you are). In it, a program like Duke was No. 20 on my list. Twenty. They have two players inside the top 10 - Paolo Banchero and AJ Griffin. This duo should not only start but Banchero could be a the ACC Player of the Year as a freshman. They should play a role in the Blue Devils attempt to win the always-loaded ACC. But this two-man recruiting class is No. 20 in the country? 
See ya, algorithm. 
No offense to a program like Louisville but the five-man class the Cards signed doesn't have the star power quite like Duke or even, say, Auburn. But yet the depth of talent seems to always outweigh the star power. 
Grading out recruiting classes is always a funny thing anyways. When can you really appropriately grade out a class? Four to five years after the fact? That would seem to be the best way. 
Can you grade out on player development? Can you grade out on NBA Draft pics? Can you grade out an average wins per player? 
There are so many factors. That why, at least to me, you have to grade on who can help you win a National Championship? 
With that in mind, I think these are the three best classes: 
1. Michigan: This falls in line with all of the algorithms. I have them No. 1 overall. So do the other recruiting sites. It's hard to not have them No. 1 overall. 
The class ie anchored by Caleb Houstan and Moussa Diabate - two versatile five-star forwards. The duo marks one of the best 1-2 punches in the class of 2021. Houstan stretches the floor while Diabate is one of the best slashing forwards in the nation. Have fun guarding that duo. 
Now you mix in a pair of sustainable prospects in Kobe Buftkin, the No. 33 overall rated player in our HoopSeen top 100 list for the class of 2021. Frankie Collins is one of the most athletic guards in the country and a guard who doesn't need to have the ball in his hands at all times to be an impact player. 
Rounding out the group are good four-year players Isaiah Barnes and Will Tschetter, giving the Wolverines depth and balance to this class. 
2. I talked about Florida State's class last week in my burning questions for the Sunshine State. It seems like the Noles creep closer and closer to being a National Championship contender. This year's 2021 class adds star power in Matthew Cleveland and Jalen Warley along with some big time size and potential, anchors by John Butler. 
3. Duke. Like I mentioned above, I think the Blue Devils have a potential ACC Player of the Year in Bachero while AJ Griffin is a major physical force on the wing from day one. Group these two with the Blue Devil roster and you'll have a team that will continue the program's always-at-the-top contention for a title.
INSIDE OUR TOP 100 NUMBERS AFTER THE EARLY SIGNING PERIOD
Where is the top talent from the class of 2021 going? It's a balance across the power conference programs. Here's a look at the data of the players from within our top 100 and where they are headed. 
ACC - 16 players
Big Ten - 15
Pac-12 - 14
SEC - 13
Big East - 10
Big 12 - 8
American - 3
Atlantic 10 - 2
Mountain West - 2
West Coast - 2
Conference USA - 1 
WHO'S LEFT IN THE TOP 100 FOR 2021?
With the early signing period now closed, let's take a look at the top available players in the class of 2021. 
(Number denotes their national ranking) 
1. Chet Holmgren, F
2. Jaden Hardy, G
5. Patrick Baldwin, F
6. Hunter Sallis, G/F
13. Michael Foster, F
15. Trevor Keels, G
17. Aminu Mohammed, F/G
20. Efton Reid, C
21. Charles Bediako, F
39. Mac Etienne, F
73. Mason Miller, F
82. Jonas Aidoo, C
97. Wesley Cardet, F/G
98. Ramses Melendez, F/G
A LOOK AHEAD AT THE BEST NBA DRAFT PROSPECTS 
The 2020 NBA Draft was solid but not earth-shaking. I think we can all agree on that. But, we kind of expected that. 
Make no mistake about it, the 2021 NBA Draft is loaded. The teams I have been talking to for the last year are positioning themselves to have assets to make a move to the top. 
There is some star-power at the top. You can legitimately build around some of the prospects in the upcoming draft class. I don' there are any coincidences that the Oklahoma City Thunder are aiming to land the top overall pick. The Thunder have 17 first-round picks through 2026. 
No, seriously, 17. 
And on the top of every draft board out there, Oklahoma State freshman Cade Cunningham is projected to be the No. 1 pick. As he should be. He's a fantastic prospect with fantastic skills to build around.  Here are my top five overall players in amateur hoops in the United States: 
1. Cade Cunningham
2. Chet Holmgren
3. Jalen Green
4. Jaden Hardy
5. Jabari Smith