2023 Peach Jam: Paul George Elite, Drive Nation, Karter Knox headline Monday
NORTH AUGUSTA, S.C.—The most prestigious event of the summer basketball season is here. Nike is taking over North Augusta for another year of Peach Jam. 
While college coaches aren't able to be here yet, NBA and college scouts are in the building, and the week-long festivities are seeing some notable performances early.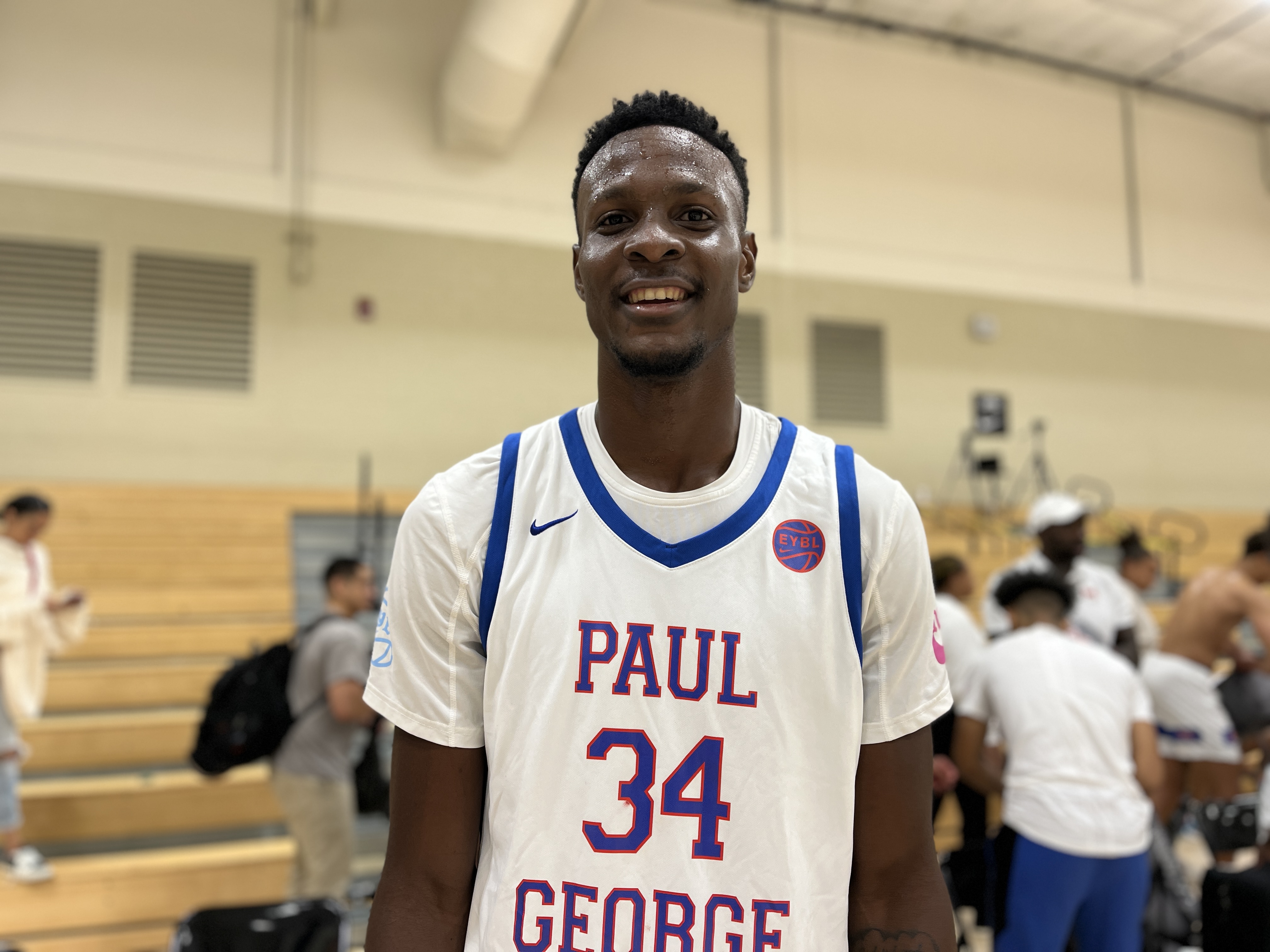 Paul George Elite closes strong
Paul George Elite won in the last time slot of the day to put a cap on Monday, and they did so in emphatic fashion. 
2024 G Jase Richardson led the way with 21 points and 5 rebounds. During tight stretches, Richardson came up with timely baskets. That lives up to what we've seen from him in the past as a smooth point guard that can score in bunches. 
UNLV commit James Evans finished with 20 points and 6 rebounds. His activity stood out. Evans is strong and athletic with plenty of grit to his game. That all showed in his standout performance. 
While Richardson and Evans led the charge in scoring, the story of the game may have been 7-foot Emmanuel Stephen's 11 blocks and 14 rebounds. There's nothing wrong with big men going out and being big. That's exactly what Stephen did. He's not a slight 7-footer either. There's plenty of strength to his frame which makes him even tougher to contend with. 
Arizona commits Jamari Phillips and Carter Bryant are coming off of strong outings at the NBPA Top 100 camp in Orlando last week, and both were bright spots in the win for Paul George Elite on Monday as well.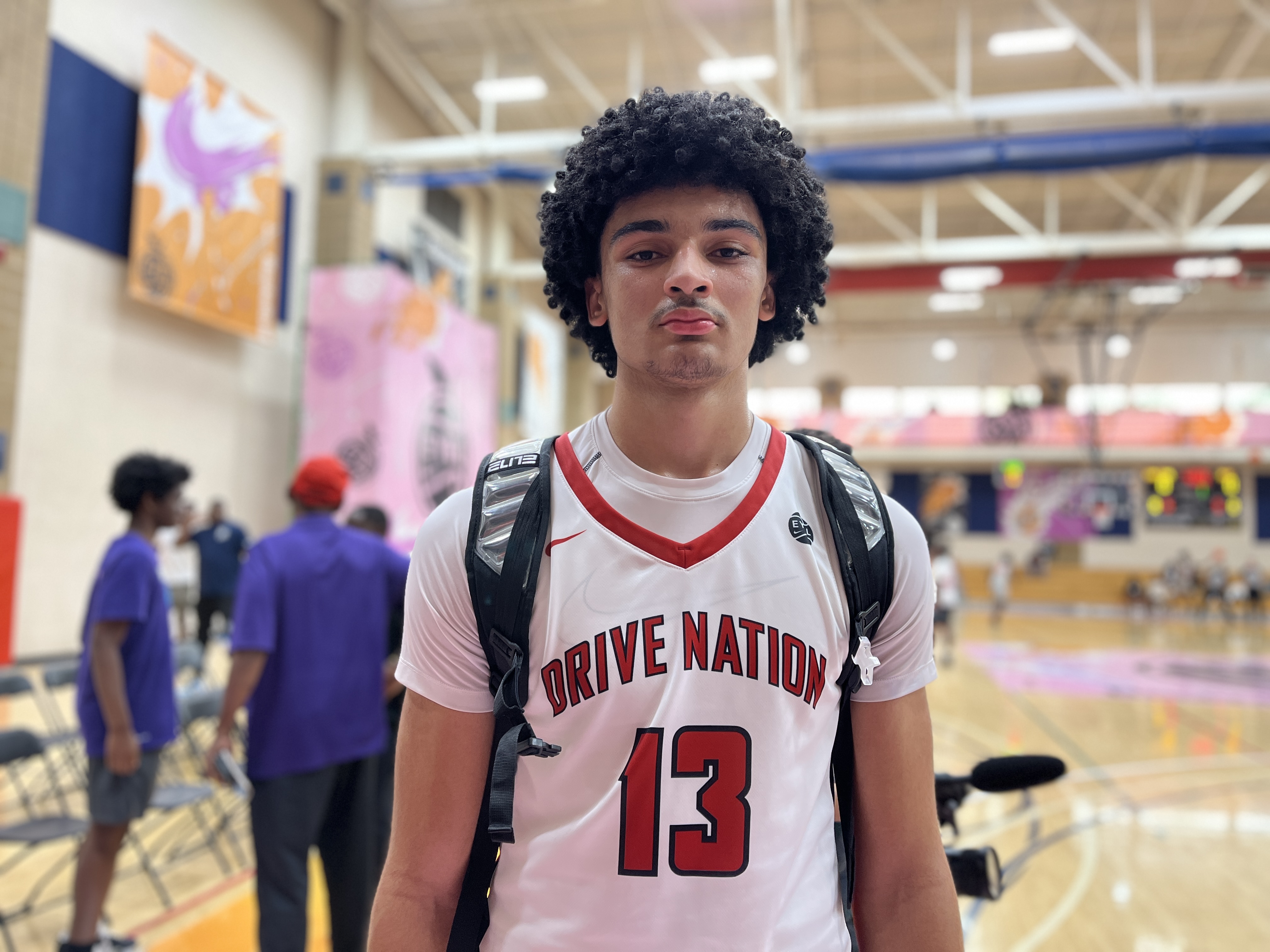 Drive Nation pulls the upset
Drive Nation pulled the upset on Monday with a win over Team Thad. 
Hey, it's a new season when Peach Jam starts, and Drive Nation took advantage of that on Monday. With a clean slate, they made a statement in their win. 
Damarion Dennis led with 13 points. He stepped up on the big stage and made clutch plays. Dennis has some shityness to his game and was able to get to his spots when he needed to. One of the themes of the game for Drive Nation was that their smaller guards used the mid-range to their advantage, and Dennis certainly was part of that approach. 
6-foot-7 wing David Punch was critical in the win as well. He had 11 points and 9 rebounds. While he can play multiple spots on the floor, he served Drive Nation well inside, giving them some size to combat Team Thad. Punch was automatic around the basket and was just tougher on the glass than anyone else. 
It was a win across the board for Drive Nation though. Leon Horner, Michael Thomas, Samuel Johnson, and Jaden Constant all had their moments as well and each contributed 7 to 10 points in a balanced effort. 
Karter Knox erupts
In what was shaping up to be a game that wasn't very noteworthy, 2024 SF Karter Knox popped off late to give the Florida Rebels the win on Monday. 
Despite playing limited minutes in the first half—presumably because of foul trouble—Knox showed how valuable he can be in the second half with a 17-point scoring outburst that encapsulated his versatility in that regard. He finished the game with an efficient 19 points while going 5-9 from the field. 
Knox showed his three-level scoring ability in addition to getting to the free-throw line nine times. He's one of the more coveted scorers in the 2024 class, and he lived up to his reputation.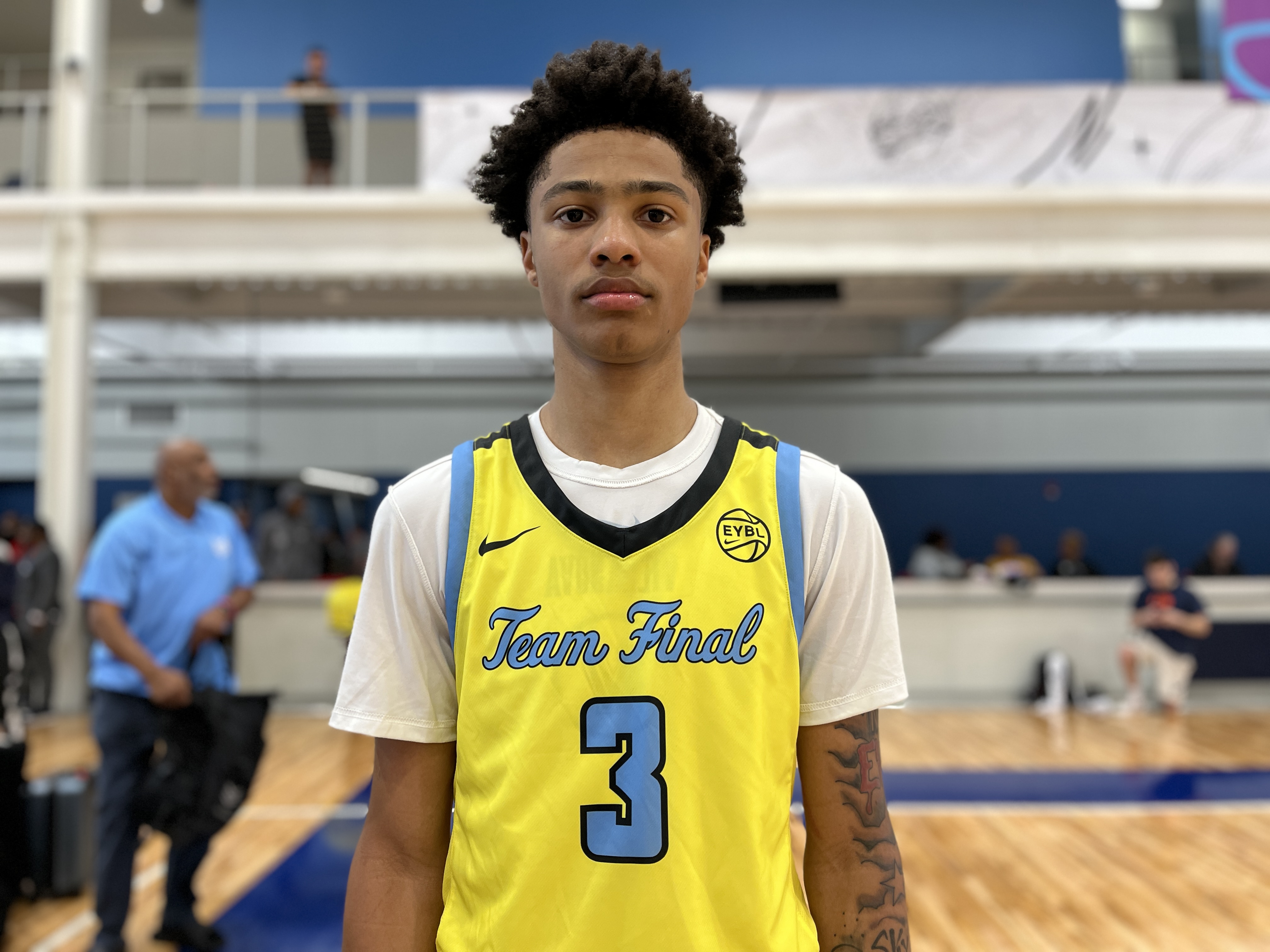 Typical Team Final
Team Final has been the EYBL's best overall team in 2023. They have a roster that just works well together. They make sense as a unit. Their Monday performance was typical of what we've seen from them this year. 
Jalil Bethea led the way with 19 points on 7-11 shooting and 3-6 from beyond the arc. Bethea stood out at the Pangos All-American camp and the NBPA Top 100 camp in June, and he's been on the rise with Team Final. Bethea has shined as a shooter and athlete, and that was the case again on Monday. 
Baylor commit Robert Wright added 14 points. Like Bethea, he was a bright spot at some of the elite camps in June. The only surprise in his Monday performance is that he didn't get as close to a triple-double as he usually does. 
A natural talent, a superb athlete, James Moore used his physical gifts to get to the free-throw line often en route to 13 points.
Ahmad Nowell and Thomas Sorber each scored 11 points. 
Once again, nothing new to see here. Team Final has been doing this since April. 
Rebels 16U win by committee
It was a balanced effort that won the day for the 16U Florida Rebels. All nine players scored in the game, and more importantly, they defended well as a unit. 
Jalen Reece and Cornelius Ingram led in the scoring department with 10 each while Josh Lewis finished with a 9 and 8 near double-double. 
6-foot-9 F DeWayne Brown was a noticeable presence in the post on both ends. He stood out particularly on defense with his hard-to-move frame paired with his shot-altering length. 
Jamier Jones has different athleticism, and it showed in flashes in the win. 
Seriously, go through their roster, and you'll find someone that contributed in a noticeable way. 
This team has multiple guys that can go off for around double figures in a game. 
James Brown stays hot
James Brown played some great ball in June. The North Carolina commit has been riding a hot streak, and he's keeping the momentum rolling into July. 
He led Mokan to a win with 18 points and 7 rebounds. His motor is different. It's what separates him from so many of his peers. He got his production in just 17 minutes. 
He hits the kind of forward we've seen go through North Carolina for the last decade.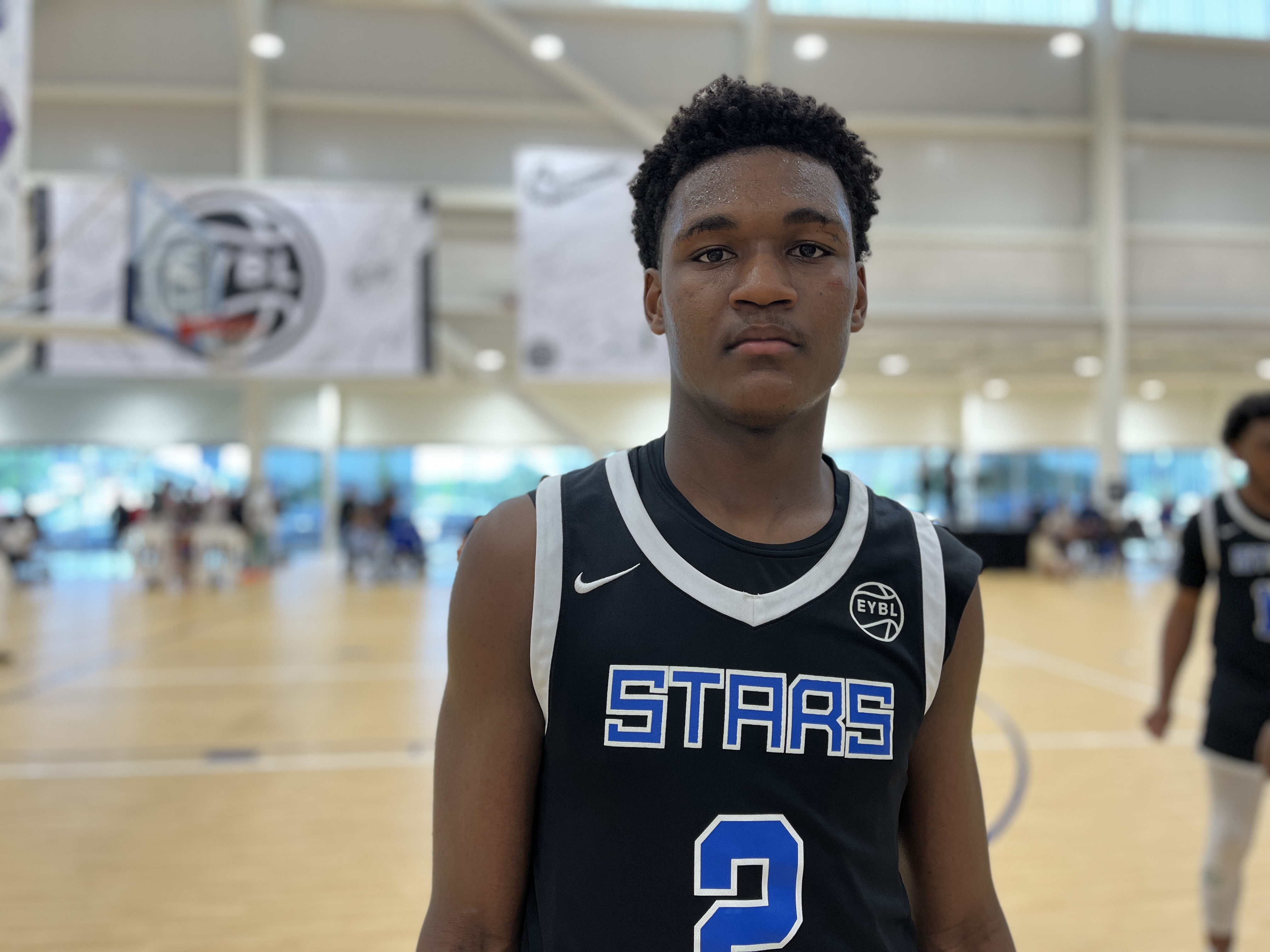 Stars' young stars star
To open the day—my day at least—the Georgia Stars got a 15U win behind some of the south's best 2026 names to know. 
Dhani Miller has been a consistent standout in the 2026 class this spring and summer, he started Monday off with a 23-point game. In his young career, he's shown that he can score on all levels, and he did that again on Monday. He was one of the leading scorers in 15U throughout the EYBL regular season, and it doesn't look like he's planning on slowing down.
Kayden Allen has an aptitude for putting points on the board. He's boasted high scoring numbers all spring. To start the day in the 15U division, he did more of the same with 19 points for the Georgia Stars. Allen got most of his production from beyond the arc with 5 3-pointers. With 5 assists and 4 rebounds, Allen was able to leave his mark in areas outside of scoring. Allen used his positional size and threat as a scorer to spread the wealth and get others good looks. 
Korie Corbett was a name that I hadn't familiarized myself with on this team, but his double-double caught my attention quickly. Corbett was tenacious on the glass. He's not the biggest forward, but he plays like he is. He got most of his production because of his activity. 
More quick hitters
2024 G Labaron Philon finished with 17 points, 6 rebounds, 5 assists for Team Thad. He was a bright spot from start to finish for them. He's had a steadily great year which has seen some high-level play this summer. 
Shortly after committing to Virginia 2024 G Christian Bliss gave any fans in Charlottesville plenty to be excited about with his 15 point, 5 rebound game for PSA Cardinals. 
2025 Christian Gurdak was the leader in a win for Team Takeover's 16U squad. A bigger 6-foot-10 center, Gurdak has great footwork and an incredible motor. He finished with a double-double in a win. 
2026 G Anthony Brown looked like a name to know in the class when he dropped 20 points and 6 rebounds for Team Takeover to start the day. I haven't spent too much time watching this class yet, but he's a name I wrote down after catching him in the morning.