Team Thad, Tyler Jackson, more impress during EYBL Memphis opener
MEMPHIS, Tenn.—The first day of the final EYBL stop before Peach Jam had no shortage of action. While the USA Basketball festivities took some of the bigger names from the 2025 and 2026 classes, there's still plenty to dig into from the opener of the penultimate weekend on the circuit.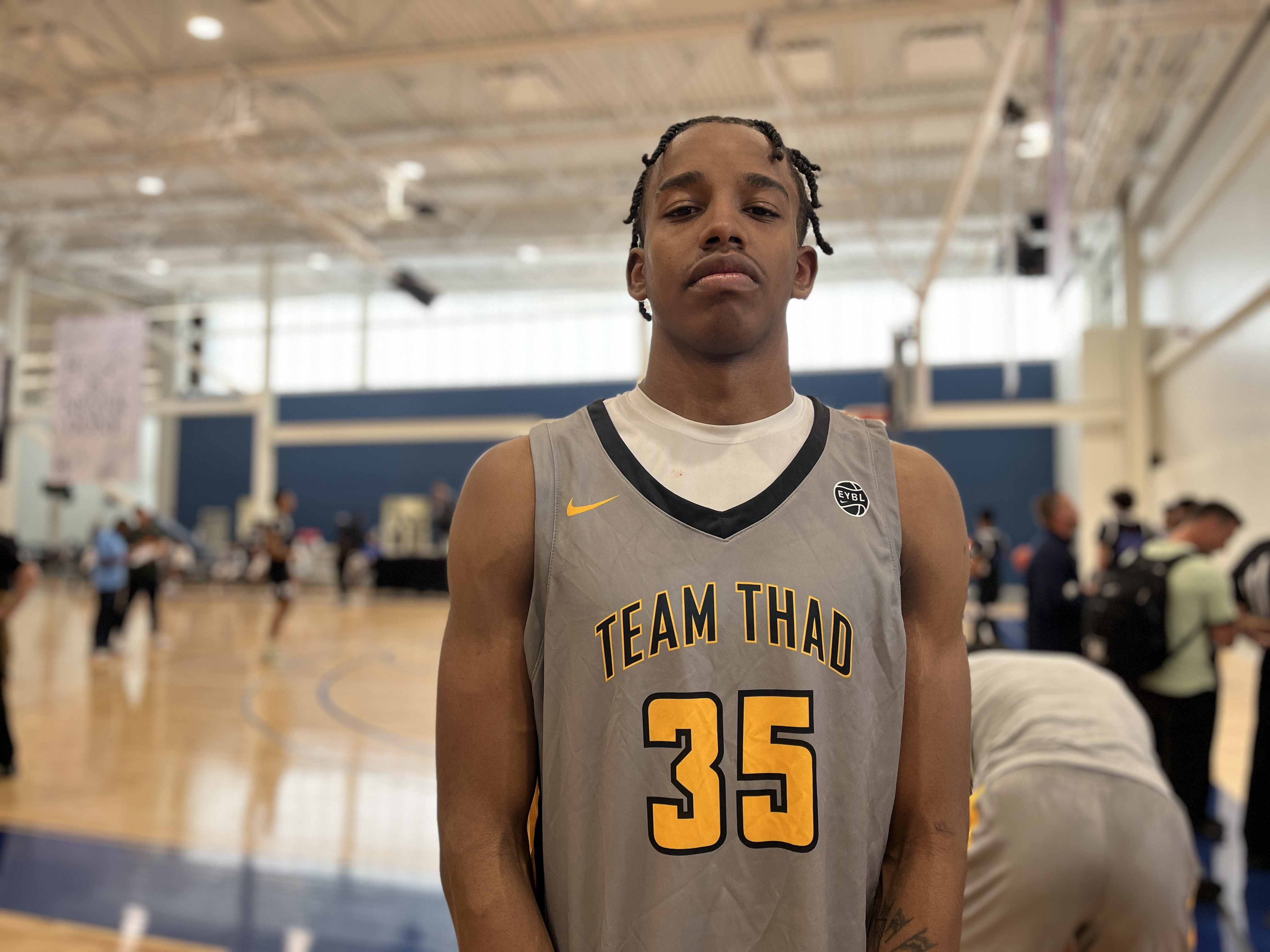 Team Thad Overwhelms Early
This weekend's iteration of an already great Thad group looks like a southern all-star team with the additions of Rakease Passmore from North Carolina and Gicarri Harris from Georgia, who both have spent their springs on the Adidas circuit—and will likely resume the three stripe life in July. 
They looked like an all-star team and played like one with a weekend-opening 93-73 win. 
As has been the case all season, Derrion Reid looked the part of one of the nation's biggest risers with a complete performance. He finished with a 22 point, 6 rebound, and 4 assist morning. He showed off the full complement of his versatility with flashes of his inside and outside skill sets. He followed that performance up with a 23 point and 8 rebound game in an 18-point win in the afternoon session. 
It was June of last year when Reid started his ascent as a national prospect, and he's certainly kept that momentum going strong this spring. Reid recently added an Ohio State offer to his list. Other schools include: Alabama, Mississippi State, LSU, West Virginia and more. 
The aforementioned Rakease Passmore has been another southern riser over the last year or so. His morning was much like Reid's in the sense that he did a little bit of everything for Thad. His impact could be felt across the board with some big defensive plays, 9 rebounds, flashes of three-level scoring, and overall high energy. Passmore was most recently offered by Florida State and has offers from Kansas, Indiana, Memphis, Tennessee, Auburn, Miami, Oregon, and plenty more. 
Labaron Philon was the other star in the morning win with 22 points. It was his offensive efficiency that shined. The guy can be an absolute bucket, and he showed that in his 21 minutes of play by going 71.4% from the field. He recently reopened his recruitment after decommitting from Auburn. 
Tyler Jackson steals the show with Melo
Was the individual performer of the day Tyler Jackson? He has to be, right? If there was someone that put up better numbers than 39 points and 8 rebounds followed by another game with 36 points, let me know. 
He's a confident guard, and he has every right to be. He's athletic, dexterous with the ball, and a smooth playmaker. Jackson is not shy about getting his shots up, but the guy makes a lot of them. With his ability to create, he's going to continue to boast eye-popping stats. 
Jackson has done nothing but prove that he's one of the very best guards in the 2025 class. While he has spent most of his spring proving that on the UA circuit with Team Thrill, he came over to let everyone at Nike know that he's the real deal.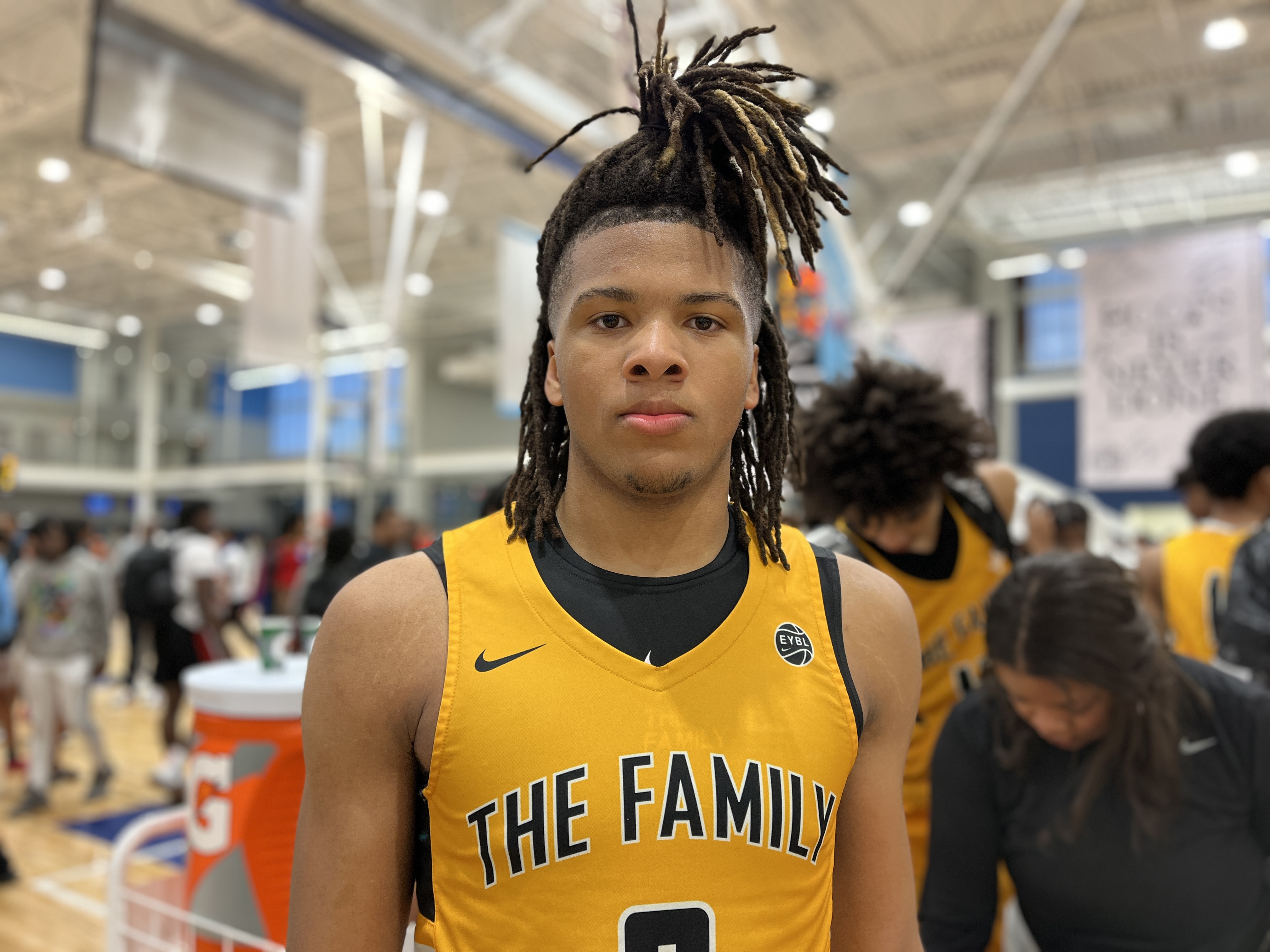 The best game I saw
The game of the day, for me, saw The Family take down NH Lightning in the 17U division. It was close, and the stars on each team came to play. 
The Family's 2025 backcourt made up of Trey McKenney and Darius Acuff combined for 51 of the team's 81 points. 
McKenney had it going the entire game. He looked like the best player on the floor with no shortage of talent around him. He hit tough shot after tough shot with good defenders in his face, and he was able to play a little bully ball using his strong frame with finishes through contact. 
Acuff got off to a slower start—by his standards this spring—but turned on the jets in the second half. Like McKenney, he connected on well-defended shots. 
Where did the other 30 points come from? Well 23 of them came from forward Dylan Grant. A big, athletic presence in the paint, Grant helped his backcourt in terms of scoring, and he added 11 rebounds. 
On the other end, Elliot Cadeau looked like a top 10 player in the 2024 class yet again. He's probably closer to top five at this point too. 
His passing numbers were down, but Cadeau put up a team-high 20 points. 
2025 guard Meleek Thomas also looked like a top 10 guy in his class with 17 points and 7 rebounds for NH Lightning. He has good positional length and can score the ball with the best of them. 
Auburn commit Tahaad Pettiford added 12 points and 7 rebounds while Jahki Howard added 12 and 6.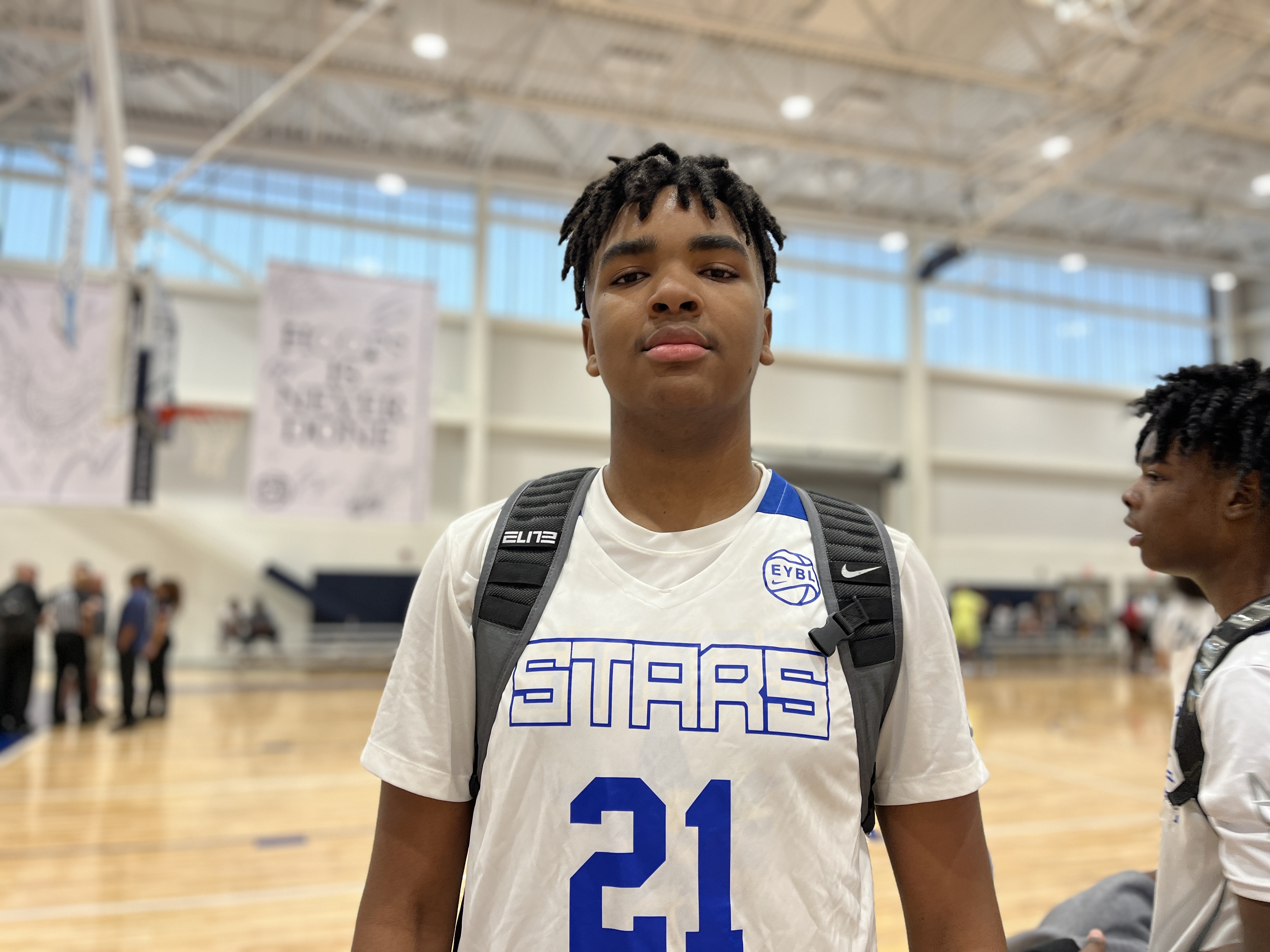 The Stars underclassmen shine bright 
In back-to-back time slots, I spent some time close to home by checking out the Georgia Stars 15s and 16s. Both groups of underclassmen picked up wins and looked good doing so. 
Starting with the 15U group, Dhani Miller was the major eye-catcher with his pace and feel at the guard spot. Especially in the half court, Miller is deliberate in his attack and balanced scoring and distributing well. He didn't beat anyone with bursts of speed, but he was able to routinely get into the paint and kick to shooters or score. 
Kayden Allen is one of the best 2026 prospects in Georgia, and he's someone I've gotten to see a lot of this year either with Grayson (GA) or Team Huncho. With the Stars on Saturday, Allen added another notch in his belt with his ability to fill it up. He was the beneficiary of some Miller passes to the wing, and he cashed in on those opportunities. Allen made some timely defensive plays and showed ability as a playmaker himself. 
MJ Madison looks to have grown some since I saw him last with Pace Academy during the high school season. He's probably around 6-foot-7 now and showed upside as a versatile forward. He did most of his damage around the basket, but he stepped out and did some work on the perimeter as well. 
The 16U group of Georgia Stars got an influx of new players. Two newer additions made major impacts at the forward spots. 
It looks like Amir Taylor and Jacob Wilkins will be teaming up at Grayson for this coming high school season, and if that's the case, they gave us one hell of a preview on Saturday afternoon. 
It was a bit of thunder and lightning from the pair. 
Taylor led with 24 points. He did his damage below the rim. He made himself available for dump offs from his guards, he showed off some of the post moves Georgia locals have been seeing from him for years, and he bruised the backboard with layup after layup. Nothing fancy, just effective, winning basketball. Make the easy play. 
On the other hand, Wilkins had 21, and they were loud. He was flashy with it. Wilkins is known for his athleticism, and he introduced some people to his game with highlight dunk after highlight dunk. 
Other quick hitters
2024 guards Austin Swartz and Jaedan Mustaf close the night right for Boo Williams. Swartz—one of the best shooters and scorers in the class—ended with 29 points in the win. Mustaf—a slasher—made his killing by going 11-13 from the line. Mustaf added 6 assists and 5 rebounds to a 17-point night. Two top-50 players in the class looked the part. 
Not to be overlooked, Mokan 2025 guard Avian Webb led them to overcome Tyler Jackson's 39-point outburst with 19 points of his own. Webb impressed as a tough shot maker. 
Kiyan Anthony showed off his versatile offensive bag with two good performances for Team Melo. With his now retired dad coaching from the baseline, Anthony dropped 17 points in the morning and 15 in the afternoon. 
2024 guard Jordan Tillery continued to show that he's one of the more underrated prospects in the south with 23 points for Nightrydas in a close loss to Boo Williams. Tillery lives at the rim as a slashing guard. Last time I checked with him, he had a host of local mid-major programs interested. He has the makings of a prospect that will pop during June live period events. 
2025 guard Brayden Burries ended the night with 26 and 7 for SFG while shooting 11-19 from the field. With him on the west coast, I don't get the opportunity to see Burries as often as I'd like, but he always leaves an impression when I do see him. Good positional size, attacks the rim hard, brings great energy to the floor. A lot to like in his game.