Tec's Takes: Post-Gibbons Thoughts and Superlatives
SUWANEE—The Bob Gibbons Tournament of Champions has wrapped, and I'm still in recovery mode. It's a good kind of recovery though. It's very much like the kind after a long holiday with the family or something. That's what Gibbons weekend is becoming for me. It's becoming a holiday. While I may be moving a step slowly for a few days afterward, it was worth it in the end. 
As I pour through all of my notes and pictures from the weekend in preparation for a week of crunching away at my keyboard, I want to dole out some superlatives and a retrospective overview of the weekend. 
The Best Game I Saw: 
I have two games of the weekend, and they both happened on Sunday. The march to Gibbons gold brings out a different energy. 
The first saw two Georgia teams pitted against each other in a game that Team Huncho pulled out over AE5. This was the most intense game I saw over the weekend. Both teams wanted this one badly, and it was evident. It's not every day that you see two teams put this much heart into a game during the travel season. Guys were on the floor going after loose balls, showing exuberant energy after defensive stops, and making huge plays left and right. It felt big time. Huncho pulled it out thanks to a made free throw from Bilal Abdur-Rahman. More on that coming up. 
The next game was a semifinal war between the Atlanta Allstars and EAB Tennessee. This was one of the best games I've seen all season, and it featured two of the best teams I've seen this season. Both teams boast balance across the board and matched up well against each other. I loved seeing these two high-level frontcourts play each other, and the guard battle between Dallas Roberts and Brandon Rechsteiner was as good as I could have hoped for. Eddie Ricks cemented himself as a Bob Gibbons legend on Sunday, and it started with a game-winning basket to give EAB the slightest edge over the Allstars in the end. You'll also be seeing more on that coming up.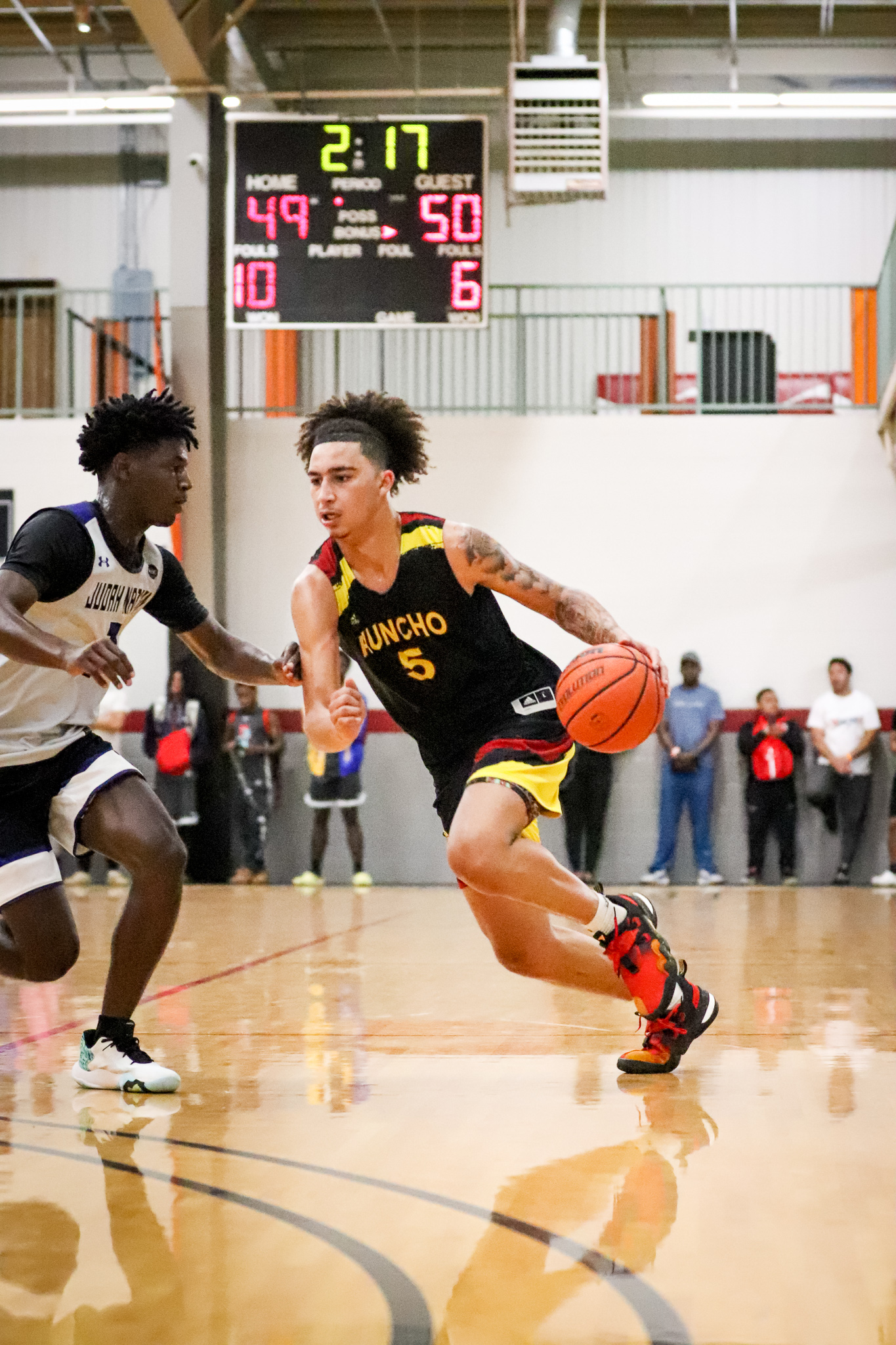 The Best Player I Saw: 
I want to use this space to give Team Huncho's Bryce Blaine his flowers. He was tremendous all weekend in all facets of the game. 
Blaine was flat-out one of the best scorers I saw. From all over the floor, he produced points consistently all weekend. I saw him score in a variety of ways too. Blaine can create his own shot, cash in on an assist, and he can score in high-pressure situations. It doesn't matter if there's nobody around him or if he has a hand in his face. Blaine just gets it done on that end of the floor. 
Moving the defensive end, Blaine was as stout of a defender as I saw. As a strongly-built, 6-foot-5 guard, Blaine is switchable and versatile on that end of the floor. He's a walking deflection. He's going to get his hands on a ball and disrupt passes with the utmost regularity. When you need a guy to stop the other team's best perimeter player, Blaine is the guy to call on. 
The Best Stock Riser I Saw: 
Per usual, I have too many names to narrow it down to a single guy. I had a hard enough time whittling my list down to three, so give me a break here. I struggle with this kind of thing. Don't ask me to pick a restaurant or anything like that. I'll just name every place in town. 
Teagan Moore, Dallas Roberts and Dawson Barr are guys that I've been fortunate enough to see a lot out of in my short time in my role. I've seen these guys win a lot of games and put on big-time performances regularly. 
First up, let me start with my Kentucky guys. I know some people will consider these homer picks because of my love of where I'm from, but if you watched, you'd know that these guys are real-deal prospects. Griffin Elite's Teagan Moore has been on a tear this spring and continued that at Gibbins over the weekend. Game after game, Moore produced numbers for Griffin Elite. He helped lead them to a deep tournament run that lasted until the final four. Moore was undoubtedly a tournament MVP. 
The next guy on my list is Dallas Roberts. The North Oldham High School guard made alumni like myself proud of the teal and the black this weekend by stepping up in the biggest moments during EAB's championship run. In both their semifinal and final wins, Roberts led EAB with 19 points and 17 points respectively, and he also racked up several assists in both games. Last year, I saw Roberts play his best against the best competition when the games mattered the most. Against a great 3D Empire team, he led Griffin Elite to a championship win at the Grassroots Showdown, and he replicated that this weekend with EAB against some of the best independents in the country. 
Last but not least, Dawson Barr has been a HoopSeen stalwart for years. The TNBA guard was sensational again this weekend. With multiple 20-point outings under his belt, Barr made me look smart when I told people to watch him. It's not often that I get to look smart. He led a TNBA charge to the elite eight in one of the toughest brackets of the tournament. When you look at the company they were surrounded by in the round, you'll find a list of some of the most well-known programs in the region. 
These guys aren't sleepers to us here at HoopSeen. We've seen them succeed for years. This weekend, they continued that success on one of the most historic platforms out there. They all make teams better and lead to wins.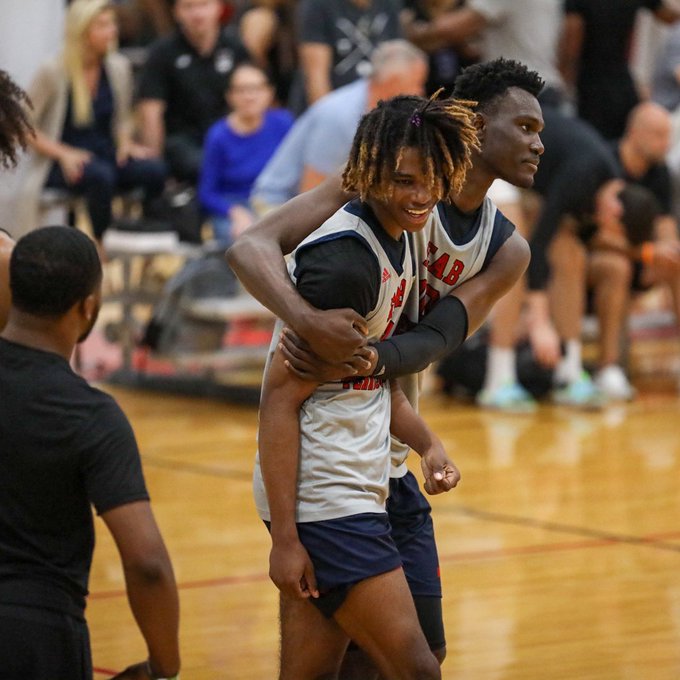 The Best WOW Moment: 
Let's stick with EAB for this segment. Two of the moments that will stick with me from this Gibbons will have come from two EAB guys. 
First, Somto Cyril's blatant abuse of rims is a takeaway whenever I see him, but seeing him literally go elbow-deep in the rim left my mouth agape and my eyebrows raised. I can say that I've never seen a player do that up close. I mean, I was right next to the basket for it, and it was mind blowing. He could have punched me with that dunk. That's how close I was to it. 
The other moment was actually two moments, but they connect, and they were Eddie Ricks' back-to-back game-winners that claimed the 17U championship for EAB. In the semifinal, he sent EAB to the championship game by hitting a game-winner against the Atlanta Allstars, and in the championship game, he hit one against Florida Pro to send EAB home with gold. 
Both of these moments are no-brainers for the Gibbons history books. 
Most Impressive Individual Sequence:
I doubt that you're going to find this superlative in many other post-event reviews, but hey, that's what you come to me for. For better or worse, my brain operates via its own accord. These are the things I notice and think about when I'm in the gym, and I have a lot of viable candidates for this. 
I have to give this crown to Bilal Abdur-Rahman though. In Team Huncho's game against AE5 on Sunday morning, Abdur-Rahman had a game-winning stretch of play that particularly resonated with me. 
As AE5 was on a fast break in a one-possession game, Abdur-Rahman busted his tail down the floor to stop an easy bucket, then he put his body on the line to secure a loose ball. Coming up noticeably hobbled after hustling and diving on the floor, Abdur-Rahman drove to the bucket and drew contact to get to the free-throw line in a tie game with mere seconds on the clock. Essentially, one free throw would seal the game and advance Huncho. 
After missing the first one, Rahman drained the second and created a Bob Gibbons highlight. 
This was a moment that proved that the hustle plays will pay off in the end. I'm
Best Underclassman: 
Jamier Jones. Plain and simple. With eyes set on the future, Jones has as bright of an upside as I've seen this spring. There aren't boxes that I haven't seen him check. 
He's a big guard in the most real way. It's not just a self-proclaimed thing. He has true guard skills in terms of creation and passing. Jones is also as athletic as they come. He can jump out of the gym and create viral highlights. 
When I hear about youth, size and athleticism, shooting is the trait that typically still needs work. While I wouldn't mark him down as a lights-out, dead-eye shooter, I have gotten to see Jones knock 'em down, so I know it's there. 
He's going to be a stud for years to come, and I'm just glad that I've gotten to see him at such an early stage in his career. 
Unsigned Spotlight:
I try to be in as many basketball gyms year-round as possible. Inevitably, players will elude me despite my best efforts to see as many guys as I can. One such player was Marquin Thompson from South Gwinnett High School. 
Thompson was sensational for Team Tatum this weekend at Gibbons. He's a quick, athletic guard that's difficult to stay in front of. Thompson is a killer when he's getting downhill and attacking the basket. He's one of those players that will get his no matter what. You just have to do your best to limit his production as best as you can.