Josh Tec's Notes from Sunday at EYBL Louisville
LOUISVILLE—Another day spent in the gym means another day's worth of notes. I was once told that the AAU business is like drinking from a firehose. It's a constant flow of information and analysis. This weekend has been that for me because I don't get to see a lot of these players as often as I'd like to, so it has been a lot to take it. I mean that in the best sense possible though. Of course, with every new bit of info, my pen hits my notebook or my keyboard gets a workout, and that means sharing some of my thoughts and observations with you guys. 
NY Rens Hot Start
On Sunday, the NY Rens started their Sunday off on the right foot with a convincing win over TSF
Ty-Laur Johnson has had one of the best weekends in Louisville this weekend. The tough-as-nails guard is exactly the type of player that people refer to when talking about guards from the New York/New Jersey area. He's quick and plays with great pace. Johnson does a great job at finding teammates and setting them up with easy shots. He finished their morning game with 10 assists. Papa Kante is a brick wall down in the post. He's a stout rim protector and rebound vacuum. Offensively, he's a consistent post scorer that uses his strength to muscle other big men. Naas Cunningham showed flashes of why he's so highly regarded in the 2024 class. The 6-foot-7 forward filled te stat sheet with 6 points, 6 rebounds and 4 assists. 
A New Name for my Notes
Meanstreets' Dalen Davis was one of my favorites from Sunday. While not an incredible athlete or overly quick, Davis understands how to best utilize his strengths to break down defenses and get to his spots. He's crafty and utilizes a deep bag of tricks—along with some tenacity—to get to the rim or create space to get a jumper off. Davis uses angles well to his benefit too. After watching him for the first time against Team Melo in the morning, I wanted to catch him in action again to confirm what I had seen out of him earlier in the day, and his performance against Mokan did just that. He finished with 21 points, 6 assists and 4 rebounds against Meanstreets and finished in a similar neighborhood against Mokan.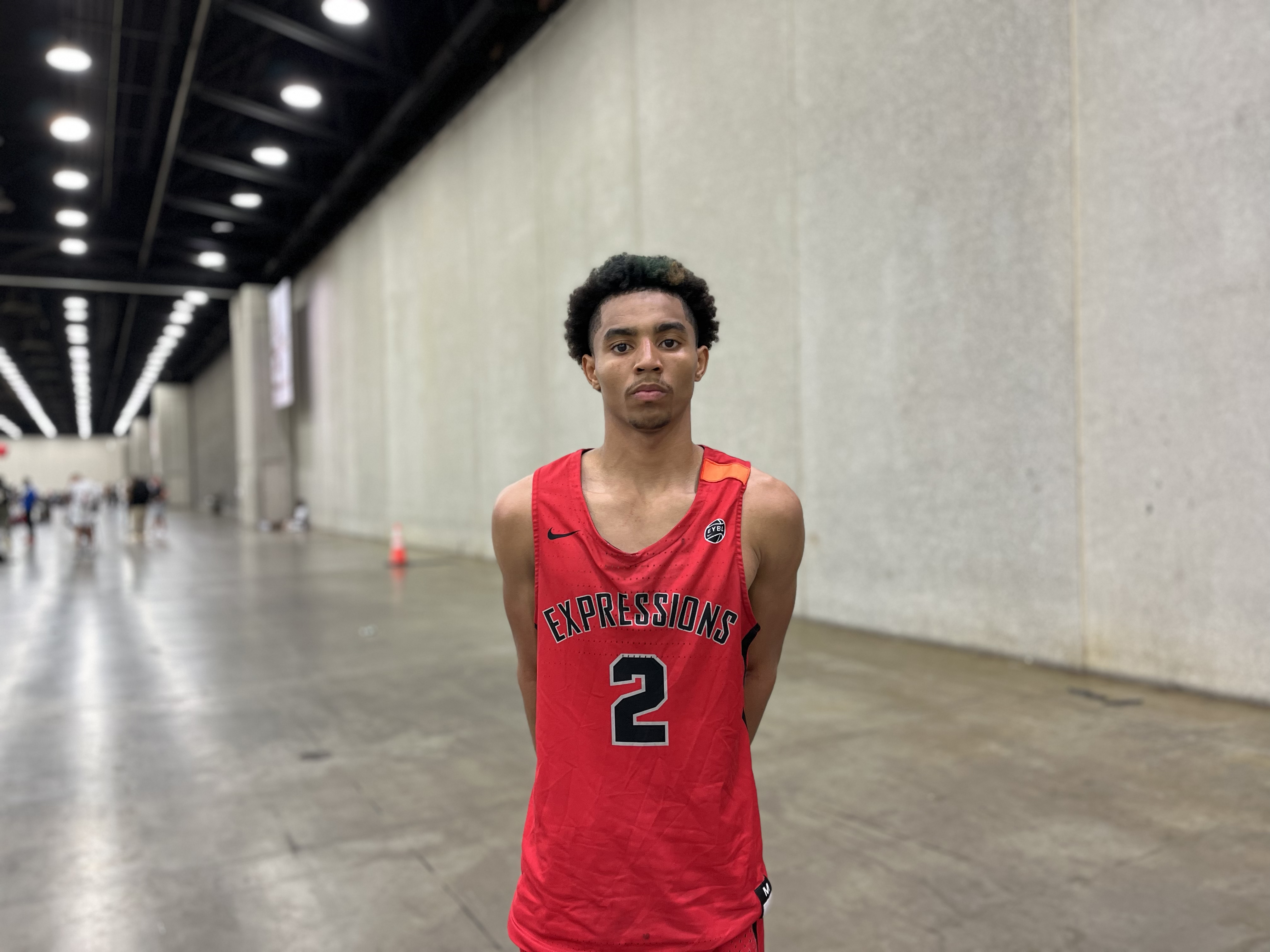 Notes from the 16U Division
Derrion Reid had an impressive outing for TSF in their afternoon game against Expressions Elite. The Grovetown has long been an intriguing prospect in my book. His length and versatility are impossible to ignore. At 6-foot-6, Reid already has next-level size, and he has long arms to go with that size. Reid can thrive both around the basket and on the perimeter as a shooter or playmaker. When watching Reid, he has the look of a player that's still scratching the surface of what he can be down the line. He showed some of that potential early on Sunday afternoon with a solid performance against Expressions Elite. Reid already checks a ton of boxes, but with his well-rounded game, it feels like he has bigger and brighter things on the horizon. 
Jeremiah Jenkins Expresses. Jenkins was one of the better pure point guards that I saw during my 16U time on Sunday. He has great vision and racks up assists with regularity. Jenkins can also put up points efficiently and quickly. He's a name that I expect to take off in a significant way this summer. His recruitment is poised to see major upticks as 2024s start to step into the forefront in that regard. 
Mokan's Elite. Curtis Givens certainly put on an elite performance for Mokan on Sunday afternoon. The elite scorer dropped a casual 21 points to lead the way to a win. Givens can truly fill it up from three levels. He's at his most dangerous from the 3-point line, but he's also an exceptional slasher. When the other parts of his game are working to their highest caliber, it opens up opportunities for him to get to his midrange game as well. Givens followed up that 21-point game with 26 points later in the evening. 
Stars Star Again. I'm fortunate to have been privy to a lot of the 2024 Georgia Stars games this spring. I love their dynamic guard tandem of Karris Bilal and Trajen Greco. At HoopSeen, we've covered this duo quite a bit, but it was nice to see them in a different setting, and they were as successful as we're accustomed to. When I stopped by to check on them, they each led the Stars to a blowout win with 13 points each.