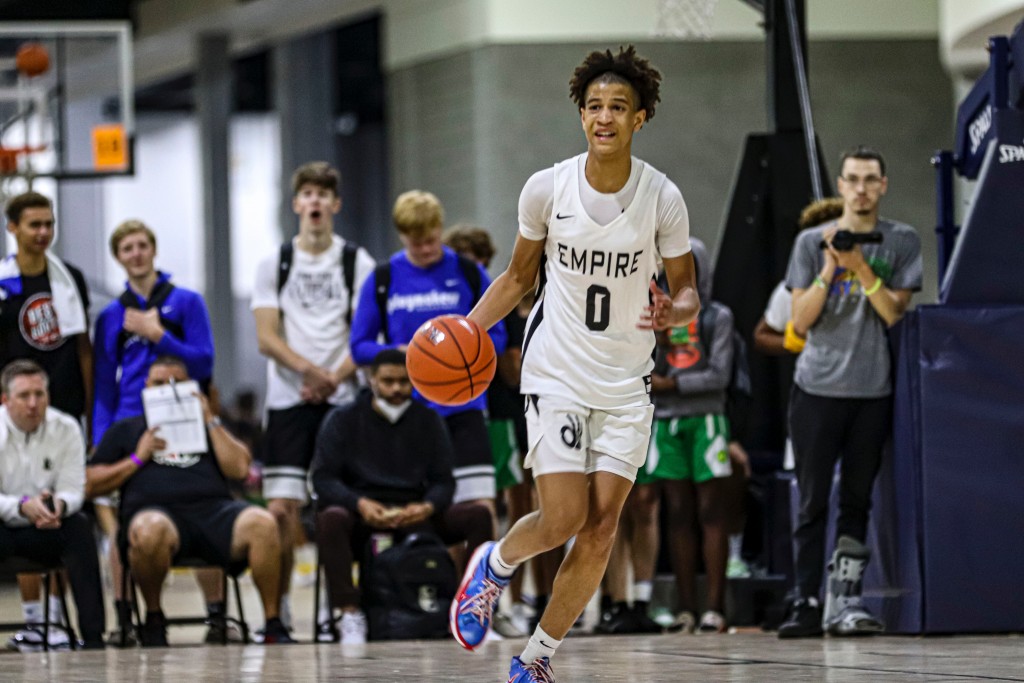 ORLANDO, FL - The Grassroots Basketball Summer Championship wrapped up the three-weekend NCAA Live Period and the stars came to play. With the action in bracket play and with the goal of being crowned as the top independent travel team in the nation there for the goal, the players came to play. Who were our top overall performers? These guys. 
Shotmaking. Big-time teams need a guy that can let it fly and Amboree does that at a consistent rate. I like his size and his ability to score over the smaller guards, plus he can get to the rim when his shot isn't there. Whenever 3D Empire had a close game, more times than not, it was Amboree who made the play that led to a run for the program. He was one of the top shooters at every event we have held that 3D Empire was in attendance and he put colleges on notice. Oral Roberts University was at nearly every game in Orlando and have made him a priority. Every college program needs a shooter and this one can rattle them off consistently and in a hurry.  - Justin Byerly 
One of the most sought after prospects in the country, Black played every game at The Orange County Convention Center with Baylor Head Coach Scott Drew or an assistant in attendance. HoopSeen's Josh Tec summed it up perfectly "Black is one tough player, man. He took some serious contact this weekend and made huge defensive plays when 3D Empire needed it the most. I was already impressed with the guy, but he showed me something extra this weekend." Black wants the ball in his hands in big games and while 3D Empire has some other guys that can make shots, Black was able to affect the game on the defensive side and help the Texas-based club go home as the top independent team in the country. - Justin Byerly 
Boldin was the overall leading scorer of the event through the first two days averaging right at 25 PPG. The 6-foot-5 guard is so explosive and possesses great body control. The way he can adjust his body mid-air to avoid the defense is so fun to watch. His athleticism was on full display throughout the weekend as he threw down a plethora of highlight-worthy dunks. This is a player that is tough to stop once he gets into his aggressive mode on offense as he gets to the rim at will. His length and athleticism also make him an impact defender too. Boldin picked up an offer from Albany State, but I would not be surprised to see that list grow in the coming days.  - Brianna Patton
Those boys from Wisconsin can get after it. In the Grassroots Summer Championship semi-finals, Olson knocked down four, three-pointers and finished with 25 points against Team United. Olson was the guy for his squad nearly every game. He plays hard, plays smart, doesn't make mistakes and wants to win. He goes hard when he is making a drive, he has a good looking shot that he can consistently knock down, he gets really high on his shot so that bigger defenders have a harder time defending him and has a toughess that we have seen a lot from the NY2LA teams that have been mainstays over the course of our travel season. - Justin Byerly.
Energy. While he didn't start any game for Team United over the course of the weekend leading up to the championship final, Haskins-Sanford provided an unmatched energy level as soon as he stepped on the floor for the squad from Charlotte. The 6-foot-8 forward likes to play at the rim and does a super job of being vocal out on the floor. He rebounds and also blocks shots, he gets baskets at the rim and plays with a high-level motor constantly. He was a big difference-maker in the weekend for Team United and in the final, his put-back dunk off of a miss sent the crowd into hysterics and the game into overtime. He told HoopSeen that he is expecting to take a visit to Tennessee in August and is hopeful he will make a decision sometime late this fall. - Justin Byerly 
As intensity ratcheted up, so did the play of Taylor. With a big stage in the final hours of the July live recruiting period, Taylor played with everything he had left in the tank. In the semifinal game against 3D Empire, we saw a brilliant performance. If his team needed a big shot, he delivered. If his team needed a hard drive, sprinting from the backcourt to the rim, he gave it to his club. There is a pressure that he plays with that is hard to match here in Orlando. If you can measure a player by the last game he plays, then Taylor left a lasting impression that should carry over a big senior year in Arizona. - Justin Young