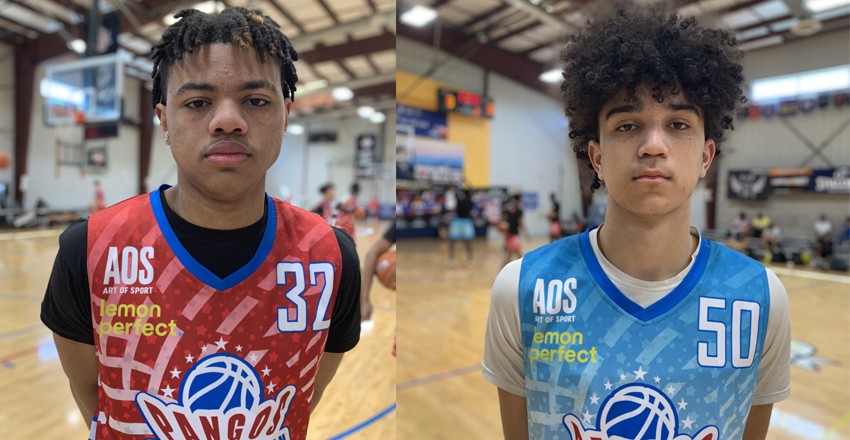 The talent level at the 2021 Pangos All-American camp was undeniable. Tying it all together is no easy task. These four point guards, from my point of view, were the very best from the loaded three-days in Las Vegas.
TOP SHOOTING GUARDS
It's not a big secret - our big appreciation for his game - on this site. Black is one of our favorite players in the nation. Right out of the gate at the Pangos All-American camp, Black showed that he was not only one of the most versatile guys in the camp but one of the most versatile guys in the nation. He's a top 25 player nationally in our opinion and every time we've seen him play in person, the opinion gets locked into cement. Black's passing was on full display in this camp. He thrived in both transition and in the half court. He's also a go-to shooter and an elite defender. His feel is off the charts. Black is one of the players that national blue blood programs are curious about and want to see in person. He'll be a highly sought after player this summer and don't be surprised to see his recruitment take on some of the biggest players in the game.
He'll keep his game quiet and his personality allows him to blend in with the rhythm of a game but when it is time to unleash his inner sniper, the trigger gets pulled and Chandler can do some damage in a hurry. That's the beauty of his game. He's ever-present and ever-productive whatever the stage may be. His athleticism is balanced by his ability to score on the wing as a go-to three-point shooter. Offensively, he's one of the most versatile and impactful players not only in the west but at the shooting guard position. He'll be a priority guy for a number of Pac-12 schools this summer. And justifiably so. Chandler was on the short list for top overall players at the Pangos All-American camp.
When it comes to being a scorer supreme, few do it quite like Cruz. He can spray shots from all spots on the floor and burn you with a dagger when it matters. His stop and pop game is excellent and he does a terrific job of looking for a spot on the floor that warrants a pull-up. Cruz is a physical guard that plays like a young man who could have fit in perfectly with the old Big East and John Stark style New York Knick days. When he's at his peak, there are few better in the class that can keep the scorekeeper busy with the tallies.
The future Kansas wing made some new best friends over the weekend. The Kansas native wowed his weekend teammates with the bounce that drew a mixtape mafia over. He picked up where he left off from his stellar season with the loaded Sunrise Christian team. His three-point shot is hard to guard because of his length and his bounce when he shoots the jump shots. Kansas was smart to lock up the local prospect and Jayhawk fans will love having him at Allen Fieldhouse during his career, however long his stay will be in Lawrence.
Buckets, buckets, buckets. He's effortless when it comes to point production. The game is so easy for him. The entry-level pro leagues were on hand for all of his games in Las Vegas and George has mentioned that route as a possibility for his next move past high school. His scoring touch can translate to the next level because of his ability to get buckets from all spots on the floor. Think Bradley Beal.