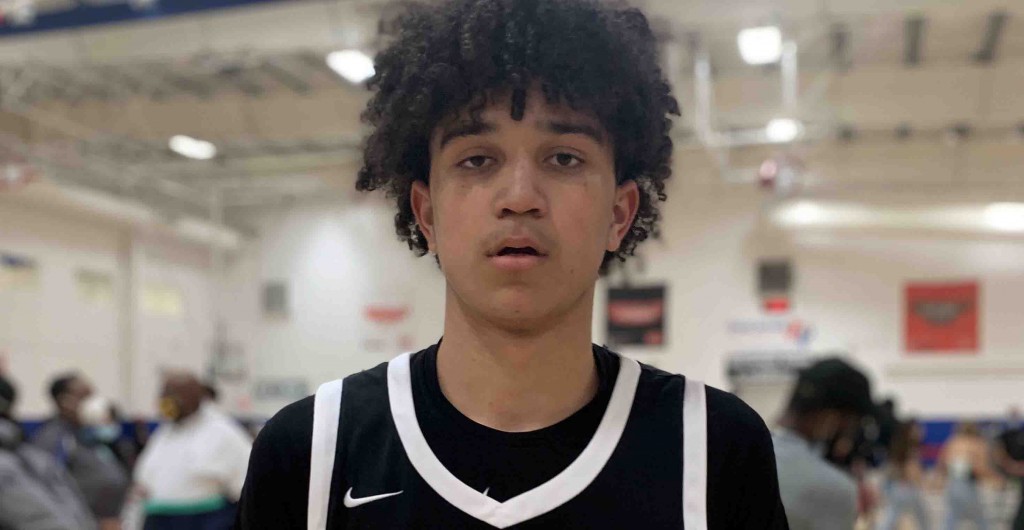 The travel season tipped off officially in several corners of the country over the weekend and Justin Young spent time in the Lone Star State for #OpeningDay with TB5 Reports in Duncanville, Texas. Who were JY's top overall performers? These guys. 
Each and every year there are players who are in position to make a leap on the national level and waste no time staring the conversation. After his showing at Opening Day, let's start the narrative for Anthony Black's inclusion into the five-star category in the class of 2022. The big guard had a big weekend for his 3D Empire squad. Taking on all comers from all corners, Black stepped up in a big way and thrived as a multi-positional defender. The 6-foot-6 guard has incredible footwork and length that causes so many problems for opposing players. He matched quickness step for step and snatched steals in the open floor. His disruption pivoted his team to quick points. Athletically, Black is really good and uses it well on the offensive end of the floor. He can fly and score at and above the rim. As a passer, Black is unselfish and moves the ball around with precision. He's well-founded on skill and continues his upward trajectory from his junior year in high school. Let's talk about him as a top 25 player nationally for this class. He certainly justified such a thought over the weekend in Duncanville.
The big man was the best paint player in the field. That was one of the biggest takeaways for me from the quick trip to Dallas. Corhen plays with power and brute strength down low. There was never a question of whether or not he was going to finish around the cup. Corhen was a sledgehammer when he got above the defense. He ripped rebounds off the rim and played well vertically. His shot was outstanding out to the wing. In a pairing against Zuby Ejiofor, Corhen scored 26 loud points and hit four three-pointers in the win on Sunday. If there is any big man on the rise from the state of Texas, Corhen has to be on the short list. He is every bit the high-major player and projects very well at the highest level. Imagining him in a college strength and conditioning program is a scary proposition. Inclusion into any national top 60 list is a no-brainer. He'll debut high inside our soon-to-be updated national HoopSeen top 100 list. No one boosted their national stock more in this setting than Corhen did. 
The 5-star guard and his northeastern teammates came to the Lone Star State looking for competition and they certainly got it and felt the Texas-sized bullseye on them the minute they walked through the door. With the competitive punches being throw, Cruz and his mates stood in the ring and went toe-to-toe with all comers What we saw from Cruz was terrific shot-making ability at every level. He pumped in shots from every level in the halfcourt. Offensively, there wasn't a more primed-for-the-next-level guy quite like Cruz. His jumper is textbook - high-arching, quick-released and pin point. He's filling out and has a frame that can match the physicality of high-level basketball. Cruz makes hard plays look easy. He's one of the best scorers in the class and certainly lived up to that in Texas. 
When the locals tell you emphatically that a player is as good as advertised, you better listen. Walter lived up to the conversations and was consistently productive for Trae Young Elite. Walter has terrific handles for a big guard and sliced through a defense with precision. He showed that he can shoot from deep and also dribbled into the mid-range and knocked down shots. Walter is big and strong enough to be one of the best rebounding guards in his positional group for the class of 2023, too. He's strong when he goes for the ball and doesn't lose match-ups of toughness. Walter comes off of ball screens really well and finds spots in the game to make his impact. He's the kind of player that you want to have on the floor whenever you need a clutch play. There is a big-game ability to him that pulls you in. 
The minute you pull up to the court where Ejiofor is playing, you'll instantly know how the prospect is on the court. Playing with Beast Up, the big fella showed nimble footwork inside the paint and converted against size down low. His hands are soft but strong enough to secure the rock away from defenders and other rebounders. He's so big and so strong in the paint. Ejiofor finished down low and had no trouble against size. His presence in the paint was felt and he planted his foundation in the paint to establish himself where the grown men live. His strength allows him to be productive in all of the categories that you need your big men to be productive in. At this level, his game is all about power and understandably so. He's so unique and can bully his way around. Paired against Cohren, we saw some really good deep in the post scores in the paint.