Class of 2006 redo: Reranking the class
With a decade and a half of life between the time they graduated high school and where we are in the present day, there is no better time than now to go back and re-rank and re-explore where we got it right and where we got it wrong in the class of 2006. 
At the time, I was the National Basketball Editor at Rivals.com. I worked alongside Jerry Meyer, our National Director of Scouting, and we covered the nation's top high school basketball players. The landscape of the game was much different than it is now. 
It was Rivals.com and Scout.com on the internet. There were other respected evaluation publications but were mostly in print like Prep Stars. 
In these upcoming look-back stories, when a ranking is referenced, I am referring to Rivals.com. 
1 Greg Oden
2 Kevin Durant 
3 Brandan Wright 
4 Chase Budinger 
5 Thaddeus Young 
6 Spencer Hawes 
7 Javaris Crittenton 
8 Wayne Ellington 
9 Ty Lawson 
10 Brook Lopez 
11 Gerald Henderson 
12 Paul Harris 
13 Daequan Cook 
14 Stanley Robinson 
15 Davon Jefferson 
16 Darrell Arthur 
17 Damion James 
18 Mike Conley 
19 Obi Muonelo 
20 Ramar Smith 
21 Sherron Collins 
22 Earl Clark 
23 Dajuan Summer 
24 Brian Zoubek 
25 Derrick Caracter 
2023 RERANK (HS rating listed in parentheses) 
1 Stephen Curry (NR) 
2 Kevin Durant (2)
3 Russell Westbrook (NR)
4 Brook Lopez (10) 
5 Mike Conley (18) 
6 Greg Oden (1) 
7 Thaddeus Young (5) 
8 Ty Lawson (9)
9 Taj Gibson (32)
10 Robin Lopez (28) 
11 DJ Augustin (49) 
12 Wayne Ellington (8) 
13 Gerald Henderson (11) 
14 Marreese Speights (51) 
15 Ryan Anderson (98) 
16 Patrick Beverly (65) 
17 Spencer Hawes (6)
18  Jodie Meeks (39) 
19 Ish Smith (128) 
20 Jordan Hill (NR)
21 Chase Budinger (4) 
22 Brandan Wright (3) 
23 Greivis Vasquez (46) 
24 Lance Thomas (42) 
25 Trevor Booker (NR)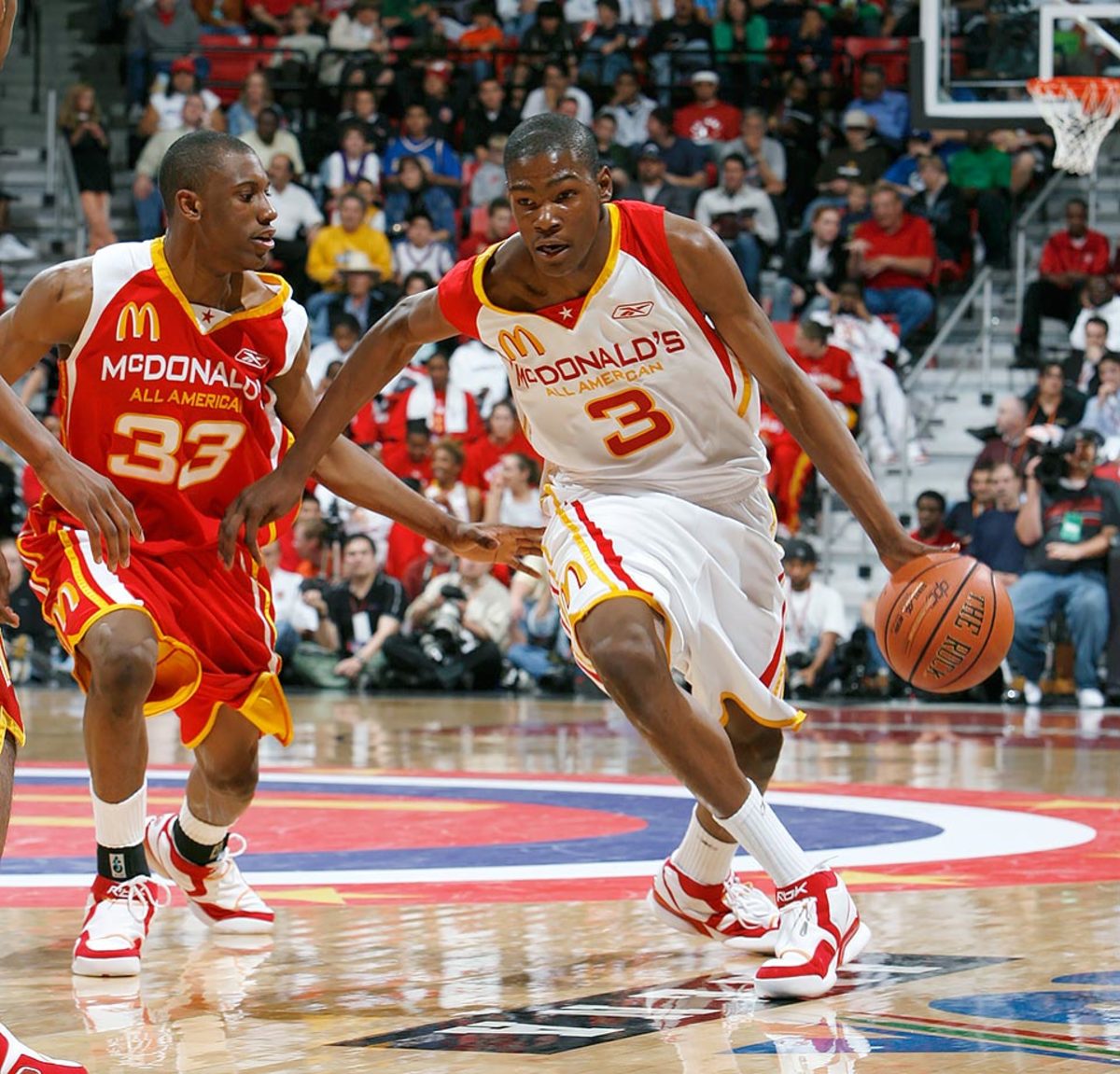 Got it right
We sat there in Hampton's arena and watched this twigs for legs, no hair on his chin, baby-faced spiderman shoot threes the minute he crossed the three-point line. The ball never touched the rim. The ball barely moved the nets. 
The high school version of Kevin Durant was pioneering a brand of basketball that we just weren't ready for. This was the era of power basketball. This was the era of rim-benders. Dwight Howard was the next face of the NBA. Greg Oden was the next Shaq. We loved the five man. We loved seeing him play the road of Godzilla. Power was valued way more than potential. Strength outweighed the shooting. 
Analytics were still things that nerdy baseball analysts paid attention to and Michael Lewis wasn't walking through that door. 
Durant was the unicorn. He was a positional outlier and one of the best shooters we saw in that era. He was one of the best shooters that I've ever seen at that age. Durant was the very best of the best. 
At the 2005 Boo Williams Invitational, I wrote this: 
HAMPTON, VA - If there has been a better player here than Kevin Durant at the Boo Williams Invitational, we haven't seen him. 
As the D.C. Blue Devils won their pool, their reward was playing Team Texas, including big men Darrell Arthur (No. 4 ranked player in 2006) and Bryan Davis (No. 29 ranked player in 2006). That didn't matter to Durant. He was simply unstoppable in the 92-77 victory over the Texans. 
Durant, all 6-foot-9 of him, was pulling up from three-point land and sank shot after shot so effortlessly. The Oak Hill product was catching passes and quickly squaring up for his shot and didn't even blink during the attempt. He was simply unconscious from deep. Scoring 20 points in the first half with five threes, Durant took his game inside in the second half a little more. He thundered home a nasty dunk at the end of the game, he went to work around the bucket against Arthur and Davis. 
Just when Team Texas would make a run, Durant stepped up and drained another long ball or used his gangly length to block a shot or snatch a rebound off the rim.
Hindsight is quite a thing to look through. We should have ranked Durant No. 1. But we didn't. No one did. It was Greg Oden's world. Maybe that's what put the ever-present chip on Durant's shoulder that he still wears with a badge of honor. Maybe that's why he plays like he will always have something to prove. Maybe. Who knows? I'm not here to psychoanalyze one of the greatest players in NBA history. 
Buf it there was a moment where the thought ever crept into my mind, this was the performance. He gave us a preview to just what kind of superstar he would become. Durant is one of the five best players I ever saw with my own two eyes at the high school level. 
He is a two-time NBA champion. He's a two-time NBA Finals MVP. He's won an MVP in 2014. He is a 12-time All-Star, 4-time NBA scoring champ, and one of the 75 best players all-time in NBA history. 
Durant did just fine with his career. He still is. We hadn't seen anyone like him over the last two decades since his dominant high school career.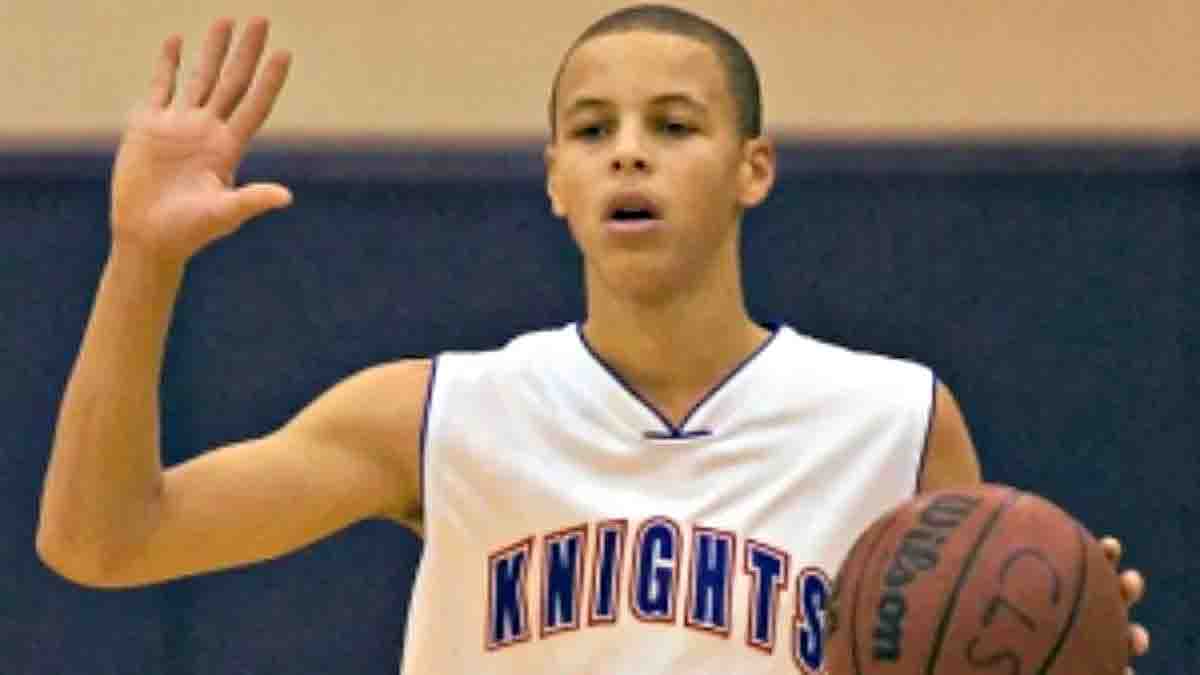 Got it wrong 
There were three big ones that can fall into this category. Let's dive into the three All-Stars who weren't in our top 150 national rankings. 
Let's start with Steph Curry. He wasn't even on the radar of being ranked. And if anyone tells you otherwise, they're lying. Curry wasn't even thought about as a major prospect coming out of Charlotte Christian. He was an interesting player. But never a guy who anyone thought would be anything more than a "nice get" for a regional mid-major program. I wrote this about Curry's decision to sign with Davidson back in 2006: 
"Stephen Curry of Charlotte (N.C.) Christian has the bloodlines (dad is former NBA guard Dell Curry) and a world of potential ahead of him. The younger Curry flirted with the idea of waiting for his father's alma mater, Virginia Tech, to offer but opted for Davidson. Curry will see the benefits of that move in the next four years."
That is about as close to "being right" about Curry as I could have been. I remember seeing him at Suwanee Sports Academy drill a half dozen threes in the deep corner of Court 4 during a NCAA Live Period event. He was good. I snapped his now-famous baby-faced head shot in front of the vending machines in the concession area of SSA one steamy July day back in 2005. You've seen the photo on those memes about him not being a ranked prospect. I took that photo. 
But you have to understand why that meme is, well, a meme. Was Steph Curry a big prep star? No chance. He wasn't. He was a good high school player that no one would have ever imagined becoming one of the best players of all-time. 
No chance. 
Zero.
Zilch. 
Nada. 
But he became one. That came about because of a number of factors. He picked the right school at the right time. He played for the right coach at the right time. He had the right opportunity in the right moment. He had the right games at the right time. He was drafted by the right team. He played in the right situations. And, most importantly, he did the right kind of work.
I love being wrong. Nothing makes me happier. 
For Curry, his timeline of growth just happened to happen outside of the scope of high school hoops. It happens. And because it did, he ushered in a whole new dimension to young players, the three-point line, hard work for under-the-radar guys and a bigger scope to go and find someone like him. 
That's a great thing for the game.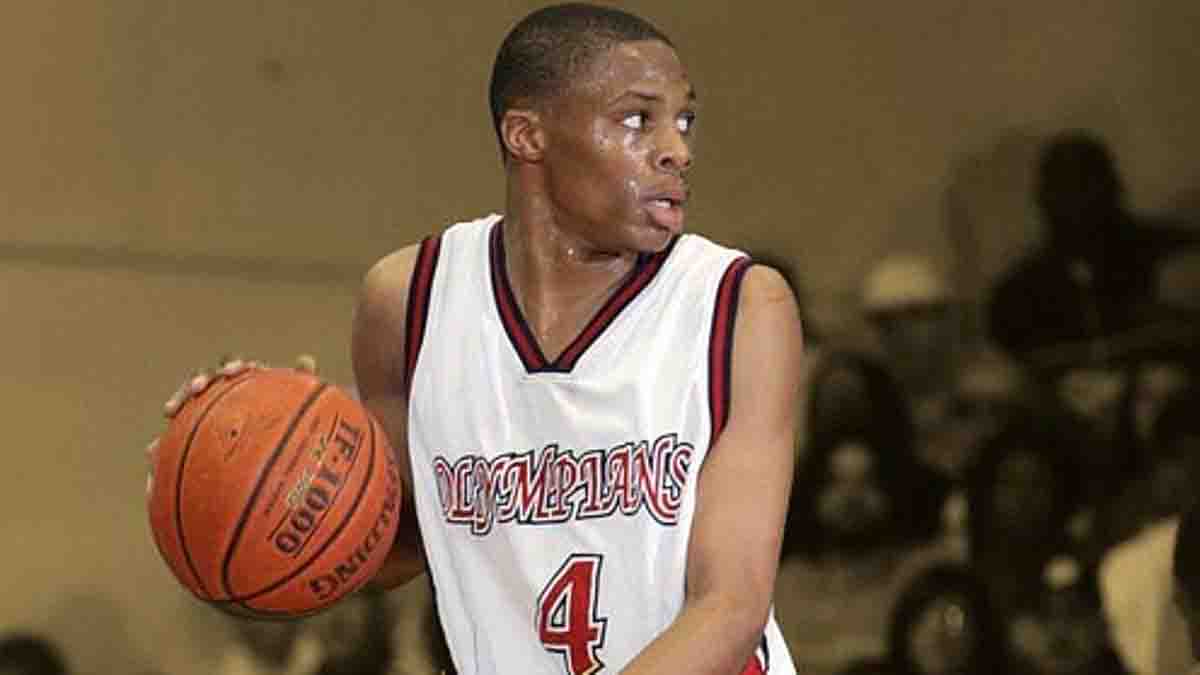 The best come-up kid 
We didn't rank Russell Westbrook in high school. Think about that. He was on our radar but he wasn't firmly placed on it. Quite frankly, there weren't too many people outside of Southern California who did see a lot of him. 
Westbrook has danced to his own beat for quite some time. That's been his process from day one. Respect to him for that. 
He committed late in the game, on April 14 to be exact. This was after he finished playing high school hoops. His commitment to UCLA slipped through the cracks. He committed on a Friday during the spring - a day when most of the industry was on the road or in a gym covering a major travel team event. 
Leuzinger head coach Reggie Morris told my colleague Jerry Meyer: 
"Russell is a prolific scorer and knows many ways to score. He has a great mid-range game off the dribble. Defensively, he's terrific and causes a lot of problems with his long arms. He brings a lot of intangibles to the court and is a very competitive kid."
Nailed it. 
What's interesting about Westbrook was his recruiting pathway. He visited Creighton, Kent State and Arizona State officially. His recruitment was all over the place. Miami and San Diego were also major players in the process. 
But when UCLA jumped in, it was over. 
Westbrook was a bit of a wild tornado in high school as a player. But coaches knew that if they could steal this "sleeper" in Los Angeles, the rest was history. Westbrook thrived at UCLA and never looked back. 
The best that could have been
You know where this has to start, right? 
I've always struggled with the notion that Greg Oden was a bust. I think he's much more of a victim of bad health. The game was never the question mark. The game was always there. He was as dominant of a player as I've ever seen in high school hoops. I grew up in Texas hearing about the legend that Shaquille O'Neal when he starred in San Antonio in high school. 
When I saw Oden for the first time, he was what my adolescent brain dreamt of when I thought about what Shaq must have been like in high school. Oden dunked like Shaq, bringing his knees up to his chin with a powerful two-handed rim-bender. 
In high school, there was no parallel. The only player that I have seen at this high school level who could have stopped or even given Oden a run for his money was Dwight Howard, an all-time great high school basketball player.
Injuries plagued his manchild frame and kept him away from tapping into any sort of historical greatness he was primed to have. Oden is, without a doubt, the best that never was. He was a quiet soul, humble and full of self-doubt. I always enjoyed talking with him and watching him absorb the absurd world of being a teen giant. 
The biggest bust 
In a matter of a couple of years, Hasheem Thabeet went from an unsigned senior who blew up at the 2006 Kingwood Classic to the No. 2 overall pick in the 2009 NBA Draft. 
We never ranked Thabeet coming out of high school. You knew he was going to be a project. In retrospect, I'm not sure why we didn't rank Thabeet. I could have sworn we did. He was one of the most coveted unsigned seniors in the nation. Connecticut was in there first and Miami, Oklahoma and Oklahoma State were also involved. He moved to the Houston area after a stint in California. 
It took him a couple of years to develop into a legit NBA prospect while at UConn. He was the 2009 co-Big East Player of the year and was a two-time NABC Defensive Player of the Year. 
"Hasheem is improving every time he gets on the court," Houston Junior Hardballers coach Rory Coleman told my colleague Andrew Skwara at Rivals back in 2006. "It's unbelievable. Just six months ago he couldn't even catch the ball. He has come so far in such a short time." 
Coleman said two interesting things about Thabeet in that story: 
1. He may have to spend another year working on his game before getting to college.
2. Coleman said he hasn't achieved a qualifying score on the SAT yet and if he doesn't will go to prep school next season.
That's probably why he didn't have a bigger buzz and was not ranked. But some of those factors could also explain why he's in this particular space. 
Despite not being in our top 150 national rankings, I think we can put Thabeet in this bust category. Thabeet played 224 games in the NBA for five different teams, starting just 20 games. The last time he was in the NBA was 2014 with the Oklahoma City Thunder.
The biggest overlooked guy 
When this class was in high school, we had such a great run of point guards in this group. Ty Lawson out of the DC area was amazing. Atlanta's Javaris Crittenton was different. Sherron Collins was the guy in Chicago. New Orleans native DJ Augustin was a ranked player for four years of high school hoops. 
Mixed in this group was Indianapolis point guard Mike Conley. 
He was ranked in our top 20, a McDonald's All-American, a championship Sunday guy in travel ball and a stud on every list. 
Conley just did his job. And he did it so very well. Honestly, we took it for granted. He's been one of the best point guards in the NBA over the last 20 years and quietly goes about his business like a professional. That was how he did it in high school. 
He just won. 
And won.
And won.
And won. 
Looking back now to see him at No. 18 overall in this class is hard to justify with 20/20 hindsight. 
The Drafted
There were 46 players from the high school class of 2006 that were drafted into the NBA. There were 14 lottery picks. 
Pick number, player, year of the NBA Draft
1. Greg Oden, 2007
2. Kevin Durant, 2007
2. Hasheem Thabeet, 2009
4. Mike Conley, 2007
4. Russell Westbrook, 2008
7. Stephen Curry, 2009
8. Brandan Wright, 2007
8. Jordan Hill, 2009
9. DJ Augustin, 2008
10. Spencer Hawes, 2007
10. Brook Lopez, 2008
12. Thaddeus Young, 2007
12. Gerald Henderson, 2009
14. Earl Clark, 2009
15. Robin Lopez, 2008
16. Marreese Speights, 2008 
18. JaVale McGree, 2008
18. Ty Lawson, 2009
19. Javaris Crittenton, 2007
21. Daequan Cook, 2007
21. Ryan Anderson, 2008
23. Trevor Booker, 2010
24. Damion James, 2010
26. Taj Gibson, 2009 
26. Quincy Pondexter, 2010
27. Darrell Arthur, 2008
28. Wayne Ellington, 2009 
28. Greivis Vasquez, 2010
30. Lazar Hayward, 2010
32. Dexter Pittman, 2010
35. DaJuan Summers, 2009
38. Andy Rautins, 2010
39. Landry Fields, 2010
40. Derrick Brown, 2009 
41. Jodie Meeks, 2009
41. Jarvis Varnado, 2010
42. De'Sean Butler, 2010
44. Chase Budinger, 2009
44. Jerome Jordan, 2009
45. Magnum Rolle, 2010
52. Luke Harangody, 2010
55. Jeremy Evans, 2010
56. Hamady N'Diaye, 2010
59. Chinemelu Elonu, 2009 
59. Stanley Robinson, 2010
60. Dwayne Collins, 2010