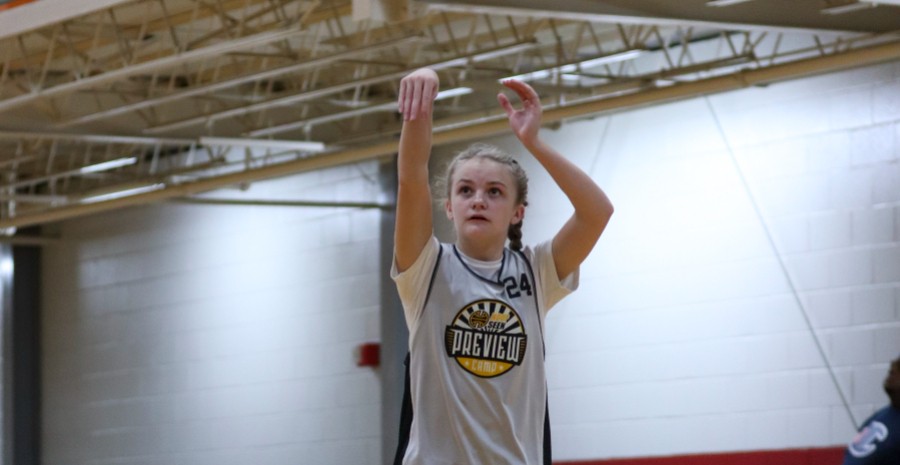 Our first HoopSeenW camp included a group of middle school girls that brought their game to go head-to-head. Here is the breakdown of the players from team 6. 
Mylie Butler: This kid had people all over talking about how good she was to be so young. The 7th grader out of Alabama was one of the best shooters there, including the high school girls as well. Butler has a great handle and is crafty off the dribble. She attacks both the basket and boards. Her feel and understanding for the game makes her so fun to watch.
Keris Collins: Collins has nice shooting mechanics already as a 6th grader. She is relentless in attacking the basket and does not mind taking contact. Her handle is also impressive considering her age; she has a crossover that could be dangerous as she continues to perfect it.
Abbie Conner: Conner is one of those players that will make the hustle plays and do the dirty work. She is an active defender and crashes the boards on both ends.
Alani Hayden: Hayden gave 100% effort each play. She did not let bad moments get the best of her, and continued to fight hard and contribute to her team even when things were not going her way. 
Trinia Lawrence: Lawrence was one of the most impressive middle school players we saw. Her change of speed combined with her ball handling ability gave the defense all sorts of trouble. She understands how to use her body and is really explosive off the drive.
Averi Neal: The 5-foot-4 guard out of McConnell Middle School is a tough competitor. She plays with a high motor on both ends and responds well to coaching.
Lauryn Simpson: Simpson showed that she can knock down open shots around the perimeter. She was also able to make plays on the defensive end, causing turnovers that led to transition points for herself and her teammates. 
Tylecia Tucker: Tucker was easily one of the top athletes out of the middle school group. She utilizes her length to block and alter shots as well as dominate the boards. Her athleticism really stands out on offensive with the elevation she gets on her pull up jumpers. Once she gets downhill off the dribble, she makes a play happen.