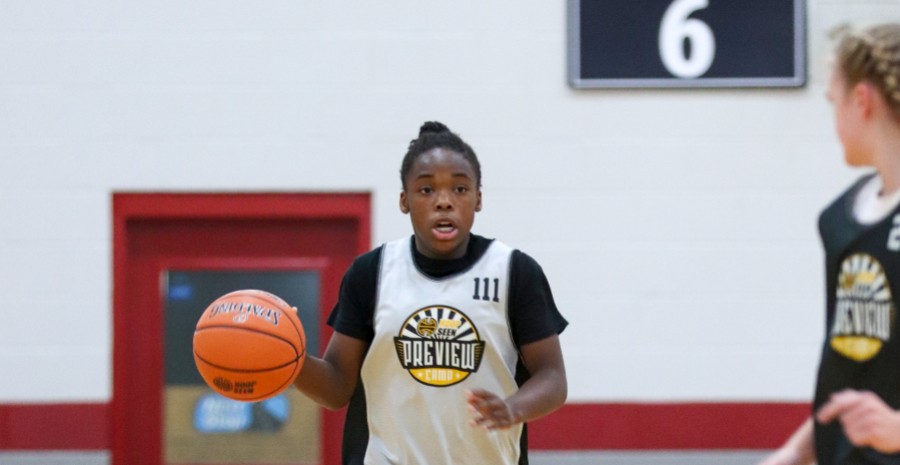 Our first HoopSeenW camp included a group of middle school girls that brought their game to go head-to-head. Here is the breakdown of the players from team 5. 
Elle Ambrosi: Ambrosi was one of the quickest players in the middle school group. She is extremely quick with the ball in her hands, making it difficult for defenders to keep her in front. She is another player that will be fun to watch on offense as she continues to develop. Her speed will give her a leg up.
Sydney Glahn: The 8th grader out of Mount Piegan was one of the most impressive players in the middle school group. She is an advanced ball handler for her age and takes good care of the ball. She showed that she can make good decisions and read the defense. Her coach raved about her mental toughness, leadership, and ability to fight through fatigue.
Sawyer Hulgan: Hulgan has solid court vision, especially considering she has not even played high school ball yet. She likes to attack the basket and catch defenders with her stop-and-pop. As she continues to develop and gain more confidence, she will look better and better.
Aubrey Norris: Although she was one of the smallest players in attendance, she did not back down from anyone. At 5-foot-1, Norris is a scrappy defender with a nose for the ball. She showed that she can be a disruptor on defense and also finish at the rim over taller defenders. Her shot selection was good and she understood to get the ball out quick when pressure came her way.
Tobi Owolabi: Each time I see this kid, I walk away impressed every single time. I remember the first time I saw her as a 6th grader telling myself that she could probably play on some high school teams right now. Owolabi is a floor general that can score it from multiple levels. She likes to push the ball up the floor and has a really good handle. Coaches and spectators were talking about her skill level throughout the day. Only in the 7th grade, it will be fun to watch her grow.
Kacie Reeves: Reeves showed her ability to be effective with both hands as she was able to take care of the ball while dribbling with either hand. The 5-foot-4 PG understands how to penetrate the defense to get them moving, resulting in open perimeter shots for her teammates. She even knocked down a few perimeter shots herself. Her on ball defense was fun to watch; she has the tools to be a pesky on ball defender.
Adrien St. John-Moore: St John-Moore has a solid frame at 5-foot-8. She is aggressive in the paint and tries to get a look at the rim each time she touches the ball. Once she develops a few go to moves in the post, she will be a force to reckon with in the paint.
Skyii Wilson: Already at 5-foot-9 as a 7th grader, Wilson towered over a lot of the other middle school girls. With her length, she was able to have a lot of success in the paint as well as on the boards. She is a scrappy defender and has the potential to be a solid post player on wing.