Georgia Elite Eight Tip-Off Classic: Peach State powers open their seasons, more
POWDER SPRINGS, GA - Hoop heads rejoice! Basketball season is in full swing across the board now that the high school season has tipped off. 
Georgia hoops are off to the races after McEachern hosted Georgia's Elite Eight Tip-Off Classic on Saturday. 
The event saw several of the Peach State's top programs open their seasons. 
After months of waiting, and predicting, we have tangible results to delve into. 
As always, I have plenty of notes to flesh out, so let's go over some of the highlights from the day. 
Grayson opens the season with a bang
A win at McEachern is always going to resonate in the Peach State, and Grayson let the Georgia faithful know they mean business with a 79-62 win over the Indians to start the season. 
After announcing that his list of college suitors was down to Purdue and Georgia Tech, Gicarri Harris led the Rams in the win with 20 points in front of Georgia Tech head coach Damon Stoudamire. As has been the case with Harris throughout his career, it was a steady performance from Harris. He knocked down a trio of triples to tally just under half of his points. 
2025 F Amir Taylor was one of the stories of the game. His presence around the rim was one of the major differences in the game. Taylor's effort on the glass was indicative of the entire team's mentality. It was clear that they wanted to dominate the 50-50 balls. Taylor added 16 points. He was automatic at the rim, and he showed his developing range with a three ball. 
Elsewhere, App State signee Anthony Alston added 13 points. He is as dangerous as it gets in the Peach from the corners. He knocked down three 3-pointers. Western Carolina signee CJ Hyland was also in double figures with 12. Keeping him out of the paint was easier said than done throughout the evening. 
Grayson's performance will have them discussed at the 7A favorites. 
Cohesion and depth were key ingredients in the recipe for success on Saturday for the Rams. Harris, Alston, Taylor and Hyland were all key contributors on the team that took Grayson to the final four in the 7A tournament a season ago. They know how to play with each other, and they know what their coaches want. 
Outside of that quartet, Georgia commit Jacob Wilkins and 2024 F Ahmad Clark add high-level talent that give this team even more weapons at their disposal. 
Grayson boasts the state's best blend of experienced talent and depth. They showed that in their season-opening win.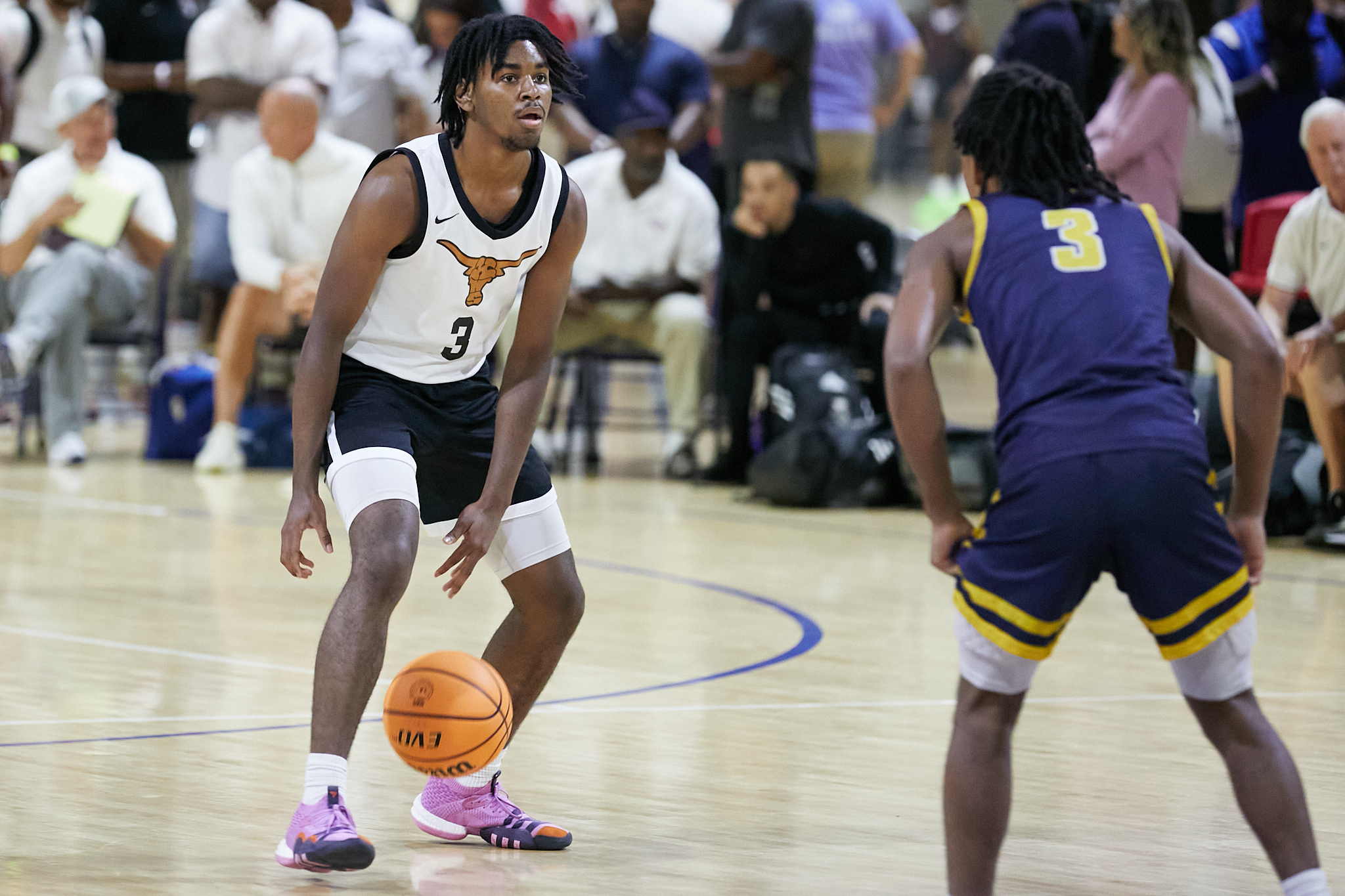 Kell picks up where they left off
Kell had a dominant 2022-23 campaign that resulted in the school's first ever state championship.
That group returned a core made up of USF commit CJ Brown, Alabama A&M commit Jaylen Colon and 2024 F Canon Richards. 
Because of their returners and success a season ago, Kell entered the season as the 5A favorites and one of the projected best teams in Georgia. 
Well, their 85-61 win over Greenforest bolstered preseason prognostications. 
Kell's swarming defense and fast-paced offense created separation for them early and maintained it throughout the contest. 
There are no easy possessions on either end when playing the Longhorns. 
Colon led the way with 20 points. Since he was a freshman, his shooting has gotten him on the floor, and he hit four 3-pointers on Saturday. 
3-point shooting was a theme for the Longhorns. Colon did his work from beyond the arc, but others contributed from deep as well. 
Connor Staphylaris added four more threes and 16 points. Chris Mclavish contributed four of his own, and freshman Zach Graves dropped in a pair from deep. 
Brown was second in the scoring column 18 points. His athleticism was on full display with high-flying dunks. 
Kell announced that they're here to run it back on Saturday evening in resounding fashion. 
Ace Bailey does Ace Bailey things
Bailey, the No. 2 prospect in the 2024 class, signed his NLI to Rutgers and followed that up with some of his patented theatrics on the court en route to 28 points against Grayson. 
One of the reasons why Bailey is ranked so high is because of the things he can do athletically at his size. The guy is simply different in that regard. 
This block is an example of what he can do on the defensive end. It had the gym abuzz. 
THIS BLOCK JEEEEEEZ 😱 @AiriousB pic.twitter.com/4acCowsJaG

— Overtime (@overtime) November 12, 2023
That was arguably the warmup for a reverse alley-oop that escalated the building into hysterics.
For Rutgers fans, No. 3 Dylan Harper was in the house to see Bailey's signing and game. Could that be a bit of a tell? We'll see. It's certainly not a bad thing.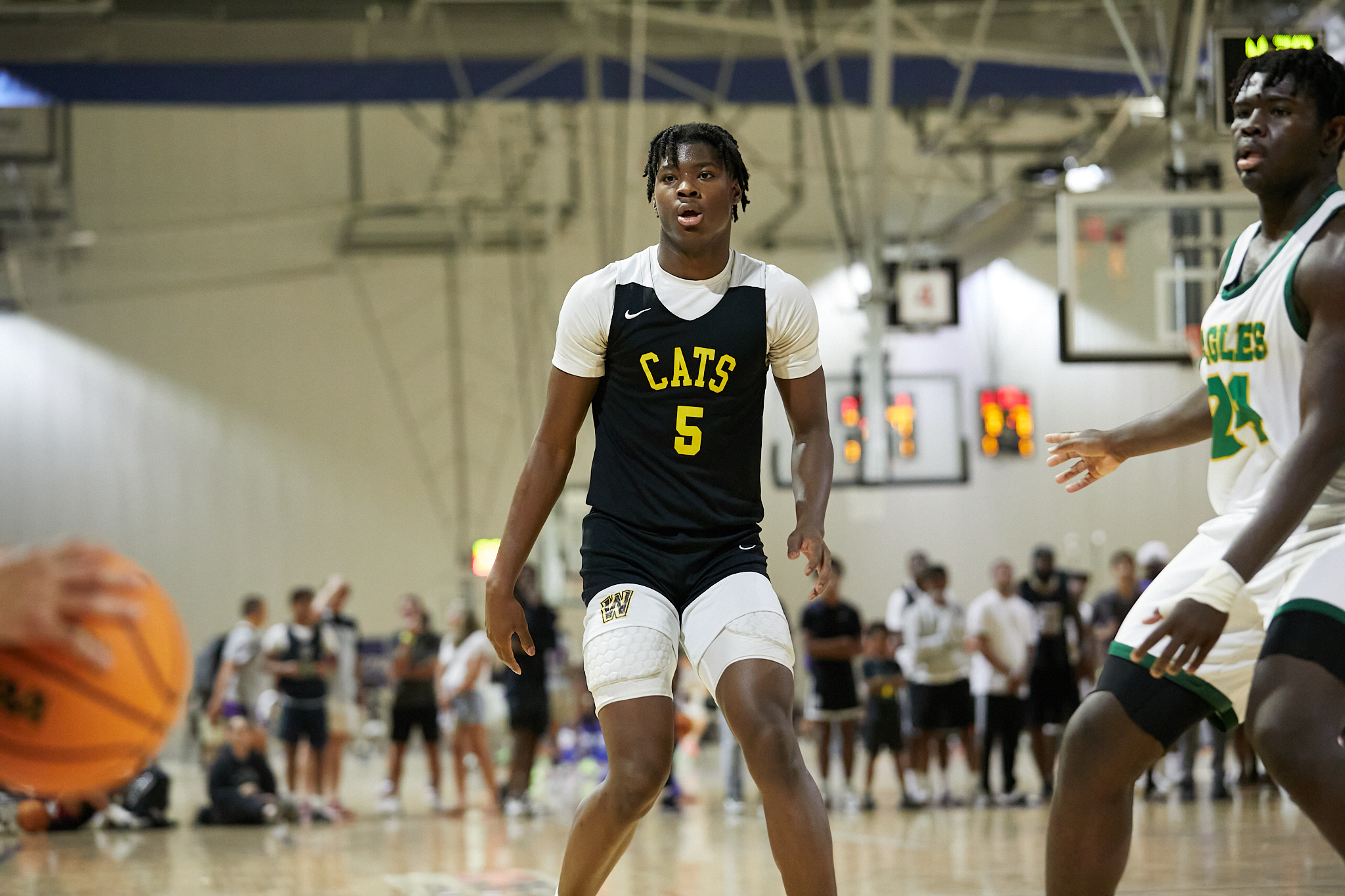 Wheeler starts a new era on the right foot
The Isaiah Collier era is over on Holt Road, but the Peach State blue blood moves on with the same expectations. 
While it was choppy at times, the Wildcats pulled out a 52-49 win over Dutchtown, and it was a pair of seniors that led the way. 
In front of Kennesaw State head coach Antoine Pettway, Owls commit Ricky McKenzie leads Wheeler with 19 points, which included four made 3-pointers. 
After transferring in from the Walker School, McKenzie took a while to adjust to playing at Wheeler a season ago, but he came along by the end of the season and helped them win the 7A championship. He looks to be picking up where he left off as one of the leaders on this team. 
Arkansas State commit Josh Hill added 15 points. A late-game sequence from Hill helped lock up the win for Wheeler. 
After knocking in a pair of free throws to give Wheeler a one-point lead, Hill blocked a shot on the other end to help keep that lead secure. 
Guards shine in the morning session
Maynard Jackson and Carrollton is a matchup that far surpasses many of the openers at these marathon high school events. 
While both teams were without impact forwards, guards led the way in a fun duel. 
Jackson ended up pulling out a 71-65 win behind a combined 42 points from 2024 G Cassius Watkins and 2025 G Yusef Bowyer. 
On the other end, 2024 G O'Brien Watkins went for 28 to lead Carrollton. 
The Maynard Jackson duo looks like one of the best backcourt combinations in Georgia. They're two-way players who might be best known for their defensive prowess. 
On Saturday, they came up with big bucket after big bucket when most needed. Watkins was at his best when pursuing the rim, and Bowyer had his jumper working well for him. 
In late-game situations, there aren't many better options to create offense than those two. 
The Carrollton Watkins—no relation to the Maynard Jackson Watkins—looked ready to have a breakout season. Competitive, physical, tough, Watkins doesn't mind contact on drives and at the rim. He's going to make plenty of tough baskets this season if Saturday was any indication. 
New look Newton shows promise
Stephon Castle, Jakai Newton, MJ Whitlock and Coach Gibbons have moved on from Newton, but the Rams still look like they have potential to operate among the best teams in Georgia with a win over Osborne. 
The trio of Bez Jenkins, Jordan Green and Ted Neal led the way in promising fashion. 
That group provides a good mixture of size, length, versatility and toughness. 
Jenkins—a Belmont commit—is the senior, veteran leader of the group, and he showed it in all facets of the game. Jenkins led in scoring with 15 points and made hardhat plays that got them through offensive droughts. 
Green—a sophomore—added 14 points and provided 6-foot-7 shotmaking away from the basket. He connected on several threes and long twos. If he can space the floor consistently, that'll open things up for everyone else around him. 
Neal added 12 points, but his impact was felt across the board. He did a little bit of everything for the Rams—especially during their run in the second half. Neal flashed good passing from the forward spot, rebounded, and he converted on finishes above the rim. 
While the Rams are a fairly deep squad, and will have others take center stage on a game-by-game basis, the three guys above got their seasons going impressively. 
More quick hitters
Joah Chapelle looks like he's going to have a notable season with Dutchtown. The 6-foot-8 forward was active against Wheeler, and he showed off a vast skill set before he eventually fouled out. Chapelle led Dutchtown with 13 points and made several plays off the bounce from the perimeter and showed good touch on his jumper.
After a slow start, Campbell rallied to win over Heritage. Guards Fe'Royre High and Kaylan Robertson led with 13 points each. 
Max Skidmore dropped 22 for Heritage. Long known for his ability to shoot, Skidmore knocked down a few from deep, but he showed a well-rounded scoring package. He looks like he's added muscle, and that helped him play through contact well. He looks ready for a big season. 
Elijah Lewis did his part for Greenforest with 25 points. He started the game aggressively and looked to attack Kell at every opportunity. Late, he had his shot working well for him from deep with a trio of 3-pointers. Keep an eye on him this winter.