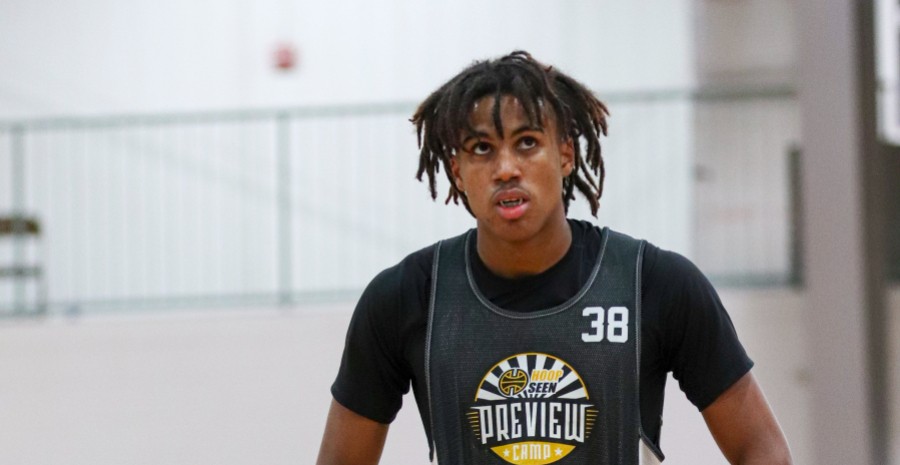 As mentioned many times, the Elite Preview was loaded with talent. Dunks were being thrown down left and right, acrobatic finishes in the lane. The amount of really good athletes in attendance were in abundance. Here are five players who's athleticism stood out. 
Coleman has been one of my favorite athletes to watch since I first saw him this past travel season with Tri-City Elite. At 6-foot-2, he his crazy explosive with his ability to the rim. Coming off an injury, he seemed to not miss a beat by his play at the camp. His skill level enables him to play any guard position around the perimeter, too. Ball pressure does not seem to phase him much, as he changes speeds with ease and takes care of the basketball. This kid is bouncy, can shoot it, and has a solid handle - all promising attributes for the sophomore. 
When I was in the process of sending invites out, one of my colleagues sent me a video of Langefels in a dunk contest and I was amazed. His vertical to only be 6-foot-2 is really impressive. Once he gets space in the open floor, he can be dangerous due to his ability to finish in a number of ways. Throughout the day, he had a ton of success driving baseline, blowing by defenders and finishing under the basket. He was able to convert on multiple acrobatic finishes around the rim. Out on the perimeter, he has the ability to put a dribble combo on defenders and use his footwork to create space. I really enjoyed watching him work. It will be fun to see how he fits in with the "new look" Kell squad. 
This kid legitimately walked into the gym looking like a grown man. I heard a number of spectators whispering about how old he was. Not only does he have a very mature face to only be a sophomore in high school, but he also has a strong frame. At 6-foot-6, Lue is a player that flat our embraces the physicality of the game. He runs the floor really well in transition and gets rewarded with easy dunks. He threw down arguably the best dunk of the day in an alley-oop from his teammate off a steal. This is a team first guy that does what is needed to win the game. He can pass out of the post to open shooters and does the dirty work for his team. 
I mentioned in the team three breakdown that Mitchell has the frame of a future Division I defensive back. At 6-foot-4 with long arms and huge arms, he was a physical force to reckon with all day. There were instances where he simply flew by defenders, seeming to get to the rim in just mere seconds. He also had a couple of blocks where he came out of nowhere to swot shots out of bounds. As he continues to develop, I really do believe that he can become one of the top two-way players in the state.
Redmond had people raving about his athleticism throughout the day; he can jump out of the gym with minimal effort. He understands how to use his athleticism and physical frame to finish through contact at the rim, and he also possesses good body control which allows him to alter his body in the air. Watching him attack the rim is a thing of beauty because you never know what you may see once his feet leave the ground. He should be fun to watch with the defending 5A state champions, Eagles Landing.