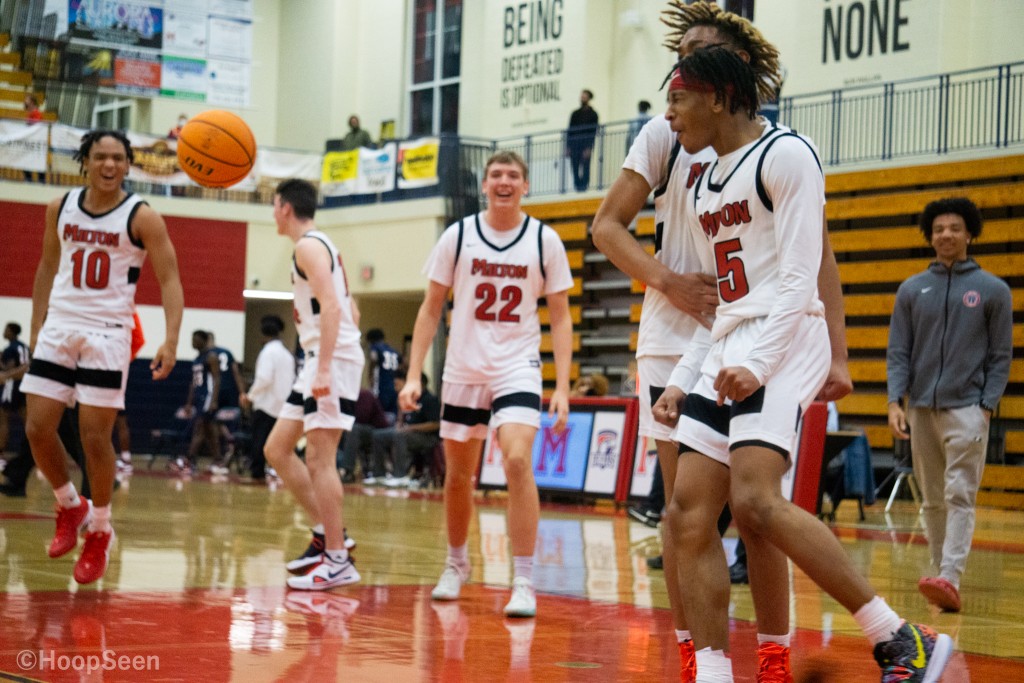 These two teams were largely considered the top two teams in 7A throughout the season. Therefore, their meeting in the Final Four was considered a can't miss appointment. Nationally ranked Milton vs the senior core of Pebblebrook. Pebblebrook showed their toughness, but Milton ultimately had too much fire power and won 75-67. Here are three takeaways from this heavy weight matchup.
Geico Nationals Ready
The Milton Eagles are one game away from pretty much locking in their spot to the Geico Nationals. While Milton only runs a six man rotation, that rotation is really good. Bruce Thornton, Kanaan Carlyle, Broc Bidwell, LT Overton, and Kendall Campbell are all capable of having a career night each time out on the floor. They have not lost a game since December while playing against top competition. Similar to Grayson last year, it can be argued that Milton is deserving of a spot even if Berkmar defeats them next weekend in the championship. This team has so much firepower and can kill you from multiple positions. Senior sniper Broc Bidwell was huge last night, hitting big, timely shots; he finished with 18 points. We know what to expect each night from Ohio State commit Bruce Thornton. He is a tough, downhill guard that doesn't make many mistakes. Milton has been on a roll, but will they finish the job against Berkmar to punch their ticket to the Geico Nationals? 
2023s Shine
Milton is an incredibly young team. Aside from Bidwell who is heading to Campbell, the Eagles will return the remainder of their starting five. Their two sophomores - Kanaan Carlyle and LT Overton have been crucial to their success this season. Carlyle is a nationally ranked guard in the 2023 class. This kid can score from all levels and can do it in flurries. He had a huge first half against Pebblebrook. He was near unconscious from the outside, knocking down multiple threes and midrange shots. The elevation he gets on his jumpers allows him to stop on a dime and create that separation. He finished with a game high 26 points in the win last night. Fellow sophomore LT Overton has been playing like a monster. Overton is considered the top football recruit in the 2023 class which is an outstanding feat. The physicality he uses on the field translates directly over to the court. He is an absolute monster on the boards, a double-double machine. Overton cleans up the boards on defense, and creates second chance opportunities on offense. He finished with 11 points and 12 rebounds last night. 
Pebblebrook Seniors
The Pebblebrook senior core would not go away and fought until the end. South Alabama signee Tyler Shirley ran into foul trouble early in the game and was forced to sit. Once he returned in the second half, the Falcons were able to play their way back into the game. Simply having him on the court gives Pebblebrook a different energy; he is that type of leader. Georgia State signees Jamall Clyce and Danny Stubbs had a solid final game. Clyce was active on both ends and kept his team going. The type of vocal leader he has grown to be has been fun to watch. He is also one of the best midrange players in the state. Stubbs was the floor general we've known him to be. He controlled the tempo and knocked down big shots. Blake Hadley made some tough plays with his 6-foot-8 frame. He was able to alter shots and create second chance opportunities with his offensive rebounding. Unsigned senior Aaron Reddish also hit some big 3-pointers and made some plays to prove he can play at the next level. I look forward to watching this group of seniors play in college next season.