The Shot Clock with Josh Tec: GBCA Recap
It's been a while since I've written one of these. I got into a groove during the high school season, and the switch to AAU ball disrupted my rhythm. Nonetheless, this past weekend's GBCA team camp at Lakepoint is as perfect of a way for me to dust off the ol' column. 
This is rapidly becoming one of my favorite events on the calendar because it offers a different look at players I've followed during the spring, it allows me to see players that I haven't gotten to see since the high school season, and it gives me a look at what some upcoming rosters may look like. 
This was a busy weekend. I'm still in slight recovery mode, but it was a weekend that provided a ton to discuss, and those are the best kinds. There's nothing better than chatting hoops in a gym, and I'm looking to carry some of those conversations over into this recap of the weekend's main storylines. 
The Team of the Weekend
The consensus team of the weekend was Grovetown. The Warriors are coming off of a state championship, and they look to be the 6A favorite at this point. In fact, they look like they could be the state's best team regardless of classification. 
What makes the Warriors so dangerous is that there aren't many holes on their team. They check all of the boxes one might have on a checklist when thinking of a championship-caliber team. Two things especially stood out about them over the weekend. 
First, this team is tougher and more physical than most. That's across the board too. From their guards to their bigs, there's a natural grit to this team that can overwhelm people. It also helps that there are no questions about their motors either. It's a relentless group. When you play Grovetown, you'll wake up feeling it the next day. 
The other thing that stood out is the team's chemistry and cohesiveness. It helps that everyone from the state title team is back, and they've all played together for a while now. It's evident in how well the team share's the ball and the balance they employ. If someone has the hot hand, they'll feed that person. If everyone has it going, they'll pass up good shots to get better shots to get the best shot. It's all about winning with this team. 
The Stockriser
Appropriately enough, the biggest blow-up of the weekend has to go to Grovetown's Derrion Reid. 
The 6-foot-6 wing has shown plenty of promise in the past, but this weekend was his breakout on a big stage. He showed a complete, versatile game throughout the camp. 
Reid shot the ball well from distance. His highlight performance in that regard came when he dropped 29 points on five 3-pointers on Friday. He embodied the Grovetown program with toughness and tenacity on the glass. Even when battling much larger opponents for rebounds, Reid routinely outshined them on the glass through sheer will. A part of his game that impressed me was his passing. Reid routinely made outstanding, highlight-reel passes that led to easy buckets for his guys. 
There were a good bit of stockrisers over the weekend, but Reid was, without a doubt, at the top of the list. Cincinnati offered after his 29-point outburst on Friday, and LSU joined in with an offer on Sunday. 
Rechsteiner Reels in Offers
After picking up his first offer from a high major a few weeks ago, more schools followed Xavier's lead this weekend and extended offers to the hot-shooting, super-skilled Etowah star. 
Kansas State, Wichita State, Northwestern, Georgia Tech and Dayton all offered Rechsteiner after sitting in for multiple Etowah games. He had already amassed a lengthy list of offers from mid-major powerhouses, and now he's taken the next step in his recruitment. 
It's been a gradual rise for Rechsteiner to get to this point, but he may not even be done. With another June live period, and July right around the corner, more interests could become offers.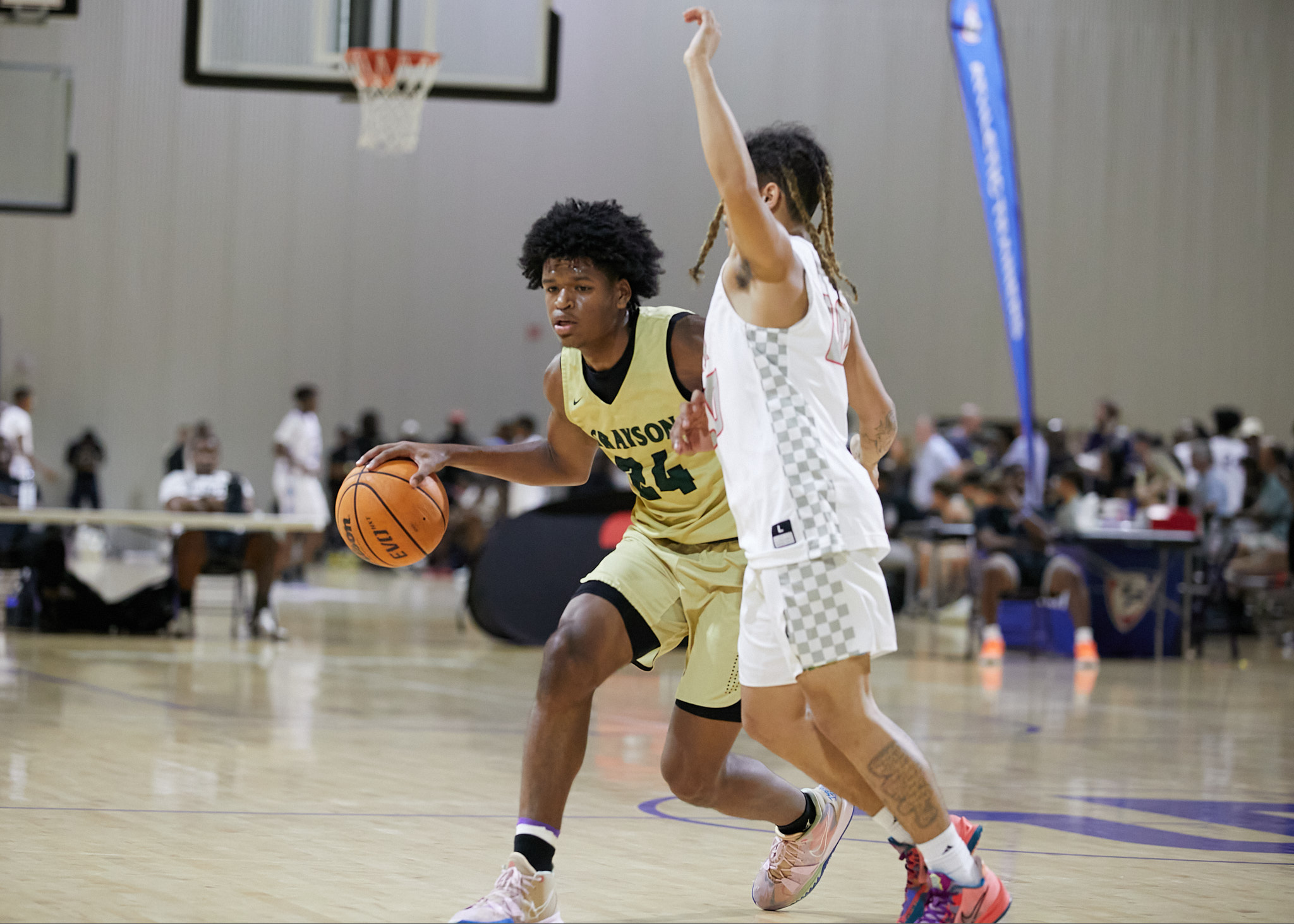 Harris Takes a Step Forward
Gicarri Harris has taken a step forward for Grayson. He was one of the best players of the weekend and has moved up to No. 3 in HoopSeen's 2024 Georgia rankings. 
Harris has been known for his ability to score the ball, and he did plenty of that, to say the least. He was assertive and uber-confident on offense, but he never forced anything. The pairing of his aggressive play with the willingness to give the ball up when needed is valuable in a primary scorer and ballhandler. Where his game may be undervalued is on the defensive side of things. Harris can guard multiple spots on the perimeter, and I expect Grayson to use him as a piece to slow down their opponent's best guard or wing.
After the weekend, Harris added UGA to the list of schools that have offered. A full recruiting story will be up this week. 
Grayson is looking like one of the state's top teams once again. With Harris playing as well as he has recently, they'll be a scary foe when the season starts.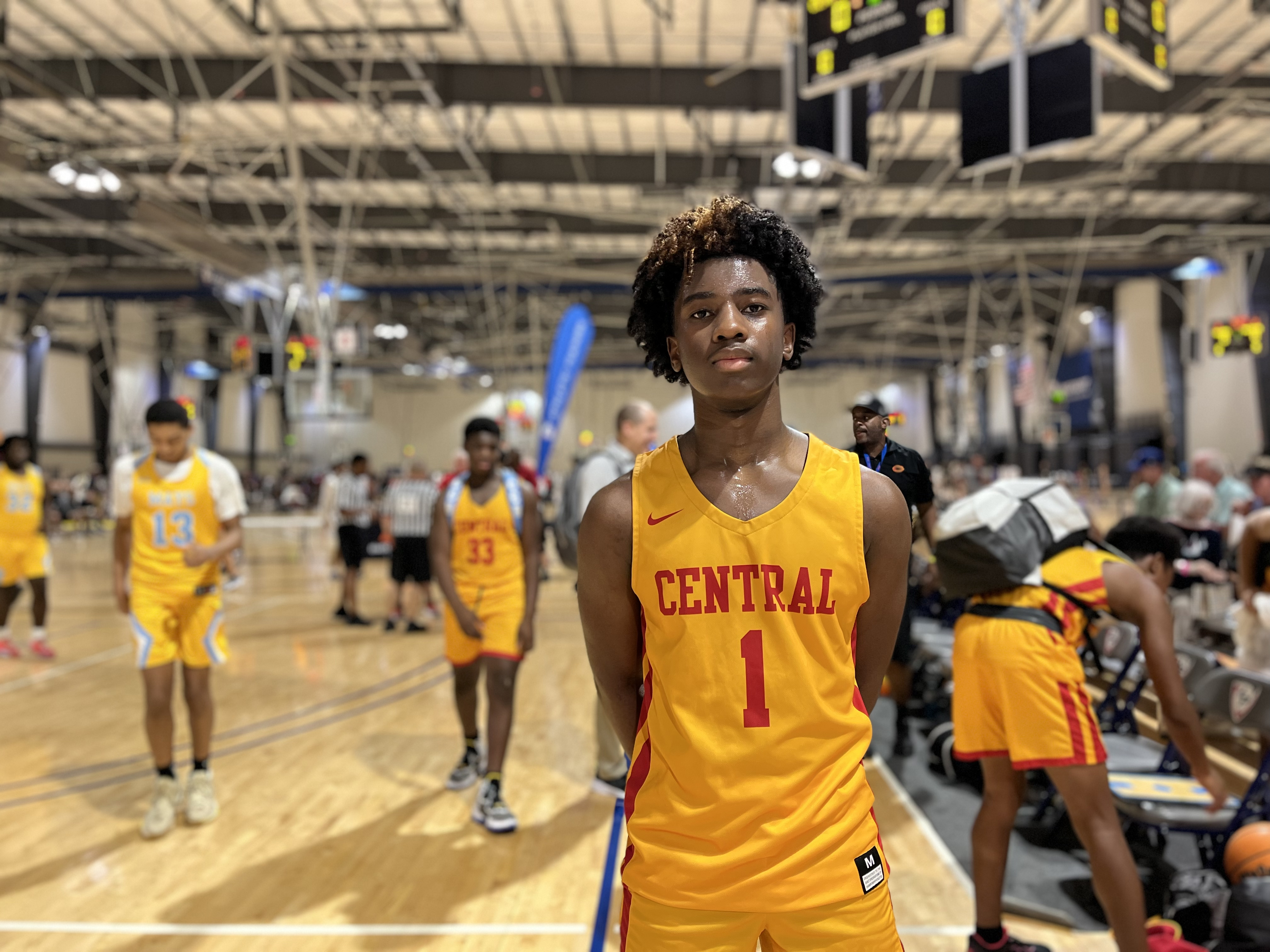 2025s Impress
After having been impressed by Aiden Weaver, Lawrence Sanford, Kyle Carpenter and Jaydon Cole at the Relentless Hoops summer league, more 2025 opened some eyes or continued to add to their young but growing resumes. 
Starting with two guys that I've gotten the privilege of watching a lot during the spring, Eric Chatfield Jr. and Tylis Jordan bolstered my high opinions of each with great outings. 
Chatfield is coming off of an appearance at Pangos All-American Camp that put him on national radars, and he carried that momentum over to the GBCA team camp for Pace. He's a smooth floor general that plays with great pace—yeah, I can't do anything about that pun—and he has a smooth jumper with range. Chatfield is a true point guard that will be discussed among the best in the state for years to come. He has picked up offers from Kennesaw State and Georgia State this month. 
Tylis Jordan's upside smacked me in the face while watching him during the high school season with Shiloh. As a freshman, the 6-foot-7 forward's size, length and shooting touch were impossible to ignore. With the 2025 Georgia Stars, he continued to show off more of his high upside, and this past weekend was more of the same. Jordan was solid for Shiloh and walked away with offers from LSU, Wichita State and Kennesaw State. 
Some guys that I haven't gotten to see as frequently that stood out in the 2025 class were Milton's Josh Dixon, Woodward Academy's Deke Cooper, and Clarke Central's Marcus Gillespie. 
In a backcourt with an established star in Kanaan Carlyle, Josh Dixon looked every bit as good for Milton. He's a high-level scorer who can absolutely shoot it, and he does so equally well off the bounce or in catch-and-shoot situations. His mid-range pull up game is fantastic, and he has no problems when it comes to getting to the rim. "Three-level scorer" may be a term that gets used too excessively, but it feels like an appropriate way to describe Dixon's ability to get buckets. 
Deke Cooper is a 2025 guard/wing to know. He has good size at around 6-foot-5, and he boasts plenty of athleticism to go with it. Cooper is a fluid scorer that should put up some eye-catching numbers for Woodward this season. When he does, he should get some more attention as one of the more intriguing prospects in the 2025 class. 
Last but not least for this group, Clarke Central's Marcus Gillespie put himself on a lot of radars this weekend with his consistent, high-scoring output. In a bracket with established senior stars, Gillespie was among the leading scorers with 18.5 points per game. While not as well known going into the weekend, he certainly left as an established name to know moving forward. 
The future is looking really nice in the Peach State. I can't wait to see where these guys are at this time next year.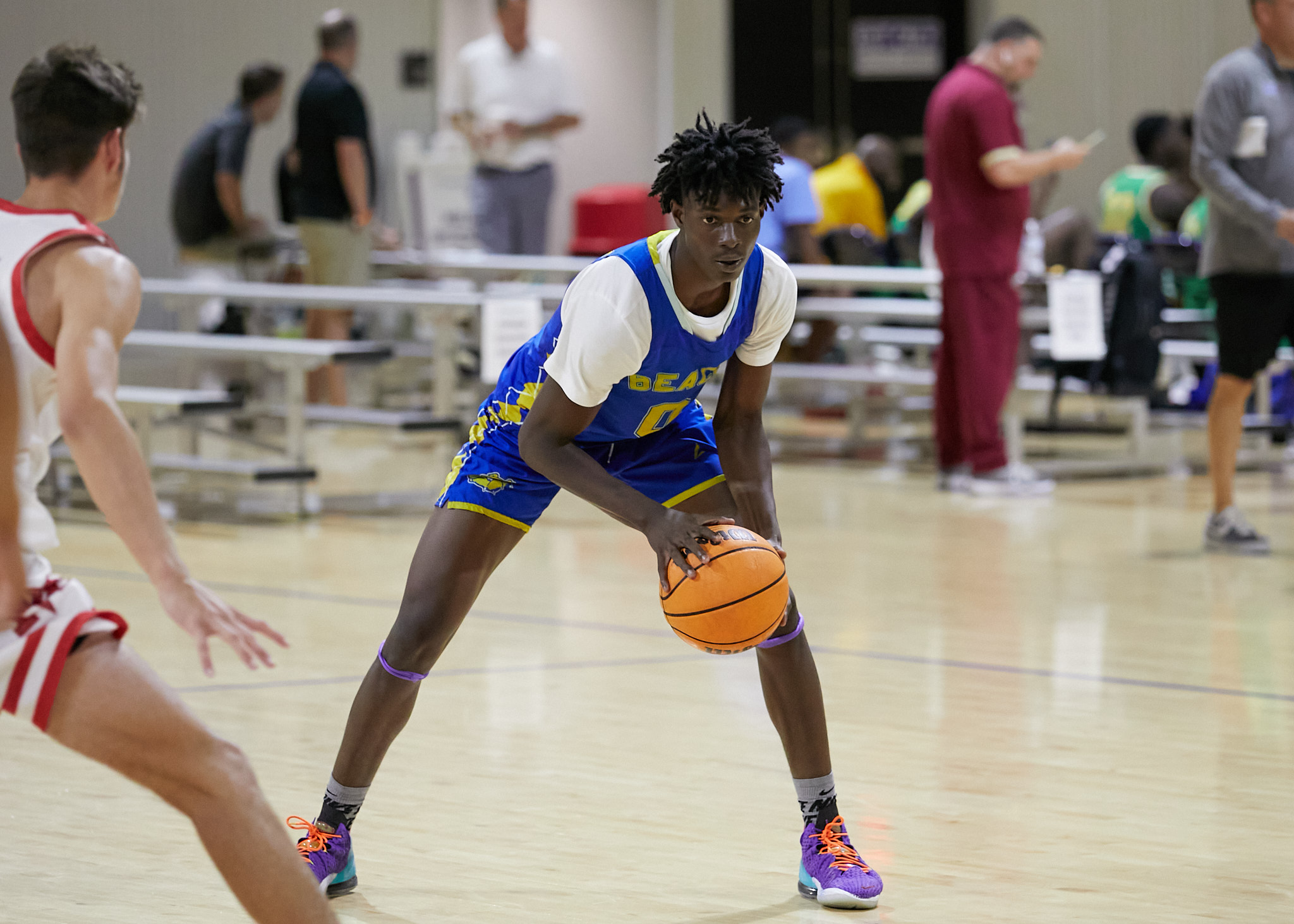 More Notables
Jaiun Simon

continues to be a rising star for Pebblebrook. He's a high-motor guy that's going to bring the effort no matter what. Simon averaged 15ppg for the Falcons over the weekend. He's automatic at the rim and uses athleticism and physicality well to finish around the basket. Simon's mid-range game is pretty lethal as well. Simon had a host of schools following him this weekend. Most notably, Georgia State was front and center for every game. The Panthers already have two former Falcons on their team, so that connection could continue. 

Beach got a great weekend from 2023 G

Shamarrie Hugie

. The 6-foot-4 guard did a little bit of everything for the Bulldogs. Whether it was scoring, rebounding or facilitating, Hugie did what was needed for the team. He's going to be taking on much of the spotlight for Beach this coming season, and if this weekend was any indication, he's more than ready. 

Back at the Bob Gibbons Tournament of Champions,

Bilal Abdur-Rahman

impressed with his hustle and willingness to put his body on the line in order to win. That same fearlessness was on display when he took the floor for WD Mohammad over the weekend. When he hits the floor, he's all gas and absolutely no brakes. He'll do what it takes to get his team into the W column. I admire his hustle. 

With Sequoyah having graduated a lot of their production from last year's final four team, they were a big question mark coming into the weekend, but

Preston Parker

erased that question mark and replaced it with an exclamation because he announced that he's ready to be a star for the Chiefs. The 6-foot-6 guard showed a lot of promise last season, and now that he's taking on more of a prominent role, he could emerge as one of the best scorers in the state. Preston picked up offers from Radford, Reinhardt and Life over the weekend. 

After getting to see them a ton over the spring, I checked in on the Atlanta Allstars bigs periodically throughout the weekend.

Brigham Rogers

,

Dylan Faulkner

and

Spencer Elliott

all had terrific weekends for their respective schools. It was more of the same highly productive, versatile output from that bunch. On both ends of the floor, those three just get things done and put up consistent numbers. It wasn't a surprise to see sidelines full of coaches follow them around all weekend. 

Luke Flynn

helped lead Walton to a championship and was one of the best overall players I saw this weekend. One of the games that will last with me for a while was when Walton took on Etowah. Those who were there were privy to an excellent battle between Flynn and Brandon Rechsteiner. Walton came out on top in that one. It was an appropriate game to have gone down because I can envision Flynn having a similar, steady rise as Rechsteiner has had. 

Let's stick with Cobb County's 2024 guards.

Jeremiah Wilkinson

had a great end to the weekend for Hillgrove. The lefty averaged over 20 points per game in his last two outings and proved to be in the upper echelon of the 2024 class. Athletic with a great jumper, Wilkinson can score with the best of them, but his ability to create for others is what I love the most about his game. He's a difficult guard to stay in front of, so he's going to create plenty of opportunities for his teammates by drawing help defenders away from their matchups. His willingness to share the ball is going to be key in those situations. 
I will have a lot more content coming out in regards to this past weekend. Recruiting updates, standout performers, sleepers, and a cheat sheet of under-the-radar guys for coaches to watch will all be coming out in the ensuing days, so stay tuned here for more.