The 6 Biggest Takeaways and Storylines from Hoophall West
Hoophall West in Scottsdale, Arizona impressed once again this year, as it usually does. The event featured multiple top teams from across the nation in marquee matchups covered by ESPN. Here are Griffin Greenberg's 6 main storylines/takeaways from the event...
IMG weathers storms of LuHi and AZ Compass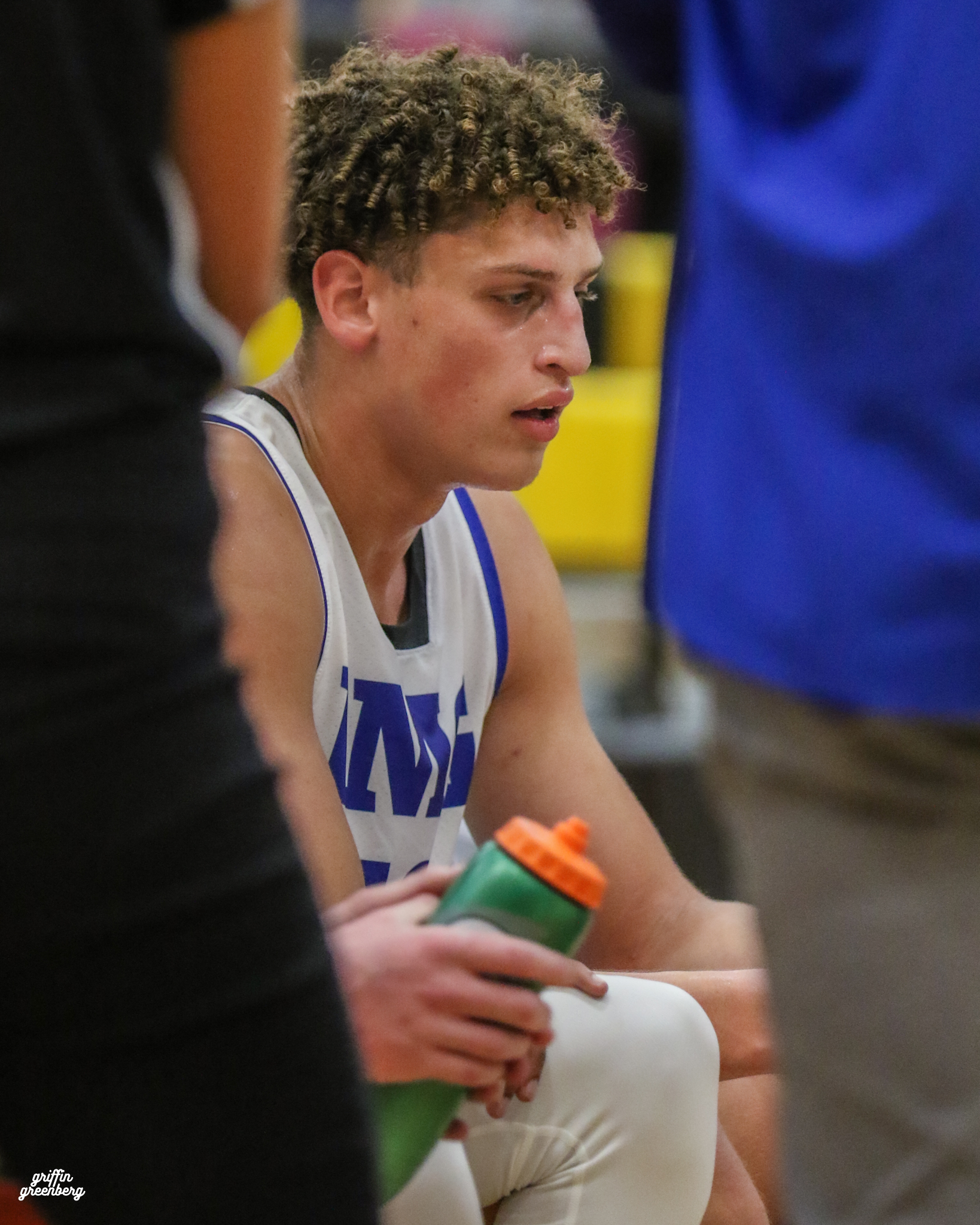 IMG had a big weekend out west, going 2-0 in 6-point wins over Long Island Lutheran and AZ Compass, halting a late comeback in each. A Kayden Mingo layup cut IMG's lead over LuHi to just three points with 1:40 left, but 5-star Bryson Tucker would hit a contested three on the other end and IMG would hold a few possessions lead the rest of the way. Against AZ Compass, IMG built up such a strong 15-point lead with 2:45 left that even the late 9-point surge by Jordan Ross still didn't give AZ Compass enough time to come back. IMG's successful trip was headlined by Bryson Tucker who averaged 20 PPG (67% from three) and Jaime Kaiser who averaged 13.5 PPG (46% from three) and 9 RPG. The duo hit big shots, mostly threes, and were the reasons why IMG had the lead for over 20 minutes in each game.
Look out for LuHi
Long Island Lutheran has started out 2-2 in the NIBC season but has shown its dominance. In their losses to Montverde and IMG, they've kept it close and could easily be 4-0 right now. VJ Edgecombe has had a breakout season so far for the Crusaders and didn't disappoint in Scottsdale averaging 16.5 PPG, 6.5 RPG, and 2 SPG. The energetic guard led LuHi to an 8-point win over Wasatch at Hoophall West. Aside from Edgecombe, this is an exciting team that works well together. Godswill Eheriene and Amdy Ndiaye have been forces inside and on the boards, and Jayden Ross has shown off his athleticism and shot-making. Jayden Reid has also been very impressive for the Crusaders as he averaged 11 PPG, 5 RPG, and 9 APG in Scottsdale. The quick guard is an elite scorer and can get to the hoop with ease, but also impacts the game with his court vision. Long Island Lutheran is a team to watch out for this season.
Perry looks elite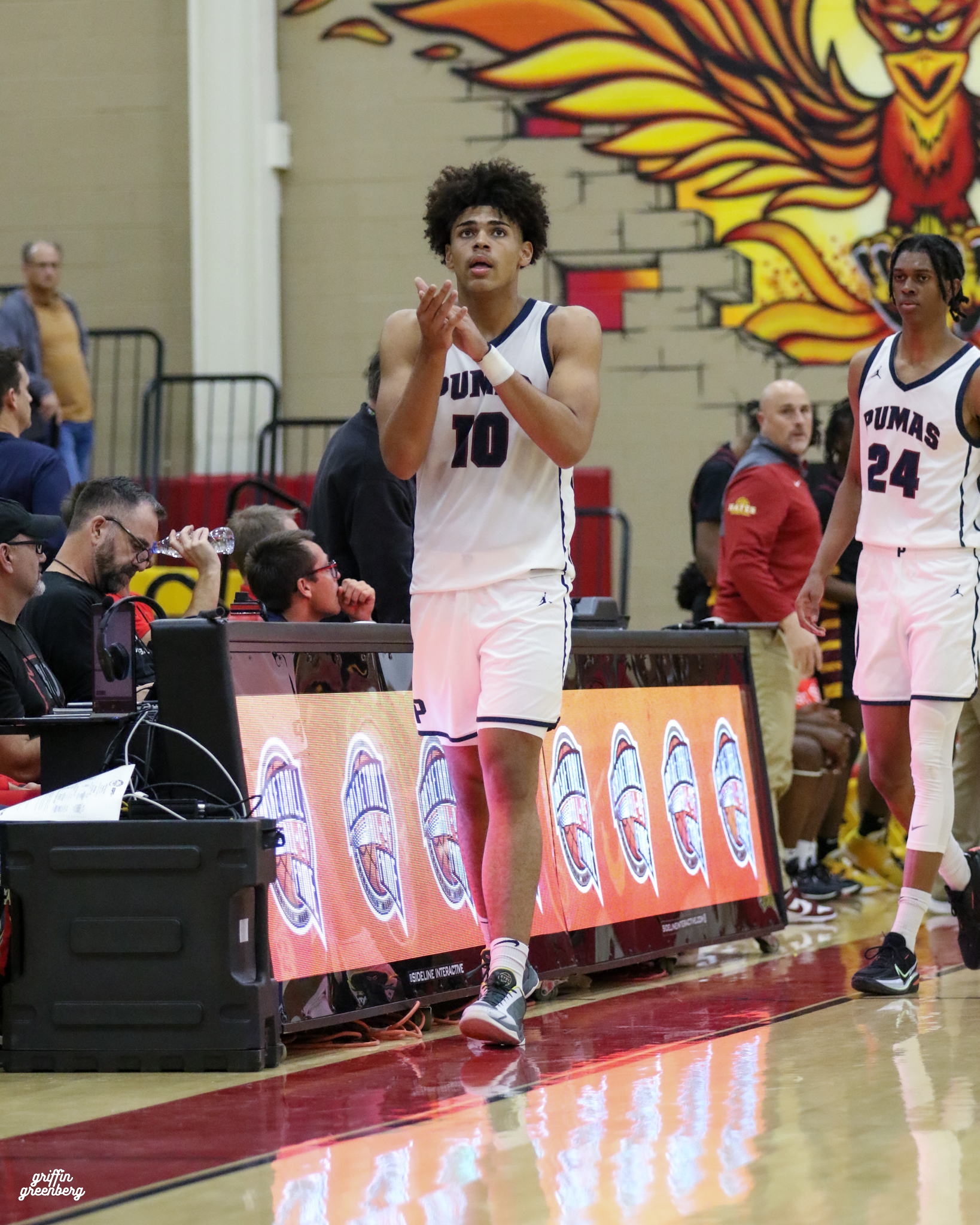 Perry had two of the most commanding back-to-back performances we've seen all season. They had four players averaging over 12 PPG at Hoophall West (Cody Williams, Koa Peat, Barron Silsby, and D'Andre Harrison) and blew out 5-star Ian Jackson and Cardinal Hayes by 31 one night and 5-star Mikey Williams and San Ysidro by 24 the next. 5-star Koa Peat impacted the game with his scoring, rebounding, and playmaking which has been impressive with his frame as he averaged 18.5 PPG, 14.5 RPG, 5 APG, 2.5 BPG, and 5-star Cody Williams tallied 20.5 PPG, 7.5 RPG, and 5.5 APG. Both of their five stars do a bit of everything on the court and are surrounded by a strong group in shooter Barron Silsby, underrated G/F Ben Egbo, and scorer D'Andre Harrison.
AZ Compass and their success on defense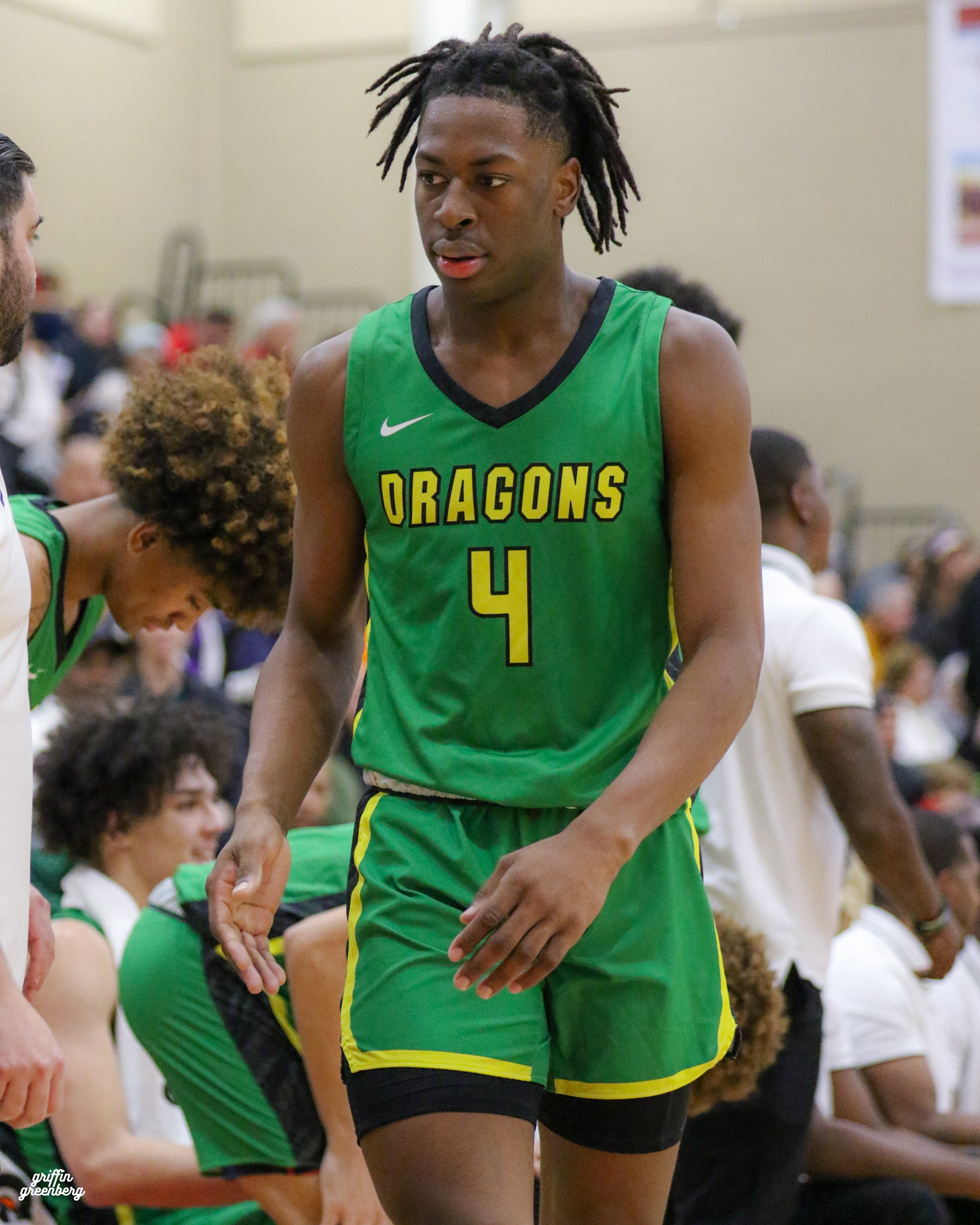 The Dragons still haven't entirely gotten it going on the offensive end this season, but have made up for it on defense. In Scottsdale, AZ Compass shot 0-14 from three in their win over Wasatch and also shot 35% from the field in the first three quarters against IMG. However, the Dragons allow the fewest PPG in NIBC play and have held their opponents to 38.8% FG. They have a high-energy defensive squad led by 5-star Mookie Cook and 4-star Marcus Allen. Allen is a lockdown defender that has picked up many tough assignments this season. His strong, set base has allowed him to stick with defenders and make them work offensively. Cook brings the energy for AZ Compass securing steals and communicating which allows him to make his presence known while also guarding elite players. The Dragons had 13 steals in their win over Wasatch out west.
Milton delivers late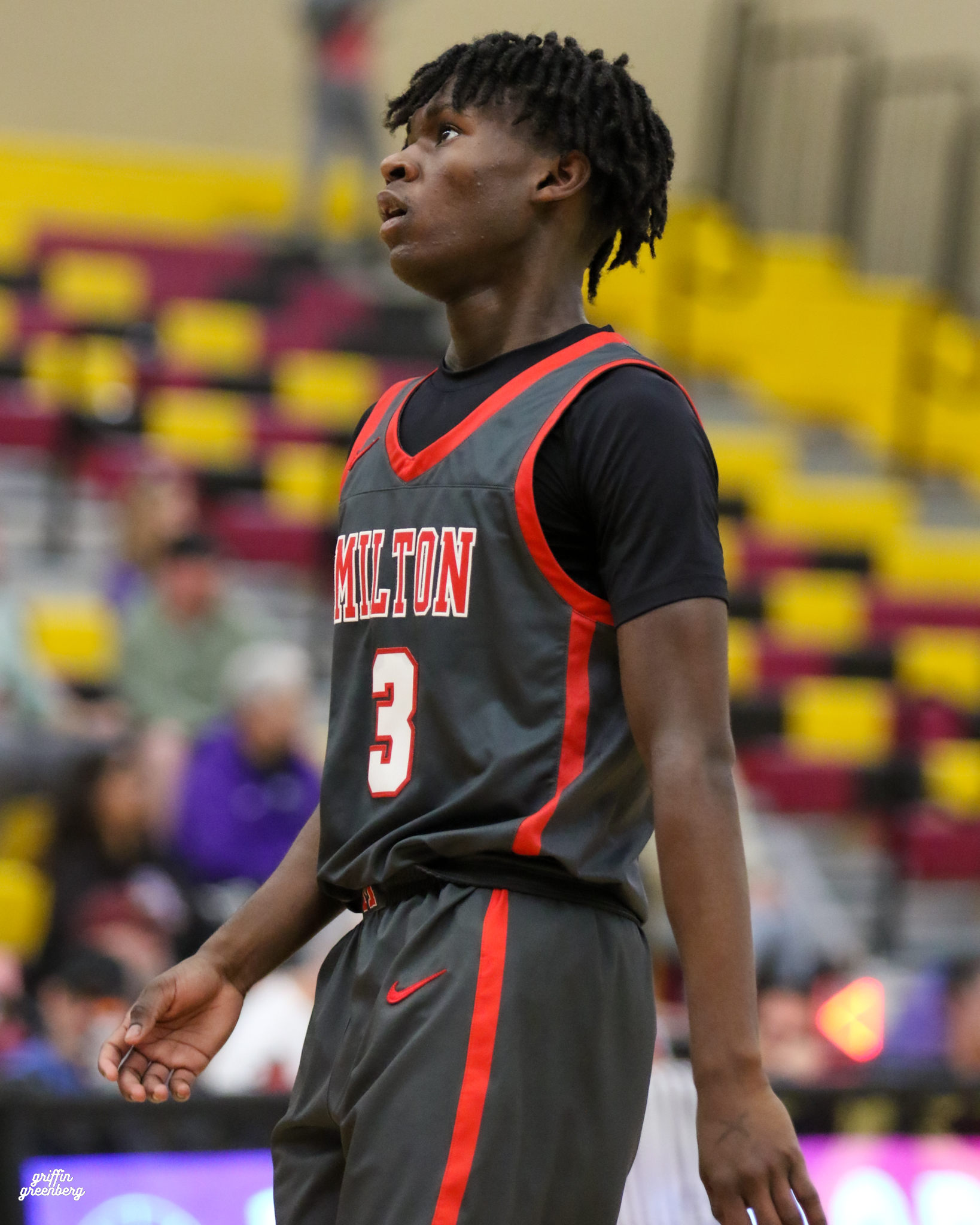 The team from Georgia kept their undefeated season alive after a game-winner from 2025 guard Avery White. Milton has multiple underrated players and a young but underrated team overall. White's game-winner against Gray Collegiate gave him 17 points (3-4 from three). Josh Dixon was among the most exciting players to watch at the whole event. The 2025 point guard brings a lot of energy and has a high motor and best of all, a fierce winning mentality. Dixon averaged 20 PPG, 5.5 RPG, 3 APG, and 1.5 SPG in the event, using his smoothness to get to the hoop and finish and knock down shots. Seth Fitzgerald also was impactful, scoring at the hoop and controlling the boards, especially in the team's second game where they controlled the game late in a 15-point win over Millenium.
4 California teams impress
The boys California teams went 4-1 at Hoophall West this year. Corona Centennial, Harvard-Westlake, Notre Dame, and Rancho all picked up wins at the event. Three of these teams were ranked inside the top 20 coming into the event. Let's break down each win a bit…
Corona Centennial:
The Huskies cruised by Bishop Gorman thanks to a dominant second quarter. All of their starters scored in double-digits and three starters had double-doubles (Jared McCain, Aaron McBride, and Eric Freeny). They held the trio of Jase Richardson, John Mobley Jr., and Chris Nwuli to just 14 combined points on 5-29 shooting. But the Huskies were most impressive on the offensive glass securing 26 offensive boards which led to 28 second-chance points.
Harvard-Westlake:
The 10 A.M. start time for Harvard-Westlake had them get out a bit slow, but they outscored Ironwood 44-18 in the second half to win by 27. Harvard-Westlake had five players score double-digits and shot the ball with high efficiency. Brady Dunlap scored 16 points in just 15 minutes, Robert Hinton scored 12 points and had 6 rebounds in just 18 minutes, Trent Perry and Nik Khamenia showcased a bit of everything on each end and Jacob Huggins delivered a double-double.
Rancho Christian:
Rancho Christian dominated from the start against Chaparral. Uncommitted senior Kevin Patton Jr. looked great, scoring 16 points (8-12 FG), 9 rebounds, 4 blocks, and 4 steals. Patton Jr. showcase his athleticism and strength in his play, which helped his team lead wire to wire. Rodney Brown had 7 assists and Martin Gumwel scored 14 points (7-7 FG) and 3 blocks.
Notre Dame:
Notre Dame was matched up with Brophy College Prep and while Brophy never led, they came back and made the game exciting. However, Dusty Stromer put on a shooting clinic in this one, especially in the first half. He totaled 28 points (11-17 FG and 6-9 from three) with 24 of those points coming in the first half. With no Mercy Miller in this one, Angelino Mark stepped up and knocked down big shots as well as picking up three steals. Caleb Foster showed off some of his playmaking skills and energetic defense as they picked up an 11-point win.
Gonzaga commit Dusty Stromer just dropped 24 points... in the first half alone.

9-11 from the field and he's a perfect 6-6 from three. He's putting on a clinic as Notre Dame holds a 15-point lead at the break. pic.twitter.com/QKhFD484VR

— Griffin Greenberg (@griffgreenberg) December 9, 2022