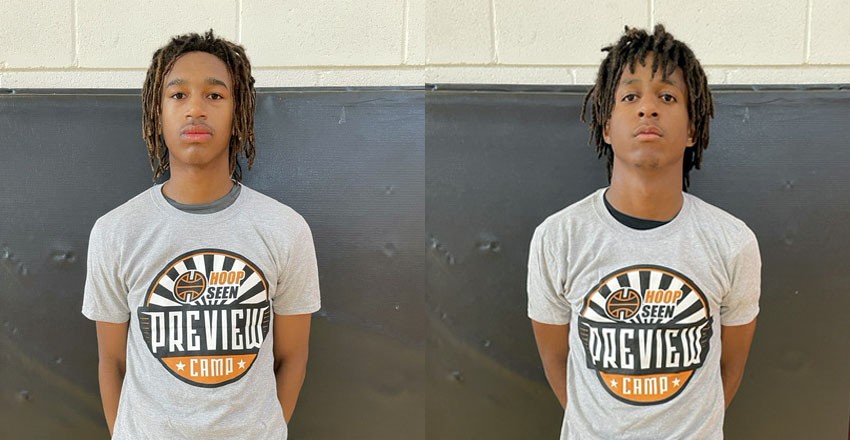 Some of the very best prospects in the state of Arizona's class of 2026 came to the eLITe Showcase presented by The Show. Who stood out from a great day of action last weekend in Chandler? Let's dive into it. 
Right up there at the top of the "prospect list" is the sharp-shooting Cameron Holmes. A lefty with one of the smoothest strokes in the class with the ability to get to the rack. Holmes has also developed into one hell of an athlete and could very well be the bounciest kid in the class. Where he falls short on is the defensive end and being able to do much with his right hand. If he progresses in those two areas, the possibilities are endless for the young star.
Magee is the purest point guard in this class in my opinion, and just may be the strongest. The kid goes thru stretches where he can get just about anything he wants on the floor. A floor general that always seems to make the right play. His lay-up package with both hands is outstanding. He takes bigger guys off the dribble with ease and just downright bullies smaller guards. He also can really knock it down from the outside and is a great defender.
House is undeniably the best defender in this class in the state of Arizona. His length is noticable and he brings the tenacity it takes to be a good on-ball defender. What separates him from what arizona knew of his big brother, Jaelen, in the lock-up department is his ability to defend above the rim as well. He had a ton of blocks off the backboard and even just snatched a few out of midair. He is no slouch on the offensive end either, to say the least. House can really shoot it from the outside and is one of the better finishers in transition.
Barrett didn't have a great shooting performance in the showcase games but you can tell that stroke is there and the confidence to go with it. He can take his defender off the dribble but needs to be more aggressive with the ability. he finishes well down low and has a very good understanding of the game.
Lindsey was the 'breakout player' of the camp. The kid just has a different gear and has a step on anyone that is in front of him.  a beautiful handle that he can go either way with and great court vision. He really has a chance to do something great with this game. His shot can get a bit smoother but it's not broken either. he has all the intangibles to be a menace on the defensive end with super quick feet, hands and a high basketball IQ.
One of the more talented prospects at the camp just looks different when he walks in the gym. his combination of size and length to go with above average athleticism makes him very intriguing to watch at this age. He can also move and put the ball on the floor and has good footwork off the dribble. However, further development on his handle could go a very long way.
House is an attacking point guard with a nice burst and a really strong ability to get to the rack. While he doesn't quite have the length or bounce his twin brother Kaden does, he possesses the tighter handle and is a really good creator with the ball in his hand. Very strong with the rock and has the ability to leave defenders skating. 
Gholston was impressive in the showcase. The kid is a flat out baller. He moves very fluidly and can punish people off the dribble, especially when he gets to his right hand. I would like to see him develop his jumper off the dribble a little more to round out that offensive package. He is also a strong defender and isn't afraid to get his hands dirty down low.
Brayden Newton (5'11", SG, AZ Storm Elite, undecided)
Newton is one of the better shooters from deep in this class. a shooter that you can't leave open and is really deadly from the corners. He possesses a high basketball IQ and does not get sped up easily.  I would like to see him develop his handle a bit more and work on getting a dominant one-dribble pull-up somewhere for when defenses start getting more athletic and faster.
Bennett Skinner (5'7" CG, AZ Storm Elite, Pinnacle HS)
Skinner was a pleasant surprise in the showcase as well.  though he is undersized, he is fearless and can really put the ball in the basket.  a sharpshooter from deep that can get to his spots and has a nice little pull-up game. if he can pull a few more inches out of his frame, that skillset could get him to the next level.
Sergio Gonzales (5'7" CG, AZ Storm Elite, Deer Valley HS)
Gonzales is another undersized guard that is fearless on the court.  Skinner may be more of an all-around scorer but Gonzales possesses that same outside stroke but is probably a better passer with more court vision. He dropped a few dimes on the money and was one of the few players that were found back door cutters and streakers in transition.
Kyler Frye (5'9", G, AZ Gremlins, McClintock HS)
Frye seems to be a player that can play with any team and still be the same player.  Very smart on both ends of the floor and plays the game the right way. I would like to see him be more aggressive on both ends of the floor.
Will Gordon (5'11"G, Uptempo Hoops Elite, San Tan Charter)
Gordon had some flashes in the camp where you could see some promise in the young prospect's career.  He has a bounce to his step with some quickness and a quick twitch jump. Gordon is quick with the ball in his hands and can blow past defenders when he makes up his mind that it's time to go. You can tell he was forcing some things out there and trying to do too much at times but when he figures some things out, he has a real chance.