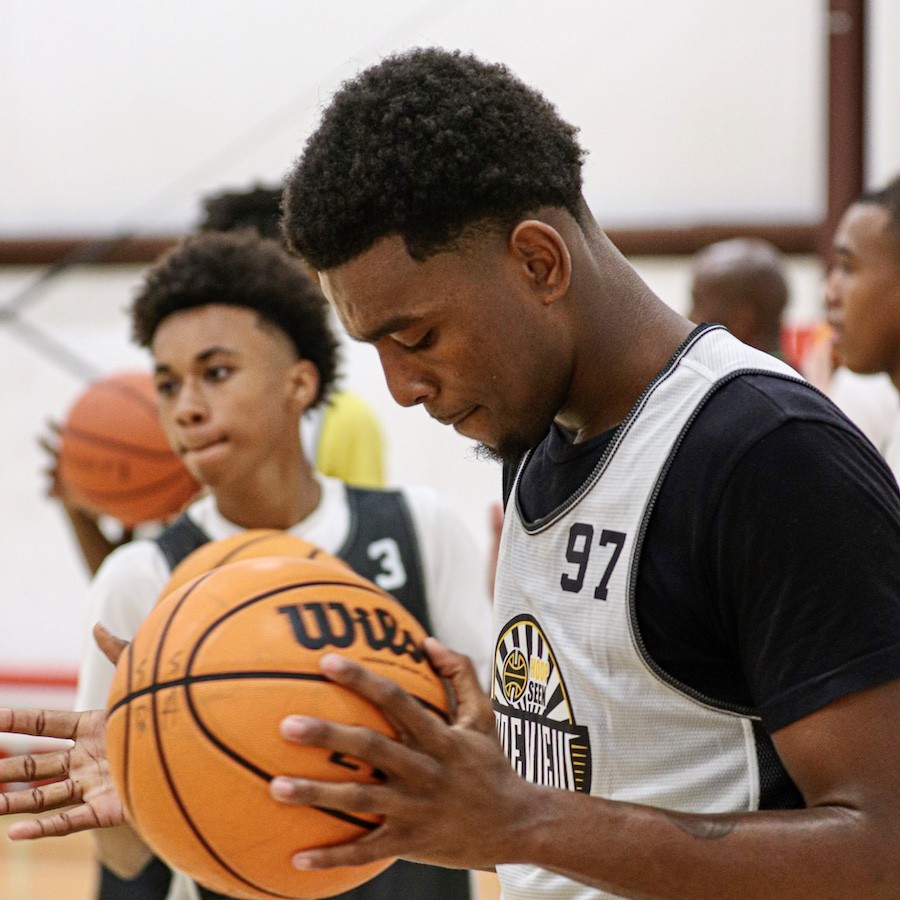 Revenge Season
In just a few short weeks, Alabama will be kicking off its 2021-2022 regular season. Last year was simply amazing; champions were crowned, and some players under the radar made a name for themselves in the playoffs. 
Before the season starts, I wanted to reach out to some players that fell short in last year's state championships. These players have taken this loss and used it as fuel to come back better than ever. This summer was all about getting quicker, getting stronger, and mentally preparing to make it back to the state championship; this is revenge season.
LJ Green is a 6-foot-1 elite combo guard from Montgomery, AL, and he helped Montgomery Catholic High School to a 21-6 record and a trip to the 3A state championship. Green has very quick handles and is explosive on the fastbreak. He has a nice pull-up jumper and is very crafty with his elite passes. 
As a dual athlete, Green stated that he split his time between basketball and football this past spring and summer. 
"Most of the time was spent in the weight room trying to get stronger," he said. "The other part of my time was spent improving my pull-up jump shot."
He was asked about the previous season and shared his outlook for this upcoming season. 
"Coming up short of a state championship the past two seasons really burns me up inside," he said.
"I am very motivated about this upcoming season."
Colby McAllister is a 6-foot-4 guard from Spanish Fort, Alabama. He had a great regular season by helping Spanish Fort High to a 28-4 record and a trip to the 6A state championship game. 
Though he came up short at state this past season, McAllister carried that loss over into the summer and used it as motivation. He went at every team like it was his last game; McAllister played with a lot of intensity and hustles each time he stepped on the floor.
McAllister says he's been improving on getting bigger, stronger, and faster and working on his game, finishing by the rim, and shooting from the outside. 
"I have been just getting my mind ready to go out there and hoop like I didn't in July and having that same killer mindset. Basically, working on playing at the next level!"
Jalen Jones is a 5-foot-11 PG from Birmingham, AL, and alongside Keshawn Murphy and Kerrington Kiel, Jones helped his team to a 27-8 record and a great run to the 5A state championship. 
Jones provides leadership on the floor and has a high IQ to run the offense. Jones's quick handles help him attack the basket with ease. He also has a smooth stroke from the three making him an offensive threat on the court.
Jones stated that he's been focusing on his scoring ability and his decision-making at the PG spot during the offseason.
"I feel like last year I was a good role player, but this year I have to step up with this being my junior year and leading the team back to state. But in order to do that, I have to make sure that not just me but the whole team is on the same page this year for us to make another run at state."
Kolby Horace is a 6-Foot-3 elite guard who makes scoring the ball look easy. Horace plays with a lot of patience, and the way he breaks down his defender before going on the attack is incredible. 
Horace, who also plays for Spanish Fort alongside McAllister, was another player that brought that elite energy to the summer. He has an excellent shot around the perimeter and beyond. Horace plays with a lot of confidence, and when locked in, he turns into a scoring machine. 
Horace said during the offseason, he worked on his mid-range,3-pointers, handles, basically completing his bag for my last high school season. He also mentioned that he gets at least 150 shots a day and runs 2 miles a day(not including practice).
"I'm so ready to go back to state; all I can think about is the announcer calling our school to walk up and get the blue map and knowing that we finally did it."
Kerrington Kiel is a 6-foot-5 SF from Birmingham, AL, and helped with getting his team to the state championship last year. He has an incredible shot and does an incredible job getting to the basket.
For more on Kiel, take a look at Elite-Five AL '23 Prospect article: elite-five-al-'23-prospects
Kiel stated that he's been working on creating shots for his teammates off the dribble, as well as his own.
 
"As a group, we've been working on being more together and pushing each other to play hard for four full quarters," he said.
He was asked about this upcoming season.
"I'm locked in more than ever…I know what it takes to get us there, but now we have to get over the hump and bring home the BLUE map."
Elijah Terry is 6-foot-5 SF from Enterprise, AL. Terry averaged 12 points and eight rebounds a game and helped his team to a 22-7 record. After putting up a strong fight against Oak Mountain's Evan Smith and Will Shaver, Terry fell short of bringing home the 7A championship. 
Terry has solid handles and is very elite when it comes to attacking the basket. He is a strong rebounder and uses his size well to get second chance shots off the glass.
Terry says he's been working on his consistency and being more of a vocal leader! Also, taking pride on the defensive end to guard all four quarters.
"What my coach constantly reminds us of is what we could have done to be 4 points better."