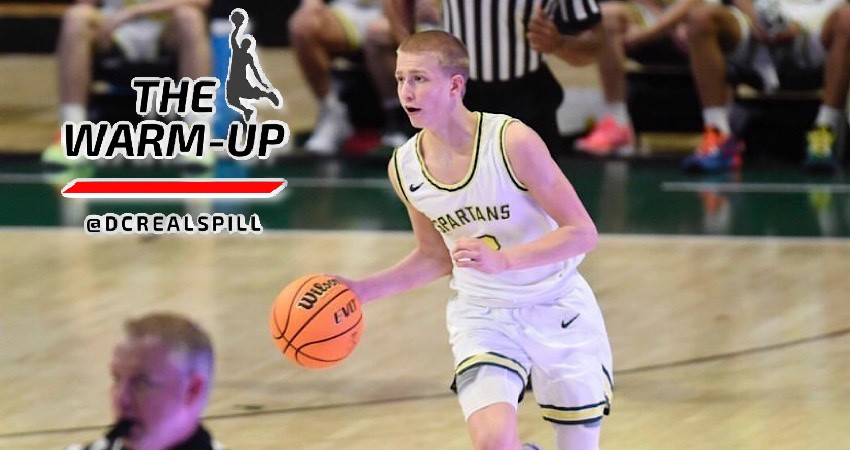 With all the focus on upperclassmen, I decided to take a step back and shed some light on the two underclassmen that made a massive spark during the travel season. I felt like it was only right to acknowledge some hard workers because, after all, this is where it all starts.
Young and Hungry '24 
Ty Davis is a 6-foot-2 Two-Way guard from Birmingham, AL. Davis had a freshman season like no other; he stepped in during clutch moments and was able to help the Mountain Brook Spartans capture the 6A state championship. 
This kid has an incredible work ethic, Davis plays very hard, and you can tell that he truly loves the game. He came off the bench last season and stepped up in big moments, whether it's knocking down threes or playing hard-nosed defense. 
Davis really broke out of his shell this travel season playing with the Pro-One. He showed off his remarkable ability to run an offense and be the go-to guy during intense parts of the game.
He was asked about his performance over the past few months.
Davis said his travel ball season was a great experience especially playing up with the 16u Pro-One UA rise roster. "I would rate my play an 8/10 because of playing against older, bigger, and stronger guys," he explained.
He is poised when he steps into the game; he makes smart decisions with the ball. When given the opportunity, he takes great shots and has already gained the coaching staff's trust. Davis said he felt that he has improved on finishing at the rack and rebounding the most this summer.
As a freshman, Davis made quite an impression on the Samford staff and picked up an offer. 
"It was a blessing to get my first college offer, but it just made me want to work even harder; because I know I have a lot to improve on."
For this upcoming season, Davis said his main goal is to try and go back to back and win another State Championship.
The Fearless One '24
Jamicah Adair is a 5-foot-11 point guard from Montgomery, AL, and this kid is fearless. Adair plays with a lot of toughness and does an unbelievable job of running the show on the floor. He has swift handles and an excellent pull-up jumper around the perimeter. 
He played amazingly during the travel season and took on a new challenge by playing up with the 17u All Alabama team. Each time he stepped on the floor, he was never phased by the bigger players; he just went in attack mode and handled himself like the elite prospect he is.
He was asked about his growth during the travel season.
"I believe I improve on being able to take over a game and starting to believe in myself more," he said. He went on to say that this was a breakout season for him, and he knows that he will be even better next year.
Adair played great this summer, and it landed him an offer from Alabama State.
"It felt great," he said. "It was unreal. I never thought I'd get an offer in the 9th grade.
This kid is well on his way to becoming a top-tier player in Alabama, and he's really looking forward to his junior year.
"I have three goals for this season, that's to win the 6A State Championship, win the Gatorade player of Alabama, and get some high major d1 offers."