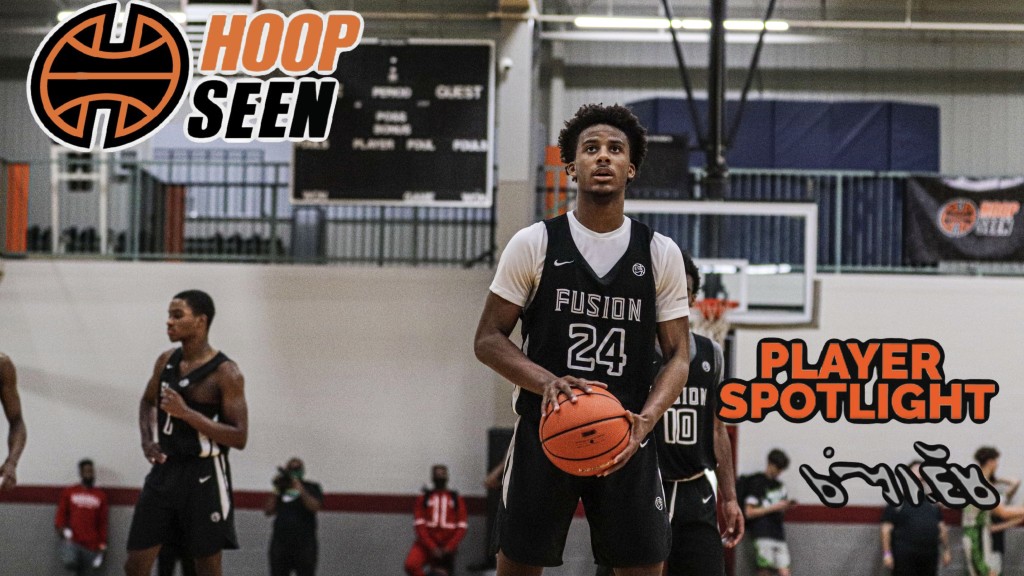 On the Court with Butta Johnson
If there ever was a top runner for Alabama's Player of the Year, then look no further than one of the best available seniors in the state, Efrem "Butta" Johnson from Huntsville, AL.
Standing at 6-foot-4, Johnson has been locked in, leading Grissom high school to a strong 14-2 record for the first half of the season, making a solid case as front-runners for the 7A state championship. 
Johnson has done an amazing job running the point for Grissom; he's exemplified top leadership and has proven to be an elite clutch player. 
He has a high-level IQ and understands the game's flow by surveying the defense before making a move. Johnson is bouncy and is fierce pushing the ball in transition. 
Johnson has shown that he should not be taken lightly from the three for the first half of the season as he's been lightening it up. A great aspect of having Johnson on the floor is that he put as much effort on the defensive side. 
Johnson caught major buzz this summer and solidified his position as a top recruit with his nonstop elite play on the floor. Being a top player understands the need to get better, and Johnson certainly knows that improving his game is a must. 
One skill that Johnson would like to improve on is his ball-handling; he wants to maneuver through the defense as he pleases.
Johnson stated that during the summer, he improved a lot on his shooting ability, ball handling, and understanding the game of basketball in all areas. 
"I feel like scoring aspect becomes easy for me," he said. "I feel like patience, IQ, and poise on the offensive end gives me the ability to score whenever I want."
College Offers/Interest
Johnson has a massive recruiting profile, and his consistent play has gained him a lot of offers and interest from some major schools.
- Offers - Norfolk State University, Bryant University, Hampton University, Old Dominion University, Lehigh University, Jacksonville State University, University of North Carolina Greensboro (UNCG), McNeese State University, Tennessee Tech University, Middle Tennessee State University, & St. Bonaventure University. 
- Schools That Have Reached Out (Interest) - Alabama, Auburn, Tennessee, Florida State, Vanderbilt, Georgia Tech, Ole Miss, Clemson, Cincinnati, Temple, NJIT, James Madison University, Georgia Southern, South Alabama University, Murray State, Texas A&M Corpus Christi.
Johnson stated that he does not have any planned visits at the moment, but he has taken an unofficial visit to Tennessee on December 11 and watched them play against UNCG. He has also taken an official visit to UNCG this past summer in August and said he had a good time, and they took care of him very well.
Johnson was asked about his priorities in a school, and he had some great things to say.
"What I look for in a school is that I want to be somewhere where it's family-oriented, having a great relationship with the coaching staff, and being at a place and around a community that makes me feel at home," he said.
Goals/Off the Court
Johnson's main goal for his last season is to win a state championship and win Mr. Alabama.
Before every game, Johnson says that he has to listen to some R&B before the game.
"It helps me relax and stay focused and take some pressure off me," he said. "Also, I have certain stretches, the way I get dressed, and prayer as a pregame ritual. I feel as if something goes out of order; I won't play as well."
As for players that he looks up to and models his game after includes some top-tier athletes.
"I like to watch, and study Kevin Durant hesitation pull up, Steph Curry and the way he moves without the ball and his IQ, but mainly Bradley Beal because we are similar in size and as far as his scoring and ways he makes the game easier for himself and others," he said.
Playing video games with his little brothers, hanging out with friends, and playing board and card games with family and friends is something Johnson enjoys doing away from the game.
One thing he would like people to know about him is that he is an underrated singer.
"Basketball has taught me to push through the impossible things, having a strong mind to stay focused, having a great work ethic not just on the court but off the court, and being able to be a good listener and pay attention to details."