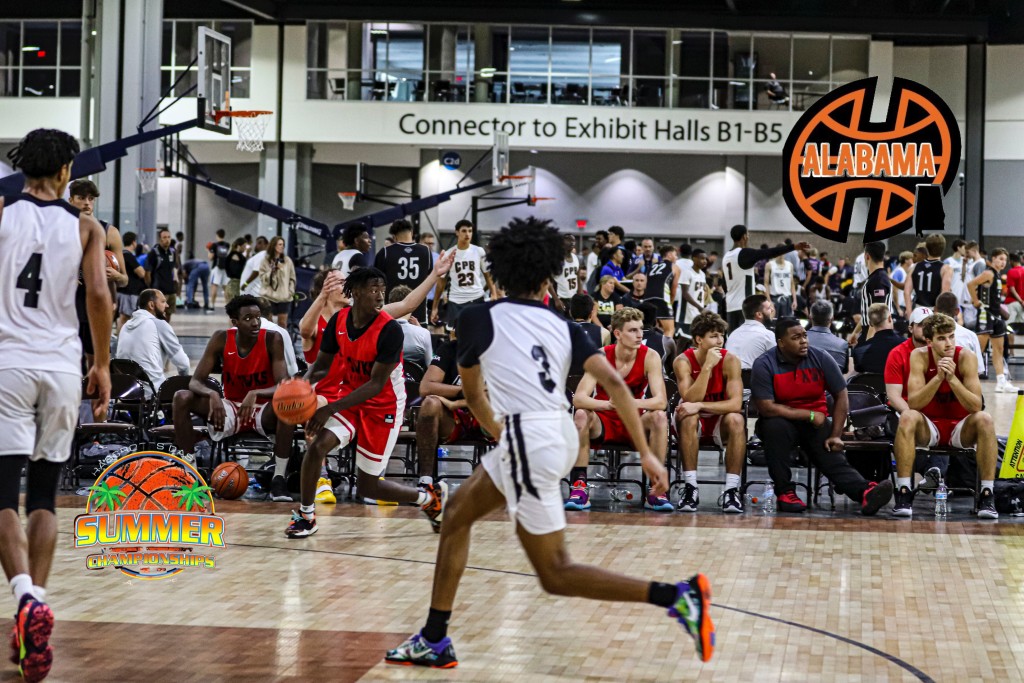 We have finally reached the last Hoopseen event this travel season with The Grassroots Summer Championship. Alabama once again came through and played some good basketball. Here are some players that brought their "A" game for the last event of the summer. 
The Floor General
MJ Jones has to be one of the best true PGs that has graced the Hoopseen circuit. He's a 6-foot-1 guard playing with the Hawks Elite, and his mechanics as a point guard are off the charts. He has excellent ball control and does a tremendous job handling pressure in the most crucial parts of the game. Jones did a great job using the pick & roll, setting up Elite's forwards, Alex Steen and Corey Stephenson all weekend. His first step out of the triple threat is on another level; Jones can get past any defender for a clear lane to the rim, finishing with his smooth floater. Jones is also a good shooter and constantly rattles defenders with his wicked step-back jumper. Jones gave one of his best games against the Houston TTG, dropping 34 points, hitting four 3s, and dishing out four assists. Jones definitely left everything out on the court for the last event of the travel season.
The Two-Way Guards
After being mentioned as a top stock riser at this year's Best of the South, the 6-foot-3 guard Myles Murphy showed up at the Grassroots Summer Championship, putting on an excellent show for Team Speights AL. Murphy has already proven that he can be a big-time player when it comes to rebounding and facilitating. But this time around gave more of a spark on the offensive end, knocking down high percentage shots and slashing to the basket finishing through contact. At his best, Murphy provided a double-double in back-to-back games with his excellent rebounding and scoring.
Reece Bloomberg came to the Summer Championship with a whole different agenda, which was to put college coaches on notice of how great his game is. This 6-foot-4 guard played strong this past weekend. Bloomberg was very aggressive; he attacked the basket, drawing fouls left and right, making the opposing team pay from the free-throw line. His shooting from the three was simply fantastic; Bloomberg was not a player to keep open that entire weekend. In one of his best games, he stepped up for the Hawks Elite to get a 74-72 win over the ATL All Stars. Bloomberg was lights out, knocking down four threes; he fought hard in the paint, pulling down five rebounds and played some intense defense snagging three steals. He would finish with 23 points raising his stock for the end of the summer.
Pereira & Alexander Handle the Post
Team Speights AL Select added a nice piece to the post by adding Deakin Pereira, a 6-foot-9 forward, for the last event of the travel season. Pereira has the size and the skills to make a huge on any college program that decides to pick him up. He has nice footwork in the paint, and he does not mess around when it comes to his rebound game. One of his best qualities is his ability to extend his range out to the three-point line, which really caught many teams by surprise. Pereira's post-game is also great; he always knows where the basket is backing a defender down, finishing with his smooth hook shot. There was absolutely no way for teams to contain Pereira; he was even being double-teamed but still managed to pull down 15 rebounds and drop 12 points. In just a few days, this kid made a huge impression on the college coaches and left his mark on the Hoopseen circuit.
Haston Alexander is a 6-foot-10 big playing with the Alabama Generals. Alexander has continued to improve on his gameplay in the post. He has gained a lot of confidence in using his size to score over defenders. Alexander has emerged as a great rim protector and has already been recognized as an elite rebounder, especially with the offensive rebounds. Alexander went to work against Tony Bradley Elite in one of his best games, putting up a double-double of 17 points and 12 rebounds.