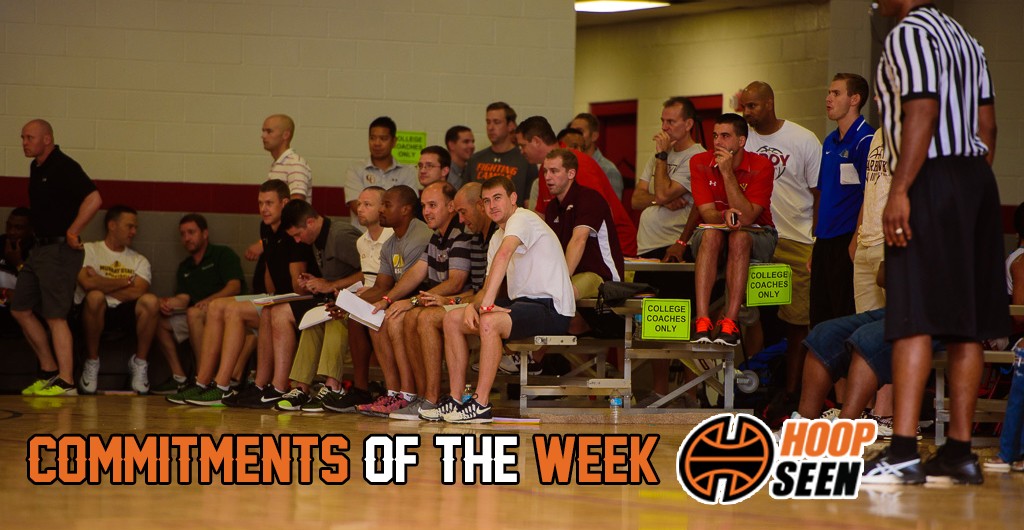 In what was one of the busiest Saturdays in quite some time when it comes to commitments, a bevy of top-125 ranked prospects came off the board. The week began with a bang in a surprise commitment from DeAndre Ayton, the top college prospect from the 2017 class to make a verbal, as he is set on attending Arizona next year. The week ended with a flurry of top tier prospects following a similar order.
This week, no one from the power conference rung created a greater surge than Sean Miller in crew in Tucson by landing the aforementioned DeAndre Ayton. Within the non-power conference platform, while there will be debate as to where the Atlantic 10 should be placed, we must give our dues to Will Wade and his VCU gang in luring an impeccable fit and prospect to the Richmond based campus next fall in top-100 guard Lavar Batts.
POWER CONFERENCE COMMITMENT OF THE WEEK
DEANDRE AYTON REMAINS IN STATE, COMMITS TO ARIZONA
Man, there sure were some quality pickups to choose from this past week. UConn founds its next point guard, Providence cemented its interior for years to come, Iowa landed the ideal big man under the Fran McCaffery regime, and Colorado cashed in with landings of two instant contributors on the wings of the floor. How does one beat any of those? How about DeAndre Ayton, arguably the best NBA prospect in high school ball, making a surprise announcement and committing to Arizona!
Ayton, an unbelievable, physical specimen, was thought of for some time now as a heavy Kansas lean, or someone that would play a year overseas before heading to the NBA Draft. At the time being, the 7-footer from the Bahamas is on track to suit up next year in Tucson.
In all due respect to Stanley Johnson and Aaron Gordon, Ayton immediately becomes the top recruit ever landed by Sean Miller. The Arizona head boss has had his fair share of talent in tow on his previous teams at UA and Xavier but what Ayton brings is hard to match. Blessed with the ideal physical tangibles of a capable NBA All-Star along with the ball skills, mobility, and an improved urgency and mindset, expect for the in-state recruit to immediately make a name for himself in the desert. He is the type of talent that many other high level recruits would love to play with and by securing it's big man and lead guard, Alex Barcello, before mid-September, expect for another top-five recruiting class from Arizona and a group that will be key cogs to a potential national championship in two years.
NON-POWER CONFERENCE COMMITMENT OF THE WEEK
VCU SNAGS TOP-75 LEAD GUARD LAVAR BATTS
Whether we want to think of the Atlantic 10 as a non-power conference is up for debate but what isn't is how great of a fit and landing it will be for Lavar Batts at VCU. We here at HoopSeen have been very high on the Carolina native, proof his listing within our 2017 rankings, but now calling the A10 program home, it would be difficult to see Batts' name not rising up further during our next updated.
Sure, Shaka Smart took his Havoc brand with him to Texas but a coaching disciple of his, Will Wade, has kept the 40 minutes of feverish play at bay in Richmond. Known for speeding the game up and pressing the living you know what out of the basketball, Batts is the true essence of a VCU point guard. While he does have to become a better 15-feet and out shooter of the ball, what he doesn't need tinkering with is just how explosive and engaging the young man is. At best getting to the basket and finishing through contact, the JM Robinson High star has become much better in the half court as a facilitator. He is an absolute ball-hawking type of defender that brings it on every possession and sports a grin the size of Siegel Center student section that will make him an instant fan favorite.
By landing Batts, VCU and its supporters can breathe a sigh of relief as they have found its next capable stud for the next four years from the lead guard position. While there is still work to be done on closing out the class with a few big men, Batts' verbal is the easy decision here in being labeled as the non-power conference commitment of the week.
AAC
HOUSTON
Fabian White, 6-foot-8 power forward, Atascocita High School (Texas)
TEMPLE
Nate Pierre-Louis, 6-foot-2 guard, Roselle Catholic High School (New Jersey)
UCONN
Makai Ashton-Langford, 6-foot-1 point guard, Brewster Academy (New Hampshire) – NATIONAL RANKING: 53
AMERICAN EAST
STONY BROOK
Corry Long, 6-foot-2 guard, Hughes High School (Ohio)
ATLANTIC 10
DUQUESNE
Jamari Wheeler, 6-foot point guard, The Rock School (Florida)
VCU
Lavar Batts, 6-foot-1 point guard, JM Robinson High School (North Carolina) – NATIONAL RANKING: 71
ATLANTIC SUN
STETSON
Christiaan Jones, 6-foot-4 shooting guard, Cardinal Newman High School (South Carolina)
Keith Matthews, 6-foot-5 small forward, Blythewood High School (South Carolina)
BIG EAST
PROVIDENCE
Nate Watson, 6-foot-9 center, Bishop McNamara High School (Maryland) – NATIONAL RANKING: 81
BIG SOUTH
GARDNER-WEBB
Acton Shirley, 7-foot center, Pike County High School (Georgia)
PRESBYTERIAN
Romeo Crouch, 6-foot-3 shooting guard, Titusville High School (Florida)
BIG 10
IOWA
Luka Garza, 6-foot-11 center, Maret School (Washington, DC) – NATIONAL RANKING: 86
Jack Nunge, 6-foot-10 power forward, Castle High School (Indiana) - NATIONAL RANKING: 115
MINNESOTA
Isaiah Washington, 6-foot-1 point guard, St. Raymond's High School (New York) – NATIONAL RANKING: 69
BIG 12
KANSAS STATE
Mike McGuirl, 6-foot-3 shooting guard, East Catholic High School (Connecticut) 
OKLAHOMA
Hannes Polla, 6-foot-11 center, Helsinki Basketball Academy (Finland)
BIG 12
IOWA STATE
Darius McNeill, 6-foot-1 point guard, Westfield High School (Texas) – NATIONAL RANKING: 118
BIG WEST
IDAHO
Scott Blakney, 6-foot-8 power forward, Prosser High School (Washington)
CAA
NORTHEASTERN
Derrick Cook, 6-foot-4 guard, Langston Hughes High School (Georgia) – STATE RANKING: 22
IVY
COLUMBIA
Myles Hanson, 6-foot-5 shooting guard, Chaska Senior High School (Minnesota)
YALE
Jameel Alausa, 6-foot-6 small forward, University of Chicago Laboratory High School (Illinois)
MAC
BOWLING GREEN
Daeqwon Plowden, 6-foot-5 small forward, Masters Charter School (Pennsylvania)
MOUNTAIN WEST
WYOMING
Hunter Thompson, 6-foot-9 power forward, Pine Bluffs High School (Wyoming)
NEC
ROBERT MORRIS
Koby Thomas, 6-foot-5 small forward, Imhotep Charter School (Pennsylvania)
OHIO VALLEY
BELMONT
Nick Muszynski, 6-foot-9 center, Saint Charles Preparatory School (Ohio)
PAC 12
ARIZONA
DeAndre Ayton, 7-foot power forward, Hillcrest Prep (Arizona) – NATIONAL RANKING: 2
COLORADO
Tyler Bey, 6-foot-7 small forward, Middlebrooks Academy (Nevada)
D'Shawn Schwartz, 6-foot-6 small forward, Sand Creek High School (Colorado)
USC
Jordan Usher, 6-foot-6 small forward, Wheeler High School (Georgia) – NATIONAL RANKING: 101
PATRIOT
LAFAYETTE
Dylan Hastings, 6-foot-8 center, Solanco High School (Pennsylvania)
NAVY
Thomas Reimersma, 6-foot-7 forward, Thomas Jefferson High School (Minnesota)
Alec Loehr, 6-foot-6 forward, Rosemont High School (Minnesota)
Luke Loehr, 6-foot-6 forward, Rosemont High School (Minnesota)
SEC
MISSISSIPPI STATE
Nick Weatherspoon, 6-foot-2 point guard, Velma Jackson High School (Mississippi) – NATIONAL RANKING: 21
SOUTHERN
UT-CHATTANOOGA
Terry Nolan, 6-foot-4 shooting guard, Our Lady of Mount Carmel High School (Maryland)
VMI
Jordan Ratliffe, 6-foot point guard, Village Christian Academy (North Carolina)
SUN BELT
GEORGIA STATE
Josh Linder, 6-foot-8 power forward, Veterans High School (Georgia) – STATE RANKING: 26
WCC
LOYOLA MARYMOUNT
Eli Scott, 6-foot-5 small forward, Chino Hills High School (California)
PEPPERDINE
Colbey Ross, 6-foot point guard, Eaglecrest High School (Colorado)
2018 CLASS
BIG WEST
LONG BEACH STATE
Greg Floyd, 6-foot-8 forward, Middlebrooks Academy (Nevada)
SEC
ARKANSAS
Ethan Henderson, 6-foot-8 power forward, Parkview Arts and Science Magnet High School (Arkansas) – NATIONAL RANKING: 43
2019 CLASS
SEC
TEXAS A&M
Sahvir Wheeler, 5-foot-7 point guard, Houston Christian High School (Texas)