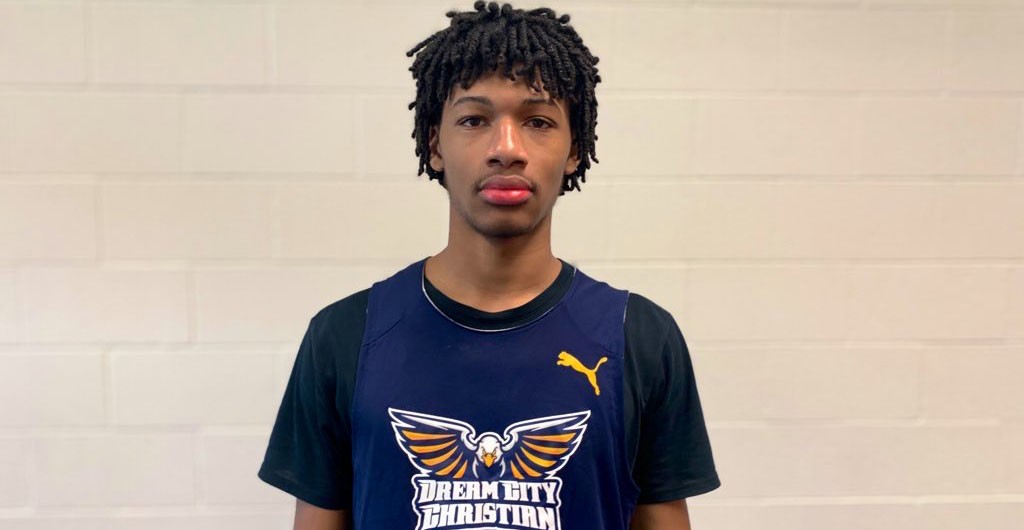 Let's talk about Shadeon Sharpe for a second. Because if you were at the Great Western Classic in American Fork, Utah, you heard plenty of conversation. 
Sharpe was one of the most impressive players in attendance in the loaded event tucked away next to the mountains for this fall October weekend. 
We've seen Sharpe before, getting a good view of him at the City of Palms Classic when he played for Sunrise Christian. Sharpe wowed us with his athletic ability there, too. But he took it up a notch with his new club Dream City Christian (AZ) with two of the most vicious dunks in traffic that I've seen in 2020. 
Sharpe is making the up turn and It is happening right now. 
Currently viewed as a top 125 nationally ranked player, Sharpe could be a guy that makes a push for the top 50 in the class of 2022. That rise could be happening sooner than later. 
Not only does Sharpe posses next level top shelf athleticism, his perimeter game is getting better and better, too. His three-point shot was dropping at a regular clip here in American Fork. That development is huge. But make no mistake about it, his quick bounce and power that comes with it is the unique value in his overall skill set.
Sharpe, a native of London, Ontario, Canada, said he currently holds offers from Alabama, Cincinnati, Creighton, Grand Canyon, Minnesota and Xavier. Sharpe said he is also hearing from George Mason, Illinois, Maryland, Ohio State and South Carolina. 
We've seen guys like Sharpe at this point of their playing development calendars. He's at the stage where separation begins. He is trending upward and the coming months ahead with Dream City Christian's schedule should provide him more opportunity to justify an uptick of opinion. From our point of view, he's already doing his part. 
Shaedon Sharpe is probably hiding from authorities after this BAPTISM 😤

🎥 @BallerTV @ShaedonSharpe @DCCHoops pic.twitter.com/QgzcaUL9xx

— The Circuit (@TheCircuitHoops) October 5, 2020