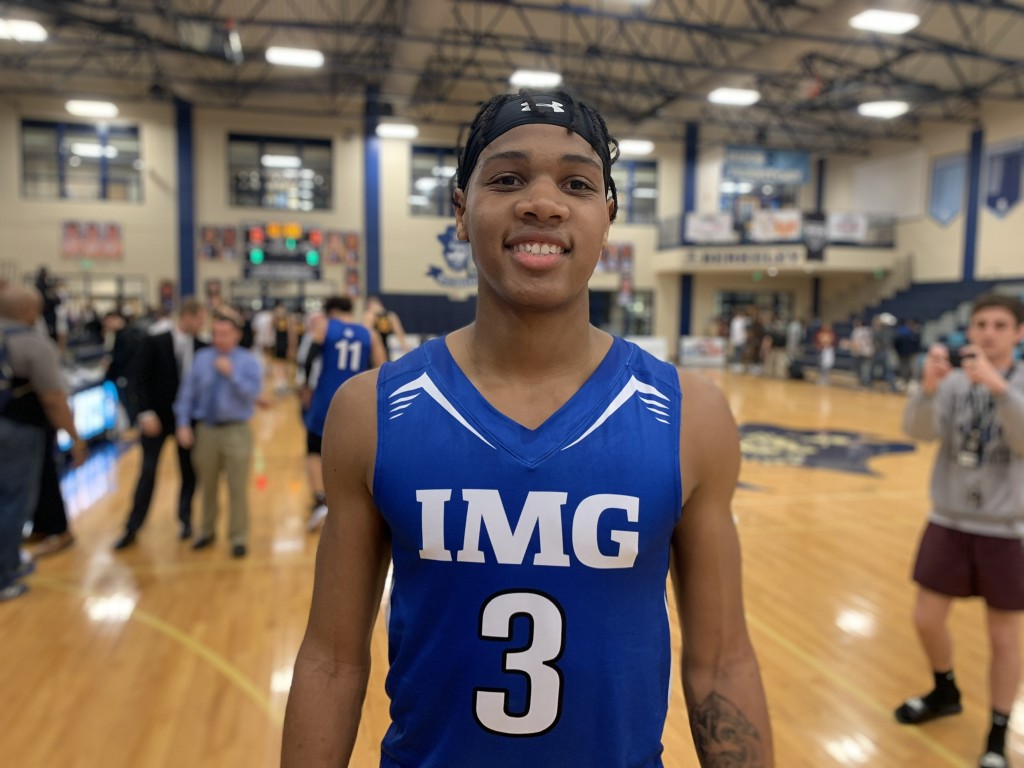 IMG Post-Grad wing Terrence Shannon, Jr. was one of the most impressive performers at the ARS/Rescue Rooter National Hoopfest last weekend in Tampa.
The 6-foot-7 Chicago native was on full display in an impressive and fun win over Montverde Academy CBD. Shannon made big plays down the stretch in the closing minutes and was one of the top overall performers over the weekend. 
Now playing basketball full time for the first time in his life, he's enjoying the growth in his game during his time at IMG.
"This is my first full year of no injuries and no football," Shannon said. "So I have no distractions, no rehab for an injury or having to go to football practice. Now I'm just playing basketball and being better for my team.
"I feel like my game is getting better and I'm getting stronger physically and I'm trying to get better mentally. I'm still a little too hard on myself but I'm getting better and moving a step forward to being ready as a freshman in college."
Shannon has taken all five of his official visits - making stops at Texas Tech, Illinois, DePaul, Georgetown and Florida State. He said Arizona State and Miami are also interested. 

Shannon was once committed to DePaul. He said he's still considering the hometown school. 
"They are still very high in my recruitment," Shannon said. "I just felt like I committed too early. I don't have the same story as everyone and I feel like I could have gotten more out of my (recruitment) and seeing what everybody else had to offer." 
Brad Underwood's program at Illinois is also intriguing, Shannon said. 
"I'm really considering Illinois. They have a pretty good fanbase. I'm still talking to them a lot, we are still communicating and I feel like that could be a pretty good spot for me," Shannon said. 
Texas Tech has become a player and the Red Raiders are rolling out a plan to develop Shannon the same route other Tech players have taken.  
"Just like Jarrett Culver and Zhaire Smith they developed their games. Now Jarrett Culver is on the mock drafts as high as No. 4, I believe, and Zhaire Smith was one and done," Shannon said. "So I feel like I could really fit there and they could develop my game. Coach Cyp (Glynn Cyprien) came to see me yesterday and we had a good time and talked."
Georgetown is also firmly in the mix. 
"(Patrick Ewing) told me that I should be more of a scorer there. I would have the ball in my hands and that I would do whatever I could do to help them win," Shannon said. "He says I would be their guy."
With Florida State, a long time relationship could be an advantage. 
"They were the first big high major school to be there for me and (assistant coach) Dennis (Gates) still texts me and we talk," Shannon said. "I still like Florida State. I just have to decide which school I want to go to." 
With the great options that he has already, Shannon said his focus is being ready to play in college right away. 
"It's all we talk about, getting ready for the next level. That's what we strive for and work hard every day for," Shannon said. "That's our goal - play right away as a freshman.
"I feel like what I bring to the program is my toughness. I'm always going to play defense and I'm always going to compete. Whatever the coach needs me to do, I'm going to be that guy."
An April decision is likely, he said. Ultimately, he's looking to cultivate a bond with his future head coach. 
"My relationship with the coach is most important," Shannon said. "Me, I know I can play anywhere, I'm going to find a way to fit. So my best relationship with a coach, I feel like that's most important to me."