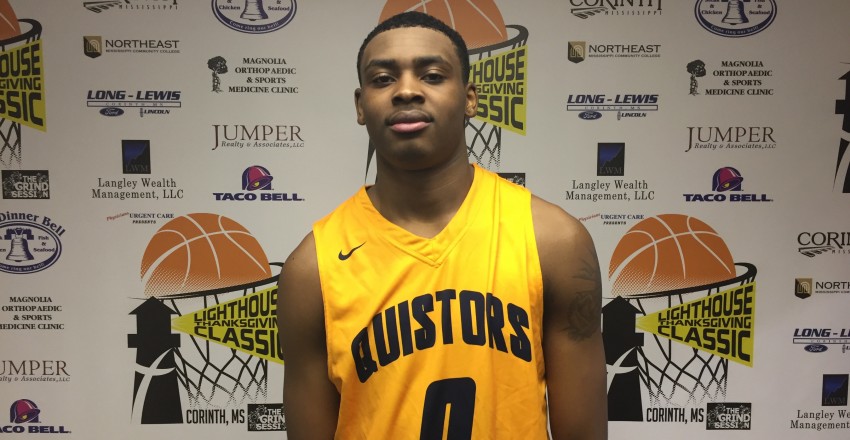 2019 Olive Branch (MS) forward D.J. Jeffries has been regarded as one of the top prospects in his class for a few years now. Over the past few months, the five-star prospect has made a huge jump with his game and his improvements have been on display the past few weekends.
Jeffries, a 6-foot-7 combo forward, had a tremendous showing at the Lighthouse Classic last weekend. During his 22-point, 16-rebound performance, the junior showed an impressive motor, as well as a versatile, all-around game.
Jeffries hit a couple of three-pointers, but he was a terror around the goal, finishing with big dunks and playing above the rim. His energetic play set the tone for the rest of his teammates.
Following his team's win in Corinth, Mississippi, Jeffries updated his recruitment with HoopSeen.com. Several SEC programs are prioritizing him to this point.
"I have offers from Kentucky, Ole Miss, Mississippi State, Kansas, Georgia, Florida, and Maryland," Jeffries told HoopSeen.com. "Ohio State, Duke, and North Carolina are showing interest."
Jeffries hosted several college programs for his lone game at the Lighthouse Classic. Kentucky head coach John Calipari was front-and-center, along with assistant coaches from Ole Miss and Mississippi State.
Calipari also watched Jeffries post 33 points at the Marshall County Hoopfest this past weekend. It is obvious that Kentucky is prioritizing Jeffries to this point.
"I really like Coach Calipari. He's shown me all the one-and-dones and all the players accomplishing their dreams. He's real cool and close with my family."
Jeffries also visited Kentucky in October for Big Blue Madness. That experience spoke for itself.
"Big Blue Madness was really fun. It's different up there. Basketball is different," he explained.
Ole Miss has been on Jeffries as long as anyone. Rebels head coach Andy Kennedy has prioritized the five-star prospect and that early relationship has paid off to this point. Jeffries also made a visit to Oxford for a football game this fall.
"Ole Miss has told me I'm the top priority. They've been on me the longest. They have built a good relationship with me and my parents."
Mississippi State also dispatched an assistant to see Jeffries over Thanksgiving break. While the Bulldogs mainly speak to Jeffries' father, Corey, Mississippi State has made it clear they want him, too.
"Mississippi State talks to my dad a lot, but I know they want me in Starkville."
With many SEC programs and blue-bloods in pursuit, Jeffries' recruitment is beginning to fall into place. Nevertheless, he doesn't plan on making a decision soon.
"I haven't thought about a decision much, but I would say sometime during my senior year next year. That's when I'll decide."