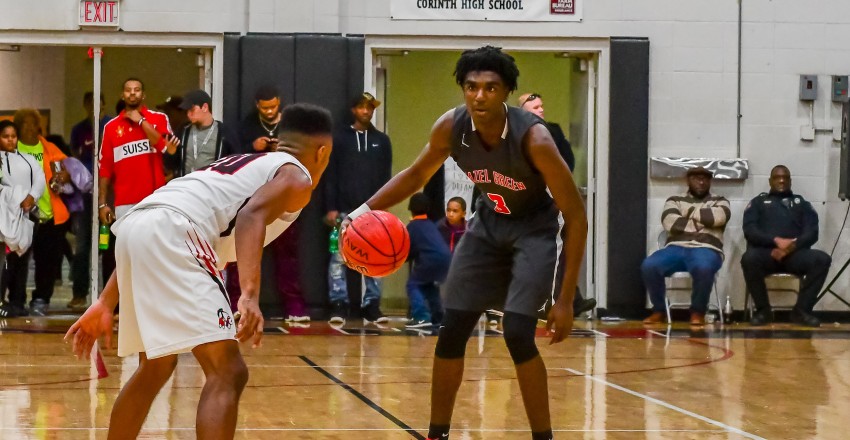 2019 Hazel Green (AL) point guard Kira Lewis, Jr. is off to a sizzling start in his junior campaign. The 6-foot-2 guard has paced his team to this point, leading his team in a variety of ways to a winning record.
A few weeks ago at the Lighthouse Classic in Corinth, Mississippi, Lewis, Jr. showcased his vision and passing ability. Since returning from that event, the junior has turned on his shooting and scoring mode. He has been a consistent scorer for the Trojans.
In fact, an assistant coach from Virginia saw Lewis, Jr. scored 31 points in a victory over Columbia (AL) last week. The Cavaliers are the latest school to express interest in the four-star guard.
"Virginia came into the picture last month. UConn is also showing interest," Lewis, Jr. told HoopSeen.com. "Alabama, Auburn, Baylor, Dayton, LSU, Vanderbilt, Tennessee, and Mississippi State are some that have offered me. There are some more, too."
Prior to the high school season beginning, Lewis, Jr. was busy on the road taking unofficial visits. He traveled around and saw several college campuses, including Alabama, Baylor, and Dayton.
Lewis, Jr. broke down the visits with HoopSeen:
Alabama: "I like the recruiting class they just signed for 2018. I like Collin Sexton and the 2017 class a lot, too. They're bringing in big players and winning big games. The staff has also been telling me about being in there well with Trendon Watford, D.J. Jeffries, and James Wiseman, so it's intriguing. It could be a big class again."
Baylor: "Baylor was a great visit. They're a winning program and a really good coaching staff with Coach [Scott] Drew. Coach [John] Jakus is on me pretty hard. He was recruiting me when he was at Gonzaga, then when he moved to Baylor he stayed on me."
Dayton: "Dayton was really surprising. I went up there for the first game of the year. I couldn't believe all the people they had at the game. They love basketball up there, so it's a great option, too. Dayton is a great school."
At 6-foot-2, Lewis, Jr. has become a tough assignment for opposing defenders. He has an explosive first step that allows him to get to the rim, but his shooting has always been a strong point of his game. Lewis' basketball IQ and feel for the game has also been displayed early in the season, as he taken his passing skills to the next level.
The majority of the SEC has taken notice of Lewis' talent. Now, national programs are beginning to come into the picture. Nevertheless, a handful of programs have distanced themselves from the pack and are recruiting the Alabama product the hardest.
"Alabama, Baylor, Dayton, and Virginia are on me the hardest right now. They're showing the most interest."
Lewis, Jr. and his Hazel Green teammates will be in action at the AL.com Classic following Christmas.