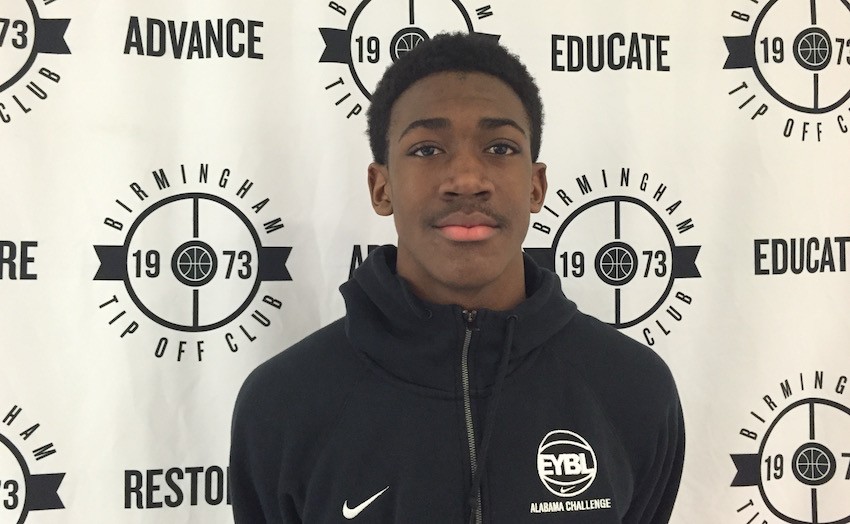 After a busy and productive July evaluation period, it is time to update Alabama's 2018 state rankings. We have extended the number of players to 30, and several new names have found their way on the list. A new name has risen to the top, too.
With all that being said, we are excited to release our post-summer Alabama 2018 rankings…
JEMISON MAKES MOVE TO THE TOP
2018 Homewood (AL) center Trey Jemison had a phenomenal summer with the Alabama Challenge, and, because of that, he claims the top spot in our updated 2018 rankings.
Jemison, a hard-nosed, hard-playing 6-foot-9 big man, caught the eye of many college programs during July. Arkansas-Little Rock, Georgia, Stanford, Liberty, Alabama, Auburn, Saint Louis, UAB, and Samford include some of the scholarship offers he has earned over the past few months.
While he still has some ways to go with his game, Jemison took some big steps forward with his game during July. He is an efficient rebounder inside and outside of his area on both ends of the floor. The junior doesn't always block shots, but he is great at altering and making things difficult for opposing players. Jemison's offensive arsenal continues to develop rapidly, too. With his impact on the floor over the summer, it was easy to give Jemison the nod for No. 1 during this update.
Reigning state champion Diante Wood of Sacred Heart comes in right behind at No. 2. The 6-foot-5 forward is extremely versatile with his game, as he has the ability to play the 1-4 at any given time. Wood's combination of ball skills, versatility, and production is something a lot of prospects in this class do not have. He is being actively recruited by Alabama and Auburn, among other programs.
Myreon Jones, Huffman's talented sharpshooter, checks in at No. 3. Jones has become notorious for his ability to shoot the basketball, as he showed throughout the summer at Murray State and UAB's elite camps. However, Jones isn't just a shooter anymore. Instead, the junior has grown to 6-foot-3. With his extended length and size, his athleticism has taken the next step, too. The Birmingham product is one of the best offensive players in the state, and his recruitment is set to take off. Murray State, UAB, Samford, and Arkansas-Little Rock are among his early offers.
Eufaula point guard Tony Johnson and Cordova forward Isaac Chatman round out the top 5.
CLICK HERE TO SEE THE FULL TOP 30 FOR ALABAMA'S 2018 CLASS
BIGGEST RISERS
B.J. Adesoga, a 6-foot-8 big man from Carver-Montgomery, ended the summer well and has got things going in the right direction for the fall. The stout big man had some positive showings at Auburn and UAB elite camps. While he is still in the process of getting his body right for the high school season, it is hard to ignore his improvements over the past few months. He checks in at No. 10 in this update.
Coming into the spring, 2018 Parker (AL) forward Xavier Williams showed flashes of being a promising prospect, but his lack of strength and coordination held him back in some aspects. My how things changed in the summer. After a productive July, Williams landed an offer from Middle Tennessee State and a handful of other college interest. He makes the jump from No. 24 to No. 11.
Paul Bryant point guard Jared Sherfield had a solid campaign with the Alabama Premier over the summer. At 6-foot-4, he possesses a high IQ, as well as the ability to shoot or pass the basketball. His production moves him up eight spots to No. 13 overall.
WELCOME TO THE PARTY
We missed the boat on ranking 2018 Cordova (AL) wing Jayce Willingham during our initial update after the spring. It's safe to say he warranted his ranking after a competitive summer. Willingham was one of the top players at UAB's team camp in June, as he shot the ball well and showcased some improved athleticism. He makes his debut in the 2018 Alabama rankings at No. 18.
During Best of the South, a host of mid-major programs were in hot pursuit to see the Madison County Warriors with 2017 shooting guard Malik Burnett. While Burnett was good, a new name burst onto the radar in a few games at Suwanee Sports Academy. Traizon Byrd, a 6-foot-5 wing man from Huntsville High, made some nice impressions in his first viewing. He makes his first appearance in the rankings at No. 25, and, truth be told, that may not be high enough. He's a high-upside wing to watch for this fall.
Other new names making their debuts: Travarus Carroll (24), Daviyon Dennis (26), Tyler Miller (27), Chase Fidler (28), and Bailey Towry (29).