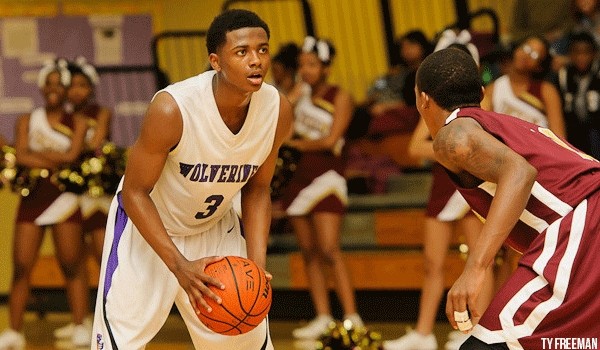 LITHONIA, GA -- Tucker took their only lead of the game with 3:21 to play in the third quarter on Thursday night against Miller Grove High School. The score went to 32-31 on the layup from junior Shembari Phillips.
The Tigers were fired up about the shift in score of the AAAAA quarterfinal game. Rightfully so. Tucker has struggled with Miller Grove over the years and getting through the Peach State powerhouse has been the most talked about storyline in Dekalb County since 2006.
Could the slight lead change be the tipping point for the Tigers?
No.
Not at all.
Miller Grove sophomore Aterique Gilbert took over. And by take over, we mean 18-straight points. Gilbert scored on three three-pointers in the final three minutes of action of the third quarter and never looked back. He was in the best scoring zone we've seen in the 2014 Georgia state basketball playoffs.
Because of Gilbert's scoring parade, Miller Grove won 67-55. Tucker never held a lead after that 32-31 flurry.
"I was just playing," Gilbert said. "It was just one of those nights."
It was a magical performance from Gilbert. He scored 25 of his 36 points in the second half and was in total control of the outcome. His run was reminiscent of games from former Georgia greats like Louis Williams or Jodie Meeks.
"He's got it in him. It is stuff you can't really coach. I just try to enhance what he does," said Miller Grove head coach Sharman White. "He has a great feel for the game and such a great IQ. He has a desire that you just don't find that in a lot of kids. Truthfully, he's a once in a lifetime type of kid."
Gilbert didn't do it alone. Senior forward James Walker was great on the glass, grabbing 15 rebounds in the win and scored 11 points. He nearly outrebounded the entire Tucker team. The Tigers only collected 17 boards all game.
"James played so much better in the second half. He put us on his back and making some key baskets in the second half. He brought that element of toughness," White said. "I tell the guys all the time that tough guys win all of the time."
Keith Pinckney added 12 in the victory for the Wolverines.
Miller Grove is 14-2 against Tucker since 2006.
Tucker was paced by senior Jon Dunmeyere, who scored 18 points while Davanta Reynolds pumped in 16 points.
Miller Grove will now play Jenkins on Saturday at Fort Valley State at 8:30 in the semi-finals of the AAAAA bracket.